The Most Popular Farmhouse Paint Colors of 2021
Hey Friends! Paint colors are always a topic of interest and finding the perfect shade for your home can be a daunting task. It's something that you have to look at every day and although you could easily change things up, that can get costly. Don't worry! These popular farmhouse colors for 2021 are all safe bets to give your home a fresh look far into the coming years.
Whether you are hiring a professional or taking on the DIY challenge yourself, it's always important to choose a paint that is long-lasting, durable, easy to clean and goes on in minimal time. Semi-gloss paints are usually the go-to for high traffic areas or for those who have pets and kids. This finish stands up to stains and is usually easiest to clean. To cut the project time in half, choose a paint that is a primer and paint in one. This eliminates the time it takes to finish the project by covering up old paint with just one or two coats. Leading brands can take up to four coats! Crazy right?!
Okay, so now that you've got the down-low on what type of paint to choose…you might be wondering "what color is the right fit for me?" We've broken down each color and why it's a great shade + paint to take you from 2021 and beyond! It's obviously a personal preference, but you can't go wrong with any of the colors listed below: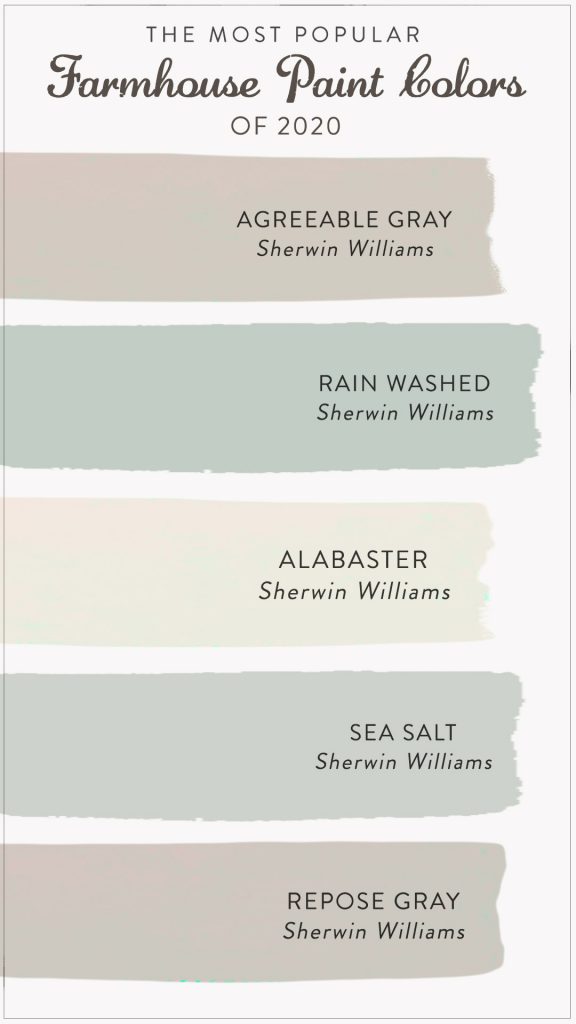 Sea Salt:
This is a great colorful color from Sherwin Williams! It creates a pop of noticeable beauty in any space you choose to use it. What is so great about this color is that the decor around it and the amount of natural light in the room can really transform the look of this color. It shifts between a muted blue-gray to a pale green-blue, and sometimes even a light gray. This color truly takes on many forms and is great for any room in the house. This color is especially perfect for those going for a coastal farmhouse look!
Agreeable Gray
We can all agree that agreeable gray is a staple farmhouse color! If you are looking to warm up your space while still brightening it, this is the color for you. It's got a gorgeous warm undertone that is not too much and not too little. This is a really great option for those with lots of cream or oak furniture and wood floors.
Repose Gray
If there is a better go-to farmhouse gray paint color out there…we sure don't know about it. This color is simply perfect and goes with every style. Whether you are a modern farmhouse fanatic, traditional decor all the way, or heart eyes for a coastal farmhouse, you'll be in love with this gray! No warm undertone so this color is perfect for blues, creams, whites, greys, woods…basically everything!
Alabaster
Looking for the perfect white? This is it! Without a doubt goes with everything and works well with dark and light furniture. If you are looking to make a smaller space feel bigger this is your best bet.
Rain Washed
Looking for a calming color that will be even a brighter more talkative alternative to sea salt? This is your color! It's got lots of spunk while still keeping it neutral. This color takes on lots of forms in the light and would even work well as a fun accent wall color.
Now that you've got your color options, it's time to go into the store and get samples, samples, samples!! Did you know you can take as many paint swatches as you want and don't (I REPEAT) do not pick your color without testing it on the wall first! It's nice to add a big block of swatches to your wall before painting to really know that you are making the right decision. Let the color swatches play with the light for a couple days so you know exactly what each color will look like during every hour of the day!
Time to get to work and then enjoy your fresh new look!
P.S. Looking for paint colors for your next DIY furniture project? Try checking out the milk paint collection from Miss Mustard Seed. She's a talented blogger that we work with on design collaborations and she's got a lot of options for paint! She's even got step by step tutorials that will walk you through the process of using milk paint.
---
---