Window Treatment Ideas for Every Room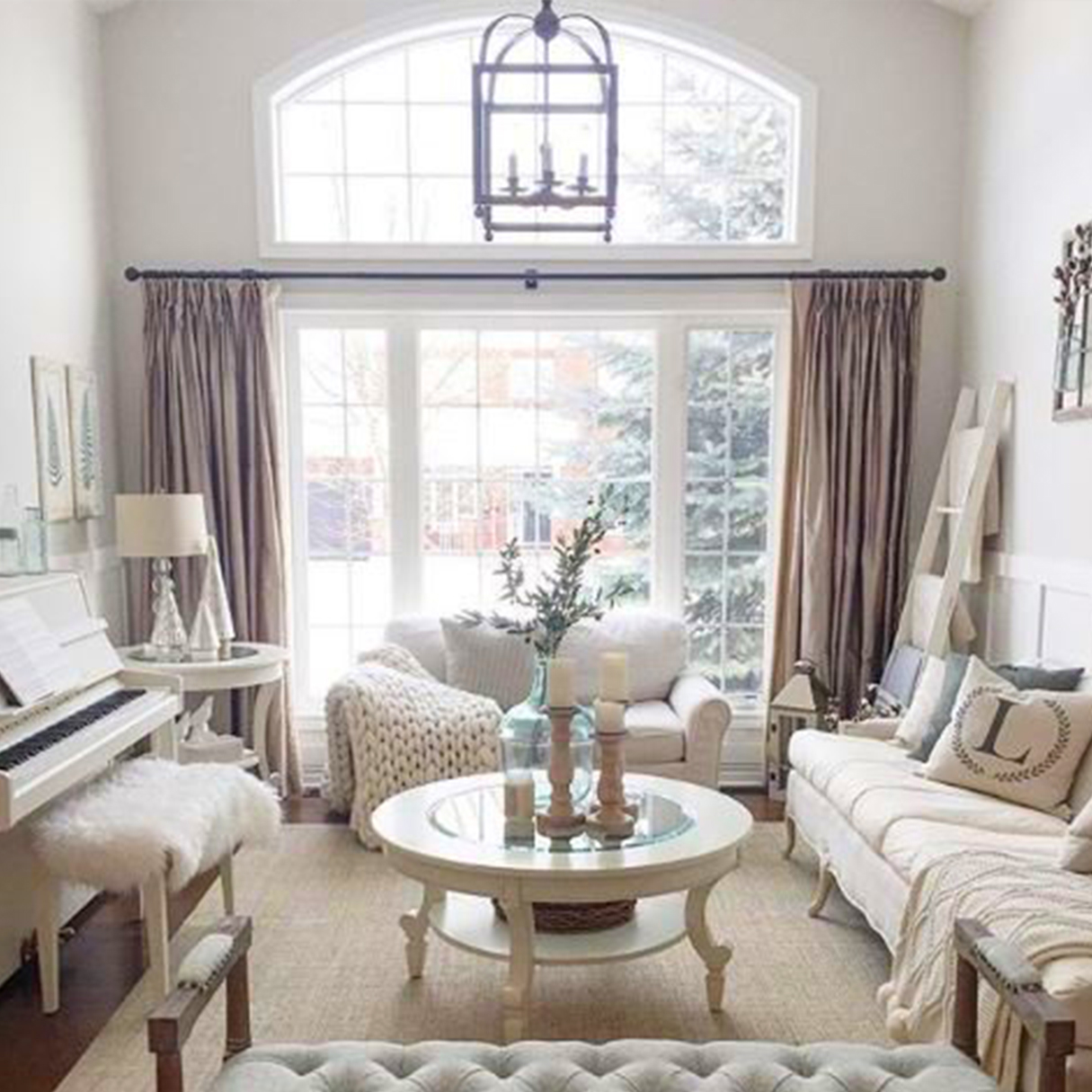 Window treatments are often an afterthought when people are decorating a space. They can be purely aesthetic, but often times they also come with functional benefits of adjusting light and providing privacy, so it is important to evaluate how you plan to use a space prior to making any selections. Since window treatments can really make or break a room, we wanted to make your lives a bit easier by providing some window treatments ideas for every room of the house.
The same style of window treatment in every room in your house can get a bit monotonous and feel uninventive, too. You wouldn't wear the same shoes with every outfit, right? Our ideas range from the timeless classics to some very innovative alternatives that will really set your home apart.
Traditional Window Treatment Ideas
Curtains / Drapes: The Most Popular Window Treatment
When most people think of window treatments, they picture curtains. Curtains are panels of fabrics that run the full length of your window, from a rod just above and outside the window frame. They're a staple in most homes for good reason. For example, you can give a room a quick and affordable face-lift or redecorate for each season simply by updating your curtains. There are infinite options too as you can select the texture, weight, color, print and beyond to suit your needs and your style.
Photo Credit: @clareandgracedesigns

Photo Credit: @kristywicks

Photo Credit: @withlovesierra

Photo Credit: @willowbloomhome
Classic White and Neutral Curtains
Classic white or neutral curtains work with almost any décor style and leave your room feeling cozy but also bright and airy. To take it a step further, if you have limited natural light, you can opt for sheer panels to maximize the amount of light you let in. This will help keep the room from feeling too closed off.
Curtains look beautiful in outdoor settings too because they bring a bit of the inside outside, and make the space even more inviting.
Photo Credit: @citygirlmeetsfarmboy

Photo Credit: @mylittleredhouse
Depending on the material, the cost of curtains can certainly add up. This is especially true if you have large windows and are generous with the width of the panels you are using, but we believe spending a bit on curtains you love is a worthwhile investment. That being said, to get the look on a dime, check out this DIY hack for drop cloth farmhouse curtains, courtesy of our friends @cottonstem!
Basic White Curtains with a Twist
If you like the classic look of white curtains, but want to add a bit of flair, there are plenty of variations that offer interesting stitching, tone on tone designs, ruffles and fringe. These details allow you to infuse some of your personality into the look. For instance, the ruffles here are perfectly on point for this dreamy girl's bedroom!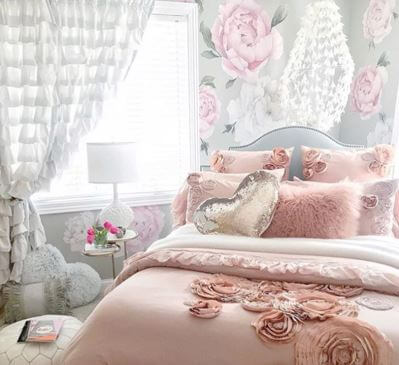 Patterned Curtains that Make a Statement
While some use neutral curtains to let the rest of their décor shine, others will use curtains as THE focal point and make a splash with bold colors or prints.
Photo Credit: @withlovesierra

Photo Credit: @bridgewayscentedmarket
If you just want to dip your toes into the color pool, color block curtains are a fabulous way to do so. This means you get the safety of a neutral, but the fun pop of a statement color as well. Can you imagine this gorgeous space without these lush curtains? Contrasting color-blocked curtains create a distinctive, warm look, and pair well any design style.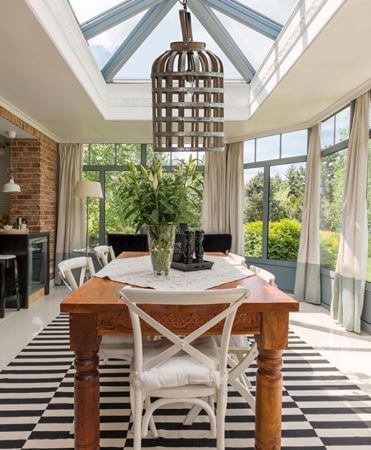 Blinds and Shades: Operable Window Treatments
Blinds
Blinds typically have horizontal or vertical slats that you open and close to adjust how much light comes in. Historically they have been made of plastic or vinyl, but can also be made out of woven wood or bamboo which is a look we LOVE. Unlike curtains, these hang inside the window frame. While they are designed with function in mind, they too can add to the aesthetics of a room. They can hang alone, or in combination with another window treatment, such as curtains.
Photo Credit: @salvagedchicmarket

Photo Credit: @1greenacreslane
Bamboo roll-up blinds add a relaxed element to your room. Additionally, they provide a lot of privacy and block out plenty of light, but without being heavy or imposing in your space.
Photo Credit: @christinasadventures

Photo Credit: @freshstartfarmhouse

Photo Credit: @thedowntownaly
Shades
Shades are a close cousin to blinds, but are different in that they are made with solid fabric. Like blinds, shades hang inside the window frame.
This Tie Up Shade is one of our favorites here at Décor Steals. This is because it is such an easy way to add a bit of softness and detail to a room. It looks equally beautiful in a kitchen window as it does in a living room corner!
Photo Credit: @missmustardseed

Photo Credit: @missmustardseed
Innovative Window Treatment Ideas
Architectural Pieces as Window Treatments
For a less conventional take on window treatments, consider hanging an architectural piece above or in front of your window. These options can block out a bit of light and offer some privacy, but primarily they are statement makers. Furthermore, they add interest to your space without going down the traditional window treatment route.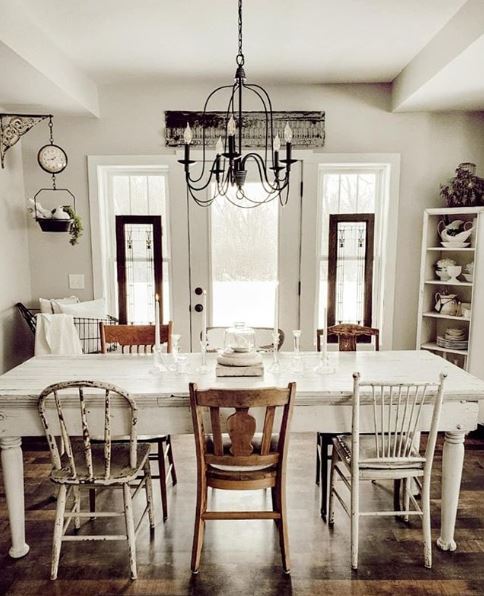 Here our Huge Filigree Arch Relic is breathtaking over the windows in this gorgeous bedroom. Traditional curtain panels would be a bit cramped on the side of the bed, so this is a very innovative solution. Long story short– we don't miss curtains in this room one bit!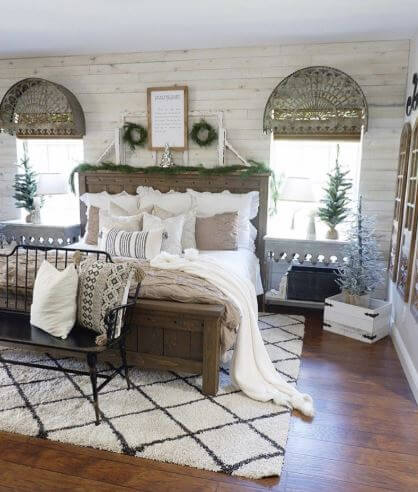 Our Carved Wooden Wall Décor above a window (in conjunction with curtains) adds architectural interest. As you can see, it adds both height and detail to the space. Another one customers used the exact same piece in an entirely different way in the corners of her window. There are no rules when it comes to design—just go with what makes you happy and works for your family!
Photo Credit: Barbara Howell Gould

Photo Credit: @ourpartyof6
Another favorite of ours, the Riverboat Ornamental Wood Trim, is used in two very different rooms below. It makes for a gorgeous finishing touch above a kitchen sink, and is the icing on the cake in beautiful dining space. We think it really steals the show in both settings!
Photo Credit: @ahouseonthelake

Photo Credit: @creativedesignsbyrhonda
This large window frame looks fabulous leaning up against the windows in this room. Without it, this space would not look nearly as finished. The space around this window limits options for hanging curtains. Because of this, they needed a creative solution to give it that finishing touch. As an alternative, our Wooden Arched Church Window would look spectacular here too (if we may say so ourselves)!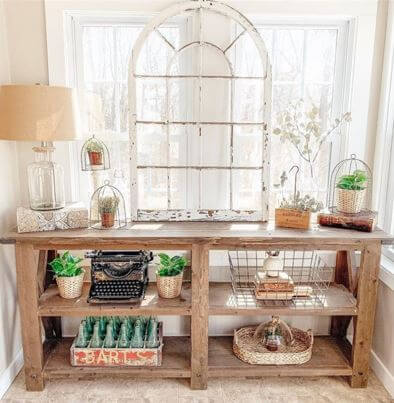 Greenery and Wreaths
Another less common approach is to adorn your windows with greenery and/or wreaths in addition to or in lieu of other window treatments.
Photo Credit: @shegaveita_go

Photo Credit: @rustic.sparkle
This could mean a garland around the window frame or one or more wreaths hung in front of the window. Either way, you get the benefit of something beautiful to enhance and soften the space, without the bulk of curtains, blinds and beyond.
Photo Credit: @caligirlinasouthernworld

Photo Credit: @vintagewhitefarmhouse

Photo Credit: @jessicamadisonhome
Our trio of Boxwood Wreaths look great here on a faux window, but would be equally charming in an actual window. Hang them all together, or split them up, depending on the size of the area you are decorating! This arrangement with the drift wood serving as a very rustic cornice board and the collection of planters hanging from a branch is a really cute and creative variation as well. We bet dried lavender or other stems would look fabulous too.
Photo Credit: @thelittlegreenbean

Photo Credit: @gracenotecandleco
Farmhouse Shutters
Farmhouse Shutters are stylish, practical, and traditional window treatments that add a graphic feature to your home. You can install them on the outside of your home, or, for more of a statement, you can hang them inside your home. By doing this, you create a modern window treatment out of a classic idea.
Let the shutters speak for themselves, or hang them in combination with some of the other window treatment ideas mentioned above.
Photo Credit: @littlenestof4

Photo Credit: @bluebarnandcottage

Photo Credit: @desertdecor

Photo Credit: @bluebarncottage
If you aren't ready to invest in actual shutters, an alternative is to hang faux shutters on either side of your window. Our Distressed Barn Door Wall Plaque Pair would look perfect around a farmhouse window to get that shuttered look for less.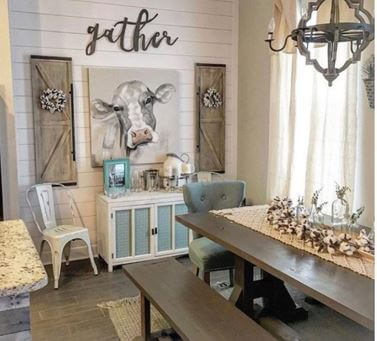 Window Treatment Tips & Trends
Hanging Tips
Picking your window treatments is the FUN part. Arguably less fun? Actually hanging them up. This How To video from Lowe's is a big help though!
Double Up
Less isn't ALWAYS more. For instance, to achieve an appealing and luxurious look, combine multiple rows of curtains and blinds. Additionally, this will give you more options for regulating both light and privacy.
Doubling up on store-bought window treatments can instantly elevate your look to go head to head with costly custom solutions.
Photo Credit: @desertdecor

Photo Credit: @therusticlife

Photo Credit: @blessedmommatobabygirls
Black Window Frames
While white is classic and clean, dark window frames make a bold statement, with minimal investment. Consider black trim to make both and simple white curtains pop.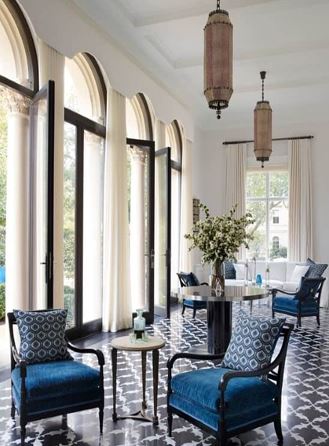 Go Halfway with your Window Treatment
Half curtains can transport you back in time with their quaint appeal. Light comes in above the curtain rod, yet the across the lower half offer privacy. This look is popular in bathrooms and kitchens but this dining room does it justice as well.
Photo Credit: @whitetailfarmhouse

Photo Credit: @finishingtouchdecorbyjenny
Go ALL the way with Extra TALL Curtains
For extra drama and to give the illusion of a grander space and higher ceilings, floor to ceiling curtains are very effective.
Photo Credit: @ourcottonfarmhouse
Whether you go with timeless white curtains, classic shutters, innovative architectural pieces, greenery or even a combination of several of these, we hope that you find some ideas here to tackle your window treatment projects with confidence. Consistency within a room is often preferable, but showcasing some variation throughout your house will give it that special touch!
We would love to hear what window treatment ideas you have used or will use in your home– please leave us a comment! Also, feel free to share our post with your friends or followers if they can use some ideas as well!
What pairs well with the perfect window treatment? The perfect paint color! In case you missed it, check out our round up of top 2019 paint colors here: https://blog.decorsteals.com/2019/07/19/the-most-popular-farmhouse-paint-colors-of-2019/
---