Floating Shelf Ideas for your Bedroom, Living Room, & Kitchen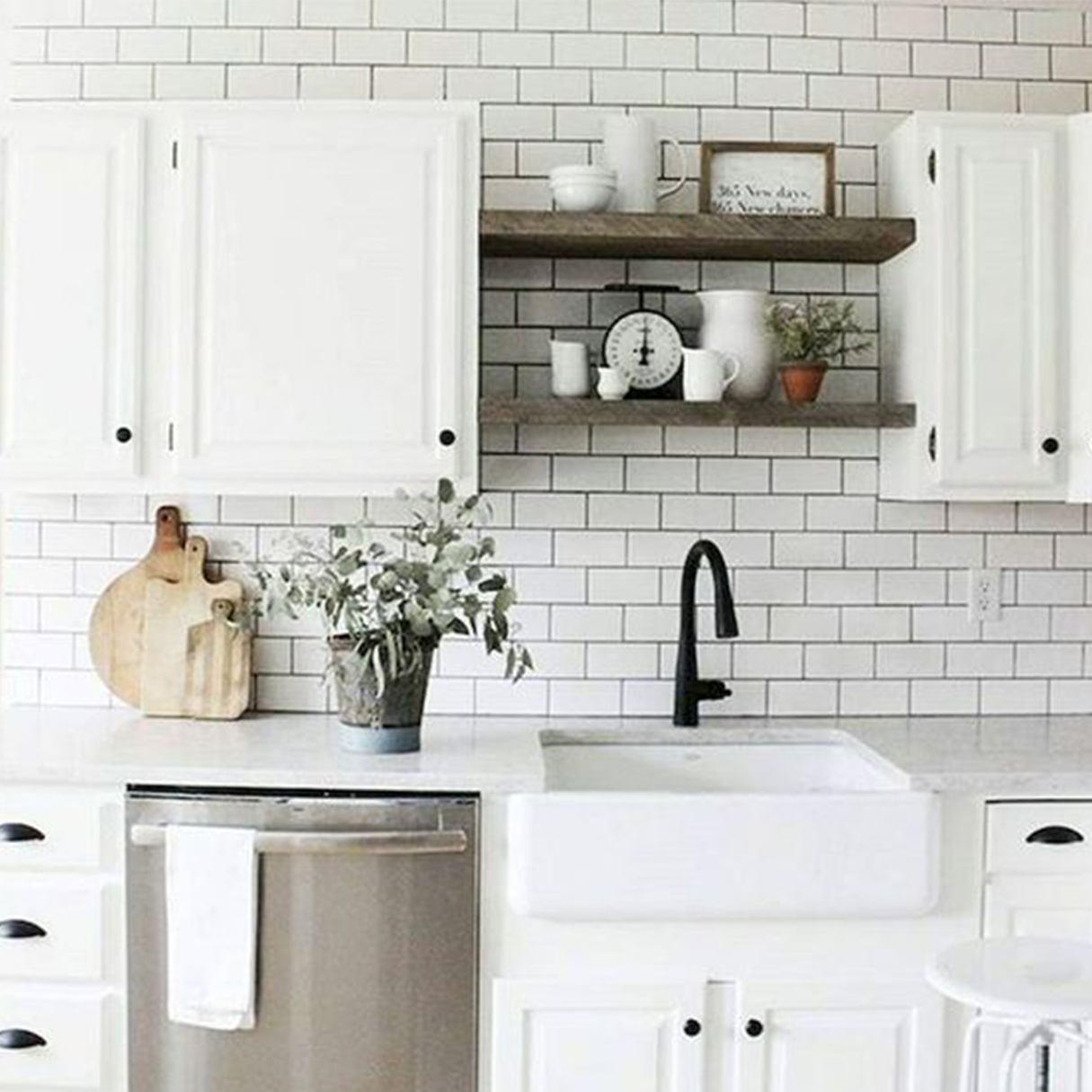 Ready to rock your walls? We've got some floating shelf ideas that will get you where you want to be! Floating shelves are designed to look as though they were made for the space they inhabit and the best part about them is there are a million and one different options for creating the look you love.
Think of it as the perfect way to build up in small spaces or to organize when you feel like space is limited. Not only are floating shelves great for tiny spaces but they are also appealing to the eye and a way to break up spaces. Not to mention, they are cost-effective! WIN-WIN!
Even though floating shelf ideas can be helpful for ANY space in the home, we are diving into the three most important spaces (could be up for debate): Your bedroom, living room and kitchen.
Floating Shelf Ideas for the Bedroom:
1. Shelf Nightstands
Okay, now this is probably our favorite option because nightstands can be expensive and let's face it…not all of us want to spend $100+ on nightstands that fit the style of the room. Cue the floating shelves! You can easily get away with some plain colored shelving and add some fun accents to create height and dimension. Try our wooden floating wall shelf.
You can get as fun with this as you want and even turn it into a DIY product! Have you heard of modge podge? Channel your inner HGTV star self and go grab some wood, your favorite fabric, hardware, and some modge podge and you are ready to create beautiful one-of-a-kind shelving.
2. Shelves in Place of a Headboard
Another brilliant cost-effective alternative idea is adding a floating shelf above your bed instead of a headboard (or in addition to your headboard). The perfect headboard can be expensive and you'll have the freedom to decorate and create a stunning focal point with a full length floating shelf above your bed. This will create height and add dimension to your space. If your bedroom ceilings are extra high, try adding multiple full-length shelves above the bed. Fill your shelving with art, books, plants and even your favorite collectibles.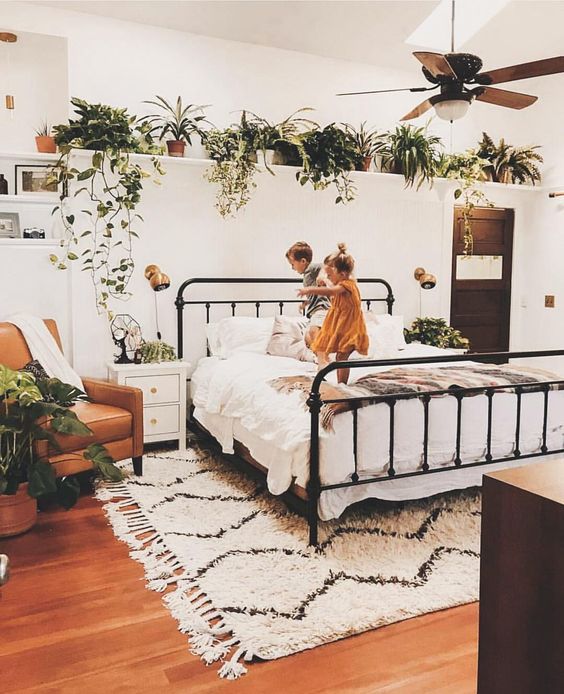 3. Floating Shelf Accent Wall
So this one might seem a bit obvious BUT we are taking you through a couple options that you might not have already thought of.
1. Floating Corner Shelves
These are SOOO trendy and the best part about floating corner shelves is they don't take up much extra space! These are perfect for smaller bedrooms or kids rooms. If you have a bed almost pushed up against the wall, these can serve as functional storage while still being stylish.
2. Architectural Accent Shelf
If creating a bold statement is something you love, then architectural accent shelving is right up your alley. These are bold pieces with chippy details and tons of texture that will take your space from bland to glam. The wonderful thing about architectural accent shelves is that they are statement-makers AND functional! . Add them to any space or even in a cozy reading corner of your room filled with books. We love this white corbel wall shelf as an accent to create the perfect french country look.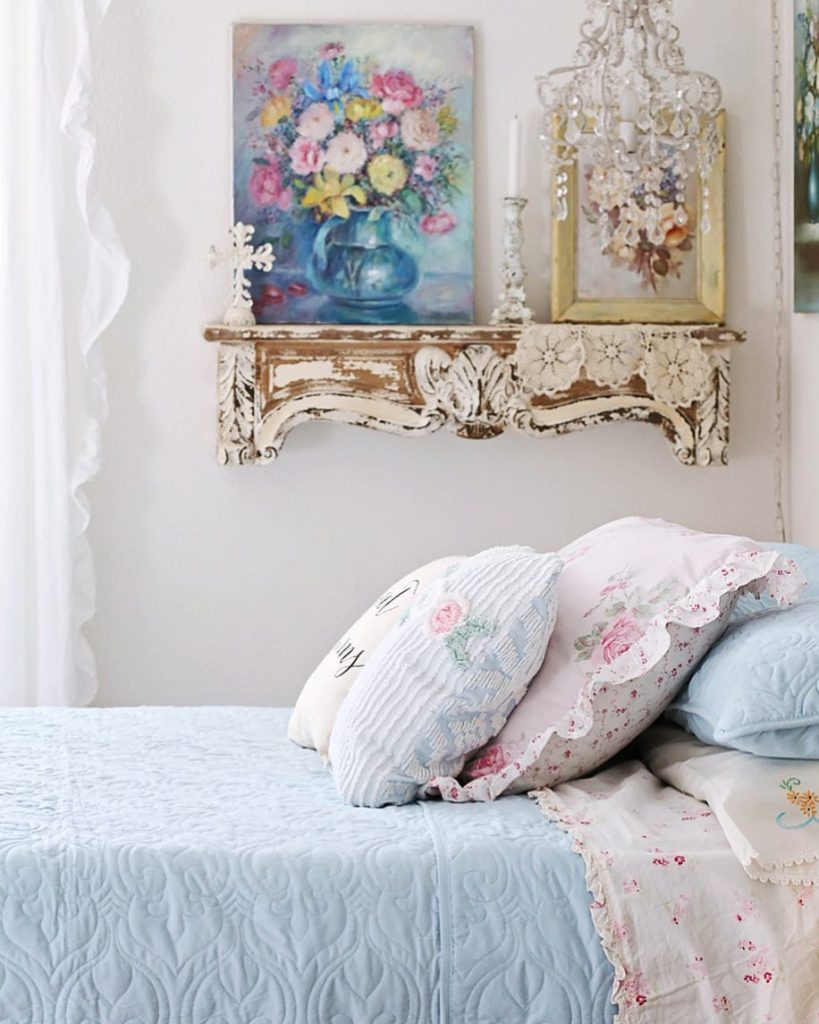 3. Gallery Wall Incorporating Floating Shelves
Gallery walls are always a good idea and they are a great way to mix function with fun accents that you want to display. Mix in some family photos, art, signage, and fill your shelves with practical pieces. You can even use it for storing. small handbags, cosmetic bags, candles, hats…etc. Be sure to play with your set up on the ground and arrange it the way you want it before committing to a spot on the wall.
Floating Shelf Ideas for the Living Room:
1. Floating Shelf Wall Library
Are you a book lover? Even if you aren't, a beautiful display of books (kids books, self-help, cookbooks, journals, vintage books…etc.) is a great way to create a beautiful unexpected space. You can use any kind of style floating shelf that fits the needs of the look you are going for. Dramatize the space with unexpected lines and different sized shelving. See the example below: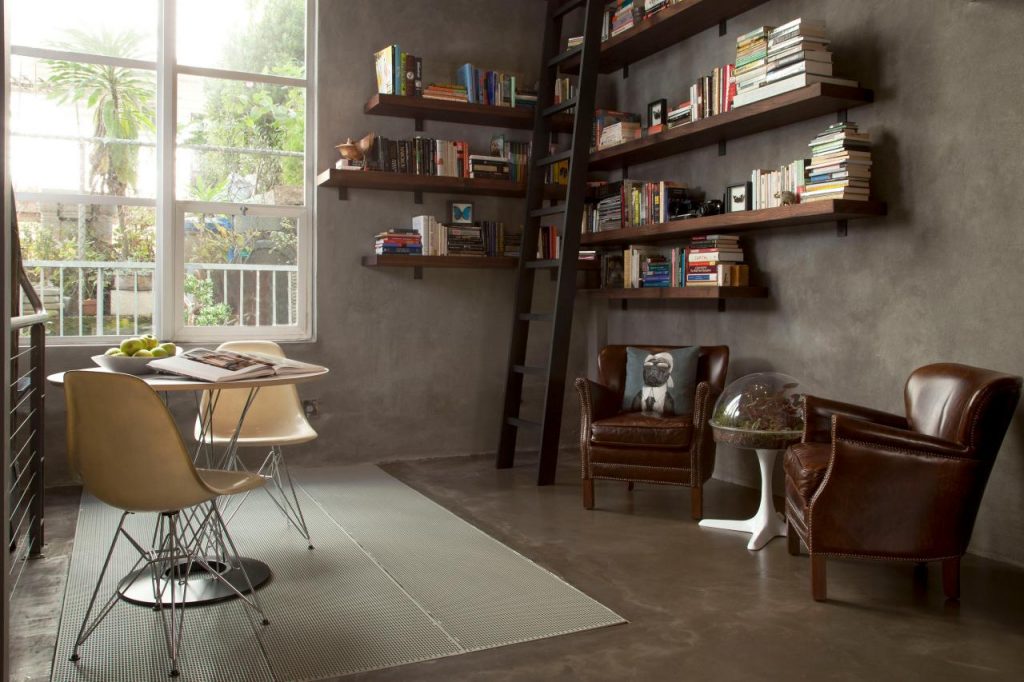 2. The Perfect Faux Mantel
Who says faux can't be "real" trendy? Not us! The living room is such a great place to have a mantel. If your home doesn't already have one or if your fireplace is missing one, a floating shelf is a perfect option for a quick upgrade. For example; if your fireplace extends to the ceiling, simply put a floating shelf in the middle to add a break to the design. If you have no fireplace, no worries, a mantel will still work! You can either create your very own faux fireplace or just add a mantel to an accent wall. Place your TV above it with some potted plants below and just like that, you have a fun functional living room! Try this white wooden mantel shelf to create the look.
3. Behind the Couch
The space behind your couch is always tough. It's usually a huge empty space on the wall and it can be daunting to try to come up with decor that will look good.
Well, floating shelves are exactly what that empty wall space needs. They are simple, easy to hang, and you can fill the shelves with just about anything! It's the perfect spot for those prints you couldn't decide where to hang. Oh, and it's also the perfect spot to house your favorite candles and books. Wait! You could also add some fun bookends, little vases with fresh flowers or even some succulents. Have fun with rearranging your shelves and add as many as you think your living room needs. There are no rules to this!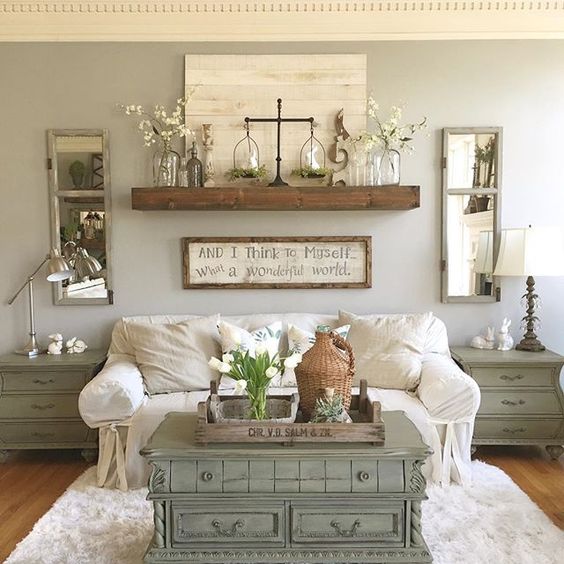 Floating Shelf Ideas for the Kitchen:
1. Above the Sink
This is just great! Adding floating shelves above your sink is such a function friendly idea because this allows everything you need to be within reach. No more ugly catch-all taking up counter space or running from one end of the kitchen to the next for hand towels and other kitchen essentials. Now, you have everything at arms reach and taking up zero counter space. Instead, all your essentials will be looking organized and pretty on your brand new shelves. Enamelware shelves are a unique approach to this look! Try these enamel floating shelves, set of 3.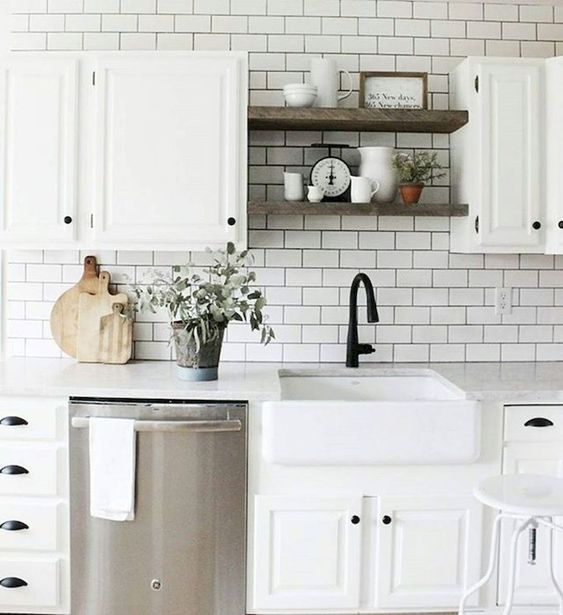 2. In Place of Cabinets
You just have to love open shelving in place of cabinets! We can think of so many kitchens that have truly taken on such an entirely new personality from this update. It's simple, gives you more room for dishes, and gives you the ability to show off your favorite mugs, dishes, tiered trays, and cookbooks. You really can't go wrong with adding floating shelves in place of cabinets. Especially if you are in the middle of building a bigger kitchen or updating your original space. This is the perfect time to get your hands dirty with this easy project.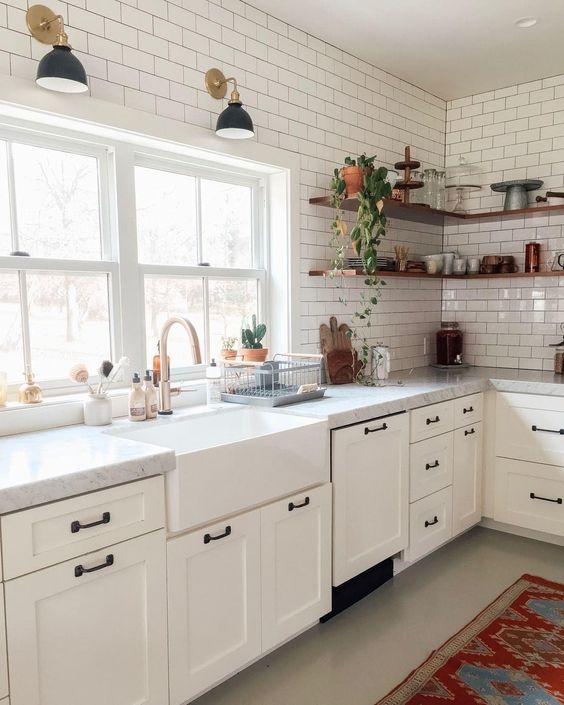 3. Coffee/Wine Bar
Morning coffee? A nightly glass of wine? OR both! We choose both every time, but whether you are a coffee or wine person, adding a fun little nook for your bar is such an easy way to utilize floating shelves. All you need for your floating shelf is a sign, some mugs or wine glasses, and that's it! You'll have a fully functional little spot in your kitchen to make your morning coffee or get ready to relax after a long day. Add your favorite bar cart below with a Keurig or bottles of wine and you have a budget-friendly bar.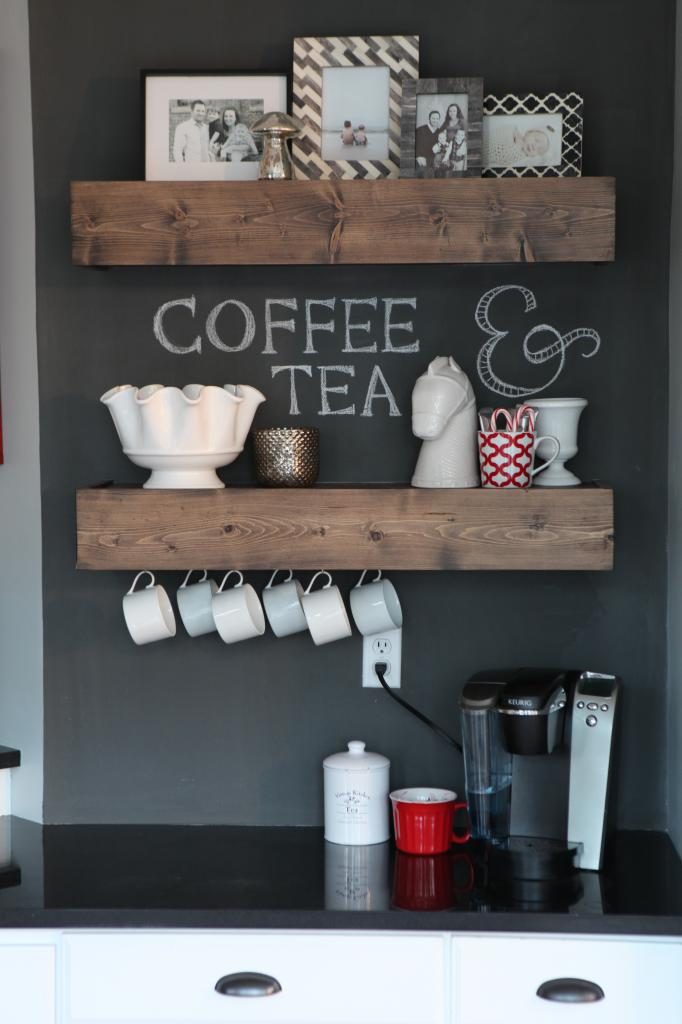 The best thing about floating shelves is they serve so many purposes and are a budget-friendly upgrade to your home. When in doubt, floating shelves are always a good option.
---
---