Conquering Clutter: Cheap Ways To Increase Your Kids' Toy Storage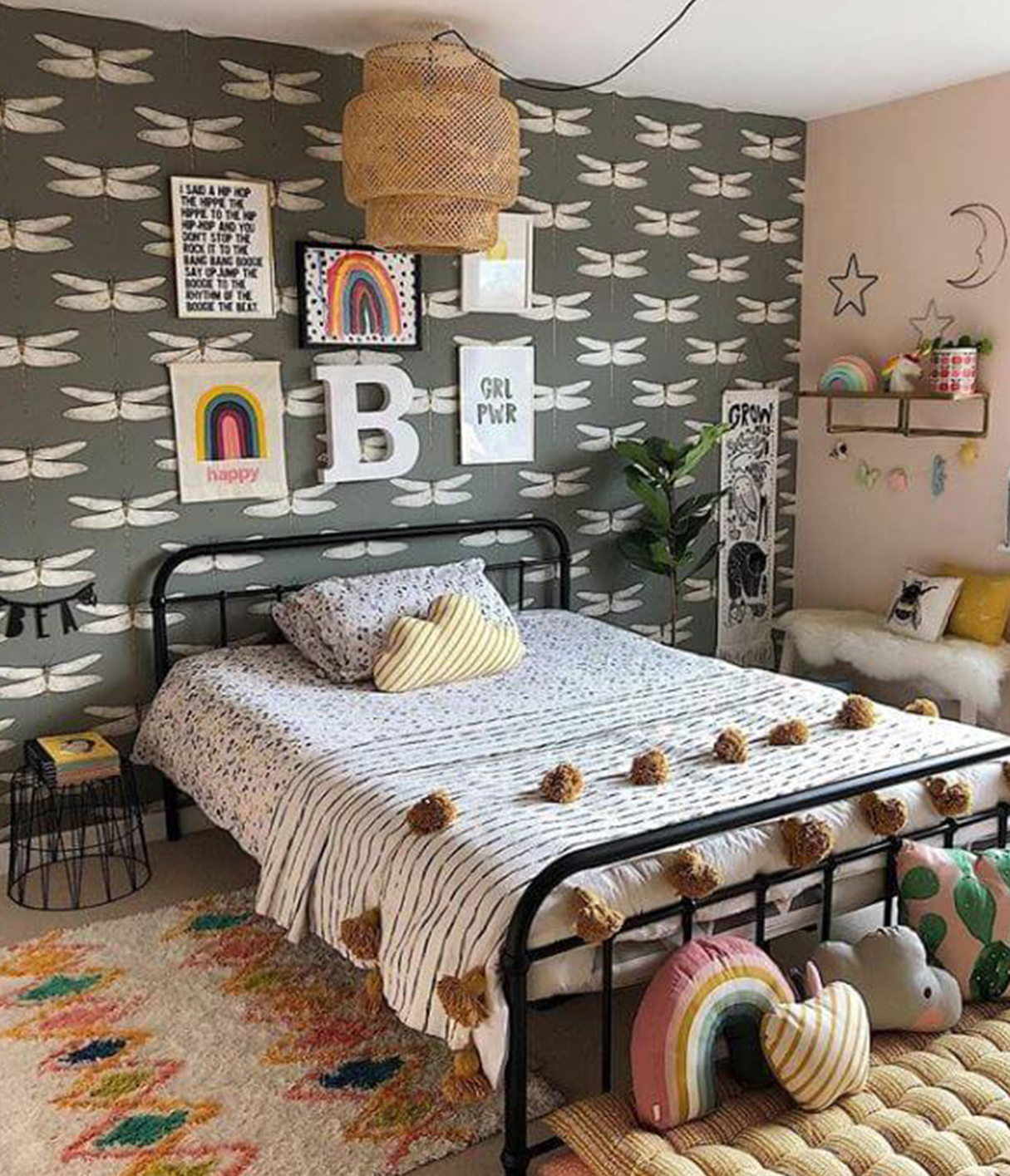 If you have kids, there is no such thing as too much toy storage. Even if you show restraint on purchases for your own kids, birthdays and Christmas rolls around and generous gift givers come out of the woodwork. Where do you put all their things so your WHOLE HOUSE doesn't become a playroom?! We've got you covered. We have tips and ideas for those of you who are handy, crafty and have some time on your hands, as well as some turn key ideas that anyone can just buy and plop in place!
Functional Toy Storage
One of our favorite "hacks" is simply to buy pieces for your home that are dual purpose. If you want to keep toys in your living room, consider a coffee table or ottoman with storage inside. Last minute guests? No problem– toys can be out of sight in seconds, but still close at hand when your little one needs entertaining. Beyond that, storage benches can be a life saver too. The bench at the foot of this beautiful bed could easily be swapped with this white washed storage bench to add a TON of extra storage for toys.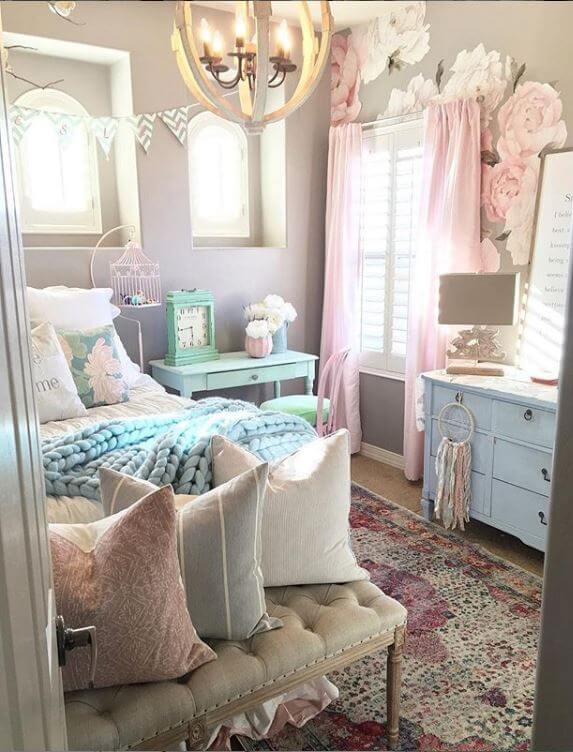 For a more industrial take on the same idea, a wood and metal bench with baskets underneath could also be used to organize smaller toys in a classy way. It brings a bit of rustic flair to your space so it doesn't get too cutesy, unless of course that is what you are into! It would also look stellar in a mudroom, if you need extra functional storage there too (you can find plenty of other mudroom storage ideas see our recent blog post)!
Toy Chests and Similar Alternatives
Wooden Trunks and Crates as Toy Storage
Toy chests are a classic solution for adding storage and minimizing clutter. If you are looking for a classy version for your son or daughter's room, look no further. We absolutely love this set of three wooden trunks for both functional and aesthetic reasons! They look great stacked, but are big and beautiful enough to stand on their own if you want to split the set up. They can be used in lieu of a nightstand to save even more space. Wooden crates could work as beautiful additional storage as well!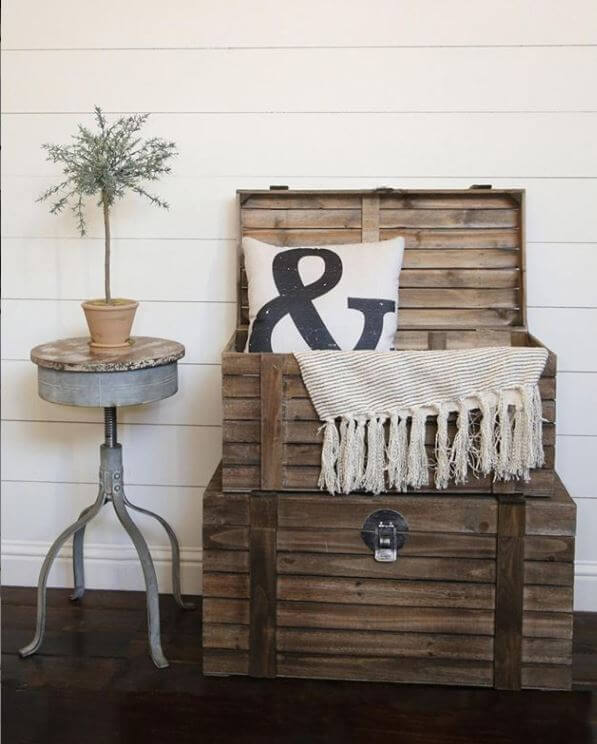 Vintage Luggage as Storage
For a twist on the original, consider incorporating vintage luggage in to a kid's bedroom or playroom for storage that really sets the tone for the space. Luggage can complement a themed room very well– think maps on the wall and antique airplanes or trains, or even a safari theme! If you don't already have some old school suitcases on hand, try flea markets, thrift stores or antique shops. If you want the look without the hunt, snag a set of these vintage burlap suitcases. Stack them high, leave them open…. no matter how you use them, these look fabulous!
Built-in Spaces for Hiding Toys
Built-in Shelving
Built in shelves are awesome for tucking things away. We absolutely LOVE this learning room. It is both fun and organized– what more could you want?! We don't know about you, but we are inspired! With built in shelves, you just have to work out what to put on them. We are huge fans of baskets instead of putting things straight on the shelves in order to make things look tidier. Some of our go-to baskets are seagrass and hyacinth because they bring in some natural touches and textures!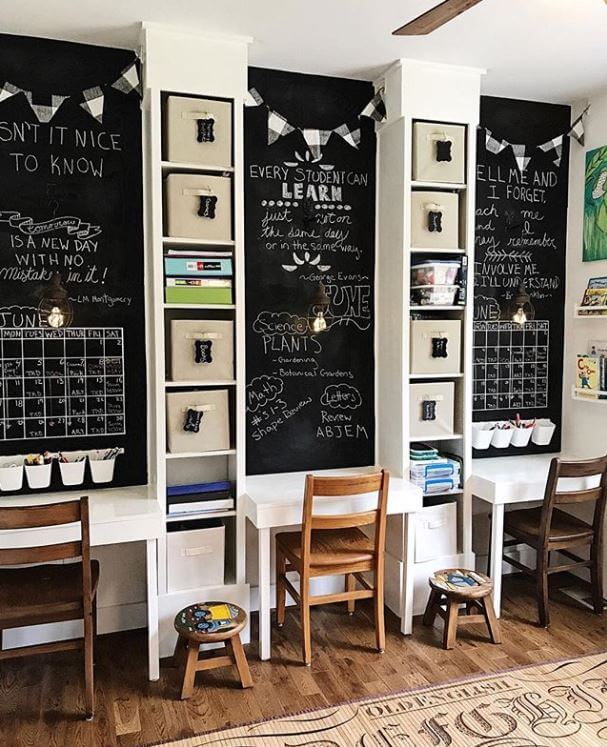 Built-in Drawers
A less common but close sister to built-in shelving is the built-in drawer! This of course requires some time, planning and skill (or a handyman), but the amount of storage space you'll gain will make it worth it. Every type of toy has its own home and the best part is, your kids can easily access these (for both playing AND clean up).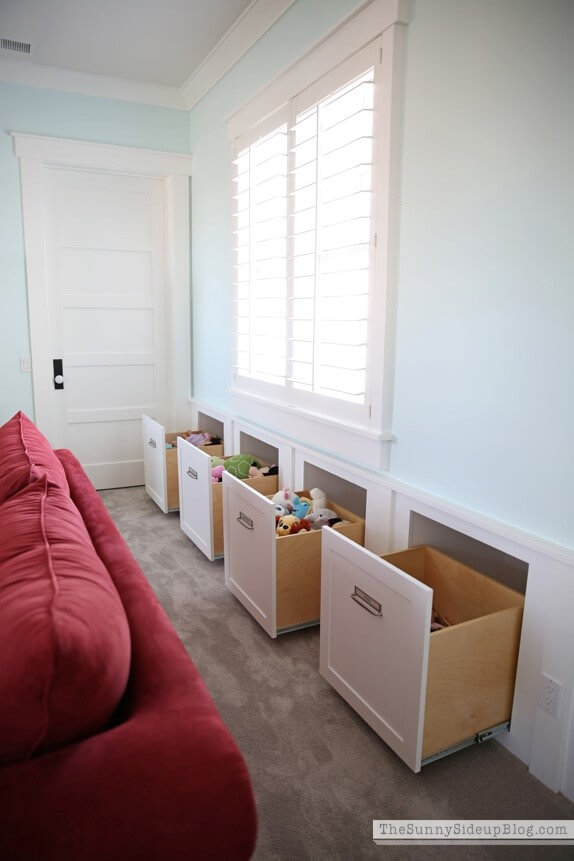 Built-in Floor Storage
We wanted to offer a solution for all the outdoor toys your kids have… enter this genius floor storage hack! Waterproof balls, buckets, water guns, sprinklers and beyond will easily fit into this huge bonus storage space. Everything is out of site but never far out of reach. If you have the opportunity to do this at your home, we strongly recommend it! You can practically sweep everything back into its secret hiding spot. WIN!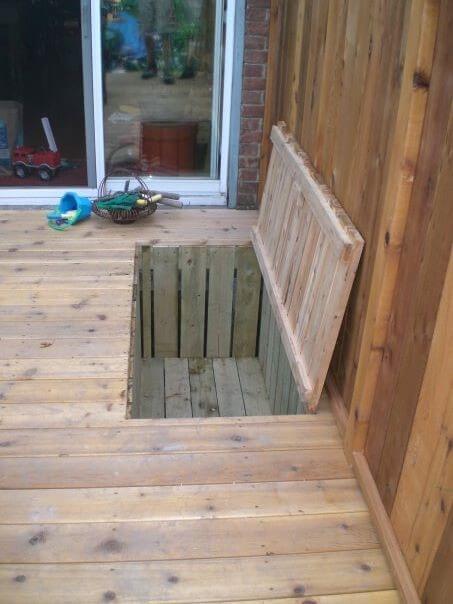 Shelves and Shelving Units
If built-in storage solutions aren't your thing (or are too much work) you can easily add in shelving to increase storage options. We love the idea of mixing in industrial elements and solid furniture pieces into kids' spaces, and this metal open pipe shelving unit is one of our top picks.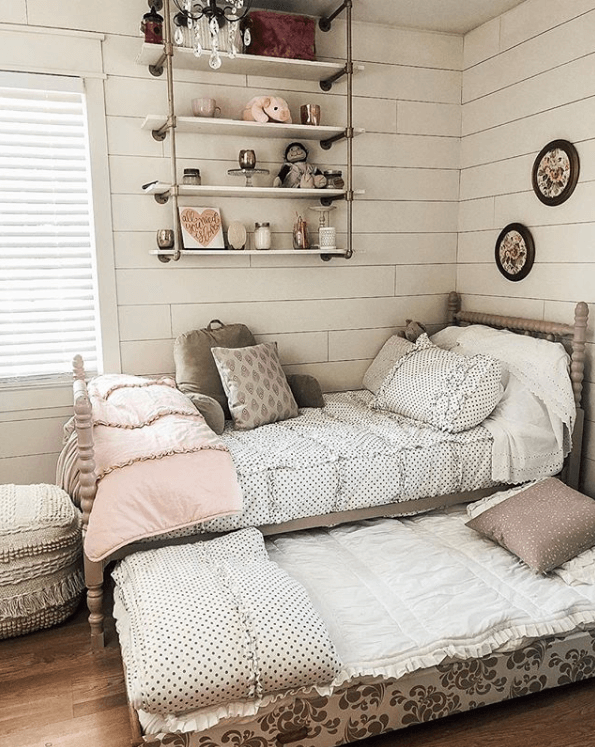 A single shelf can even pack a big punch, especially if it also includes hooks for hanging things below it. A wood shelf is versatile, as is this wall storage rack that @barnvintagebyloft32 painted for her kids' art room below!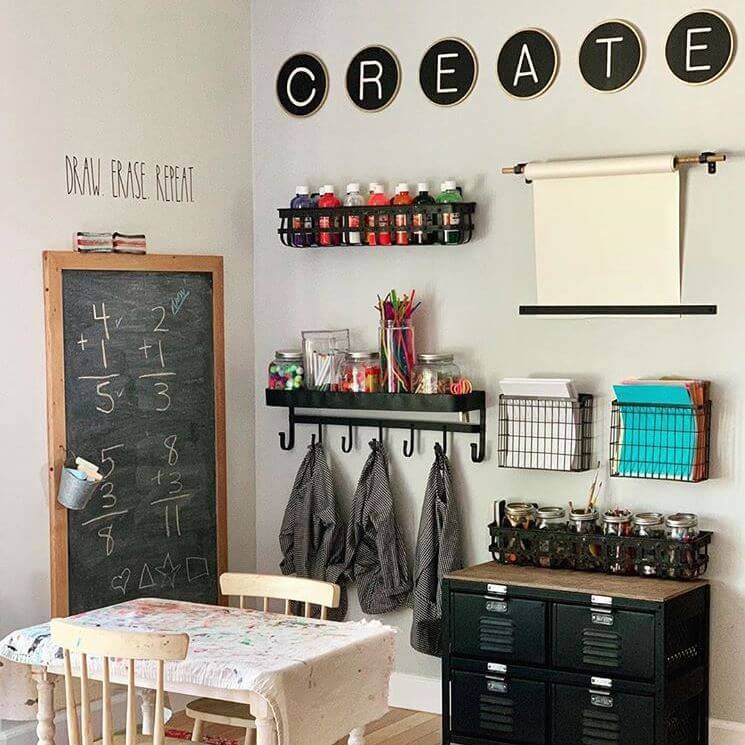 Creating Toy Storage Space Under Beds
Raised Beds & Bunk Beds
Bunk beds are a right of passage for many kids, especially if they come from big families! Even if you only have one child, you might want to consider a raised bed to allow for a really fun and functional toy storage space beneath it. They can be used as a fort, an area for doing homework or even just a spot for storing stuff.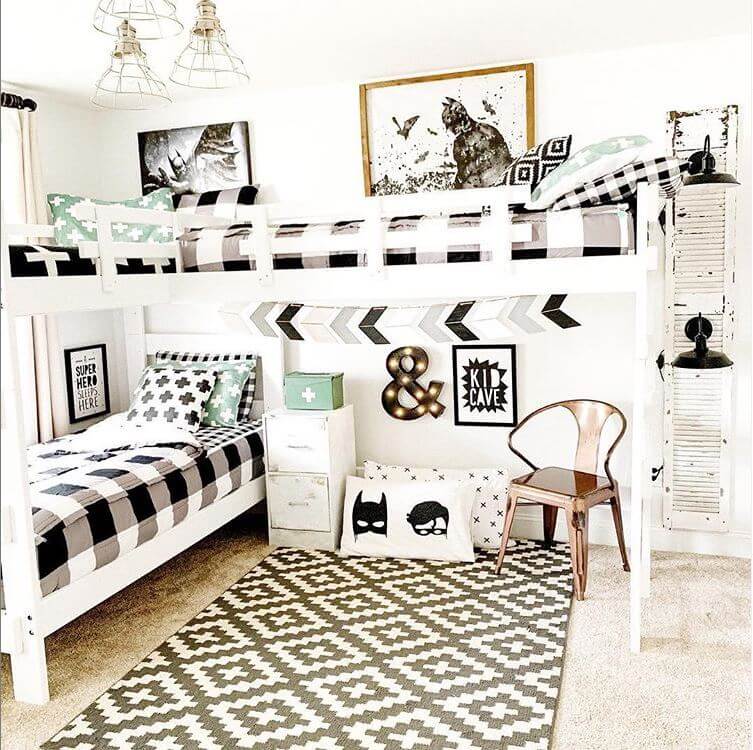 Using a Closet for Extra Bed & Storage Space
Kids are usually pretty small and wear pretty small clothes. They also haven't compiled a decade's worth of clothes yet. Odds are they won't need an entire closet just for clothes, so there is valuable real estate to be used for something else. We have seen many closets with clothes hung high, and toys and other stuff stored at the bottom. The room below features a different take– the top half OF THE CLOSET is a bunk bed, and the bottom half is where clothes are hung. This makes for a fun extra bed for friends, and also means your little one can reach their clothes easily on the bottom!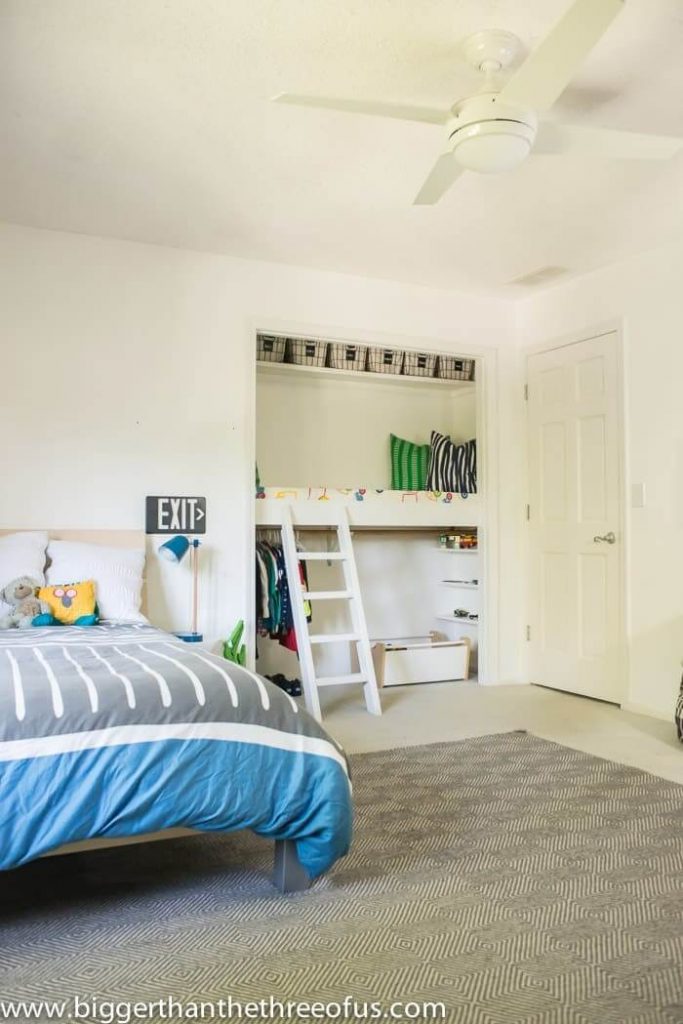 Storage Space Under Standard Beds
The trundle bed is a popular option if your son or daughter has frequent sleepovers and you want the benefit of an easy-access extra bed. An alternative is to have rolling drawers under the bed to add really functional yet tucked away storage to the room. For a DIY tutorial on making these drawers, click HERE.
If you want to take this idea a step further, you can make it a super cool playing space for your little one.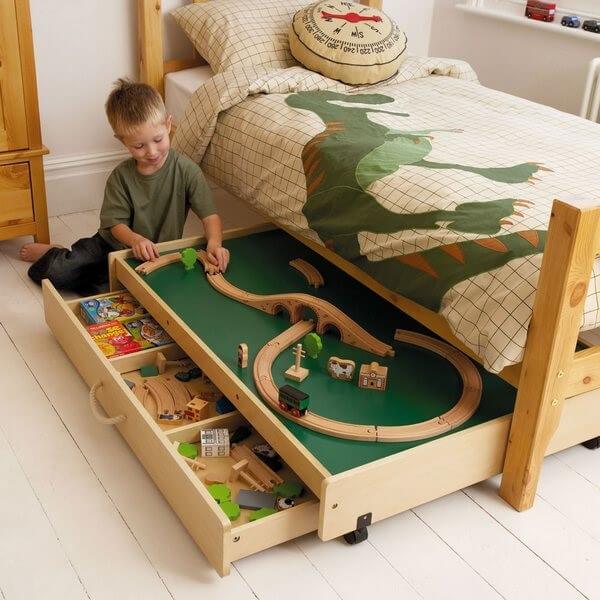 Extra Storage & Space Under Stairs
If you have a two (or more?!) story house, there is a good chance there could be some underutilized space in the cavity beneath your stairwell. This tip is definitely intended for the handier among us, but gives you a LOT of extra storage and space so could be well worth the effort and expense. Just how creative you get with it is up to you. We have seen everything from simple shelves or drawers, to dog houses, to reading nooks, to play houses and beyond! For some cool inspo, check out these ideas from Country Living and DIY Fun Ideas!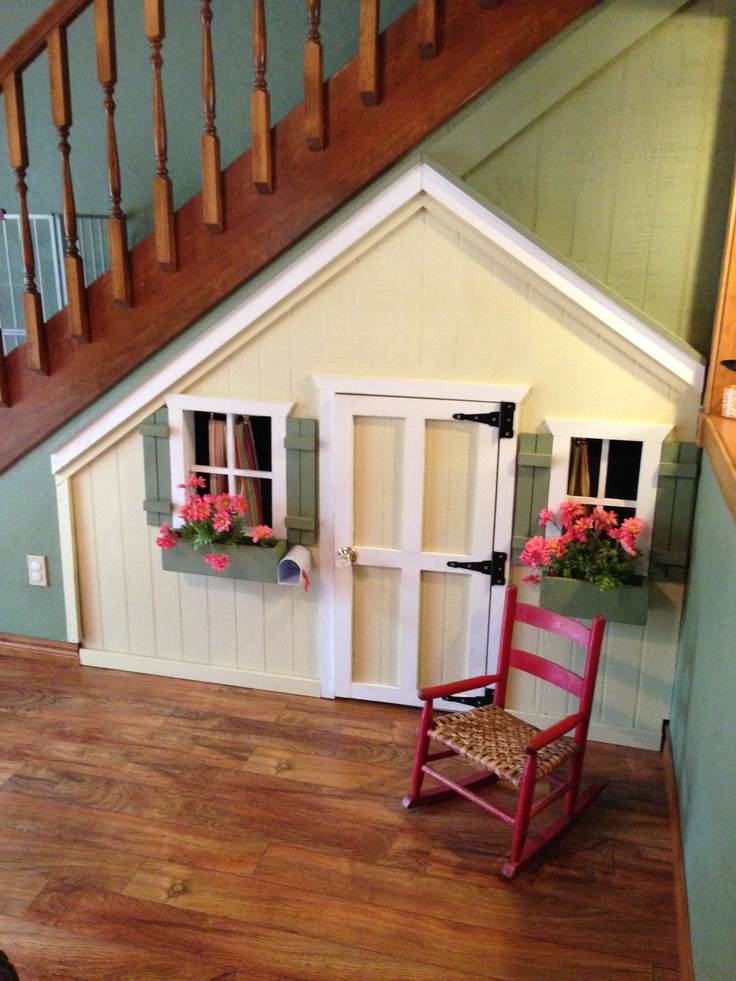 Outdoor Toy Storage Ideas
We have shared a ton of ideas for indoor toy storage, but anyone with kids knows that outdoor toys can be just as big of a challenge! We LOVE our kids playing outside but don't want our outdoor spaces to start looking junky either. We found an AWESOME round-up of outdoor toy storage options at Happy DIY Home so head on over there for a ton of great tips! We are especially excited about their stacked tire toy storage idea for those of you looking for something substantial, semi-permanent, and weather-resistant!
Organizing Toy Storage by Type
If you aren't up for a big project but want to make a few small improvements to your toy storage situation, the best advice we can give is to organize by type. Grouping things together by form or function will make things easier for the whole family and typically makes things look a lot more polished. We rounded up a couple examples that we think are a bit unique (beyond color coded tupperware) and as a bonus, make cleaning up FUN for your mini-me. Instead of cars in a big bin, how about attached to magnets or in an awesome DIY car parking garage?! Stuffed animals all over the floor, or in a custom stuffed animal zoo?! So much fun.
Storage Space = Sanity
While we certainly don't think having a "photo shoot ready" home is feasible at all times (maybe EVER) with tiny tots, we like to be organized. Having enough space certainly helps, and having a specific spot for everything is a huge step in the right direction. We hope you found a few tips and tricks you can incorporate into your children's bedrooms, playrooms, family rooms and beyond to help you get a bit closer to living that pulled together dream!
If you found this helpful, please share our post with anyone else who might enjoy it! Also, if you are new to Decor Steals and aren't sure what we are all about, check out this video and follow us on Instagram!
---
---