How To Decorate Your Porch For The Christmas Season
Your porch is what sets the tone for your home, so it is worth making the effort to perfect your Christmas porch decor. You only get one chance to make a first impression, right?
Christmas decor can get pricey and storing it all year can be a chore, so we help you crack the formula for creating an inviting front porch and selecting pieces that pack a punch in this space.
Christmas Porch Decor: Greenery
Christmas Trees
We think there are few things as magical as a beautifully lit Christmas tree around this time of year. Depending on the space you have to work with, you can put a single large tree on your porch, or a few smaller trees in a grouping. We love the idea of using our Galvanized Metal Christmas Bins to house smaller trees as seen below. If you have limited space outside, consider placing a tree indoors in front of a window so people passing by can enjoy the sight of it from the outside! You can also get a festive look by incorporating some wooden Christmas tree cutouts.
Holiday Wreaths
Instead of, or in addition to, a tree, wreaths are a Christmas mainstay, and the front porch is a prime location for them. Hang them on your front door, around your existing lighting or in front of your windows. Wreaths come in all shapes, styles and sizes and you can't have too many.
Christmas Garland Decor Ideas
We haven't met a garland we haven't liked, but we especially love garlands at Christmas time. These are a super versatile piece, as they can be hung in many ways to suit your space. Drape them over a door, wrap them around a column, twist them around a railing. If you use artificial garland, you can even buy them pre-lit, which makes decorating that much easier. Many garlands are simply greenery, or greenery with lighting, but you certainly can incorporate ribbon, pine cones, ornaments and more. A big trend in decor right now is beaded garland, and we absolutely love the look!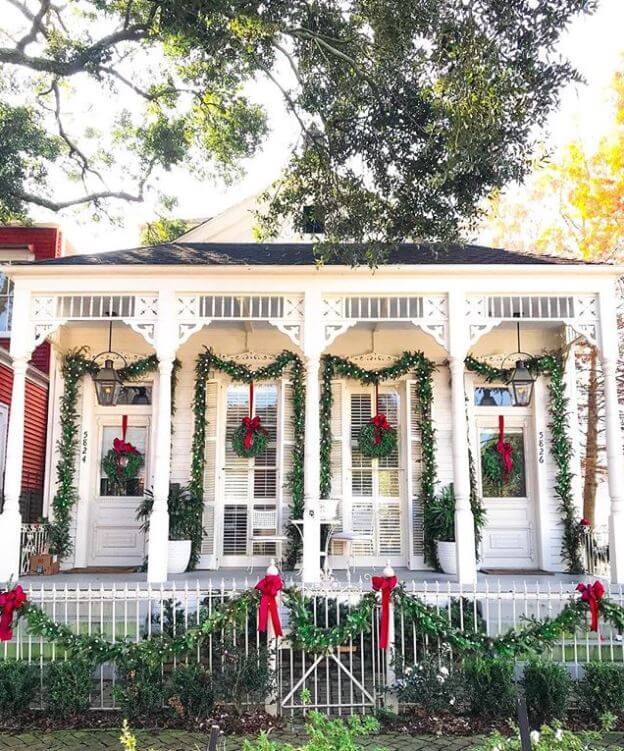 Christmas Porch Lighting
May all be merry and BRIGHT! Cozy lighting is synonymous with Christmas, especially since December is often a dark time of year in many places. We love the combination of greenery and lighting, but you can also add lighting as a stand alone decoration. String lights of any shape and size look amazing and instantly make a space extra inviting. We also love seeing lanterns with candles or fairy lights incorporated to glow up a space.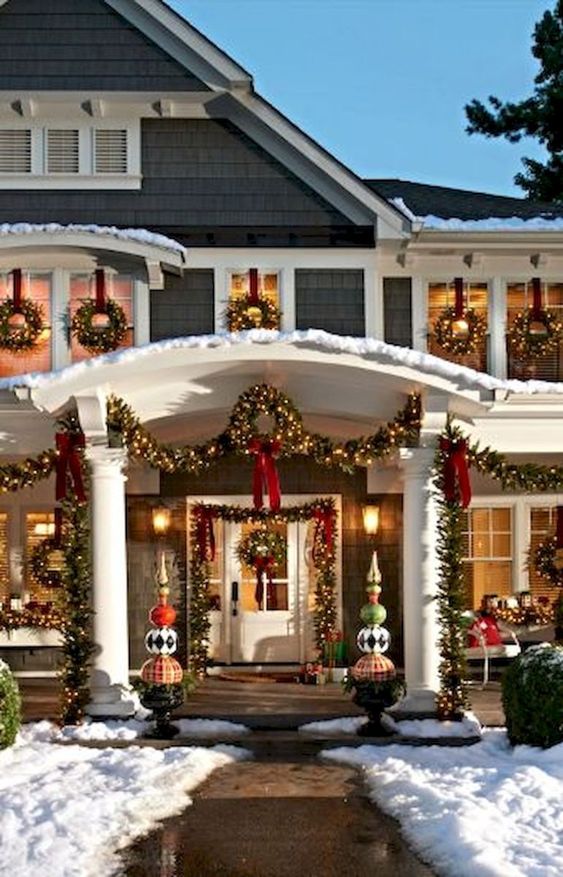 Holiday Door Mat
Every porch needs a door, and every door needs a door mat (or two, depending on who you ask). A door mat is a very easy way to give your porch a bit of a makeover. We love the look of layering a door mat with another small rug, so if you do too, you can replace the top or bottom mat (or both) with something holiday oriented. Another option we like is a customized door mat with your family name on it. Christmas time is for families, so make that statement at the door!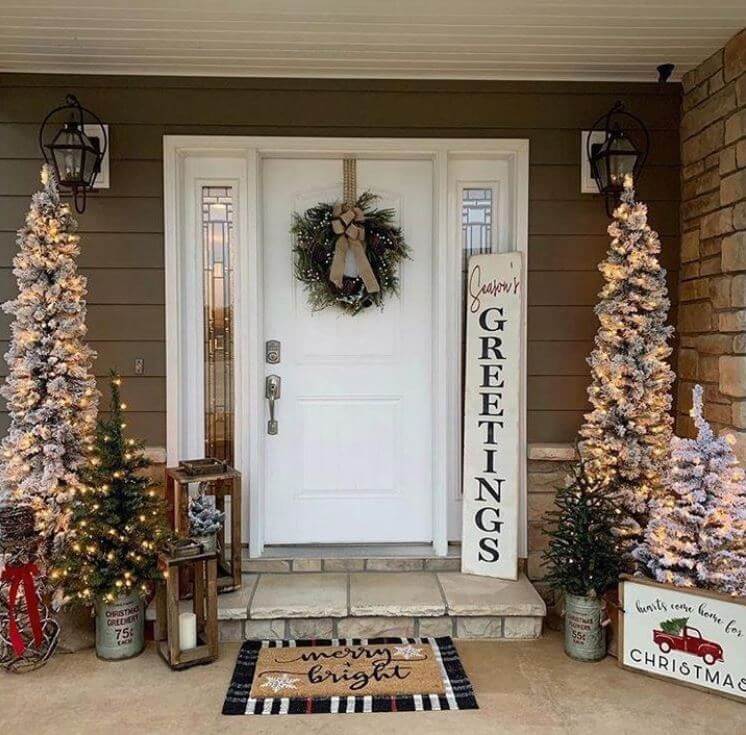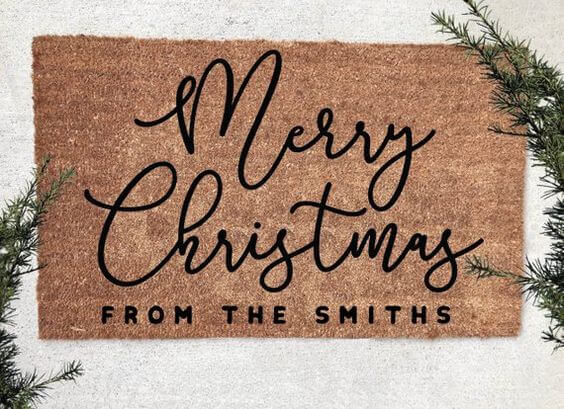 Seating & Textiles for your Porch
If you have the space to accommodate it, we love the look of incorporating seating on your porch. While it may be too cold to spend much time out there this time of year, it is very inviting to have a bench or some rocking chairs still on display. To winterize the look, make sure to include some casually draped textiles (think plaid throw pillows or cozy blankets).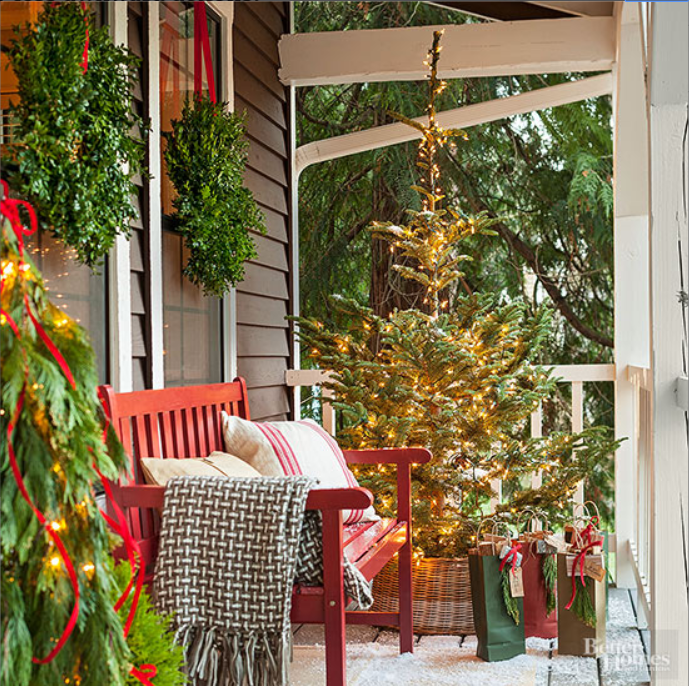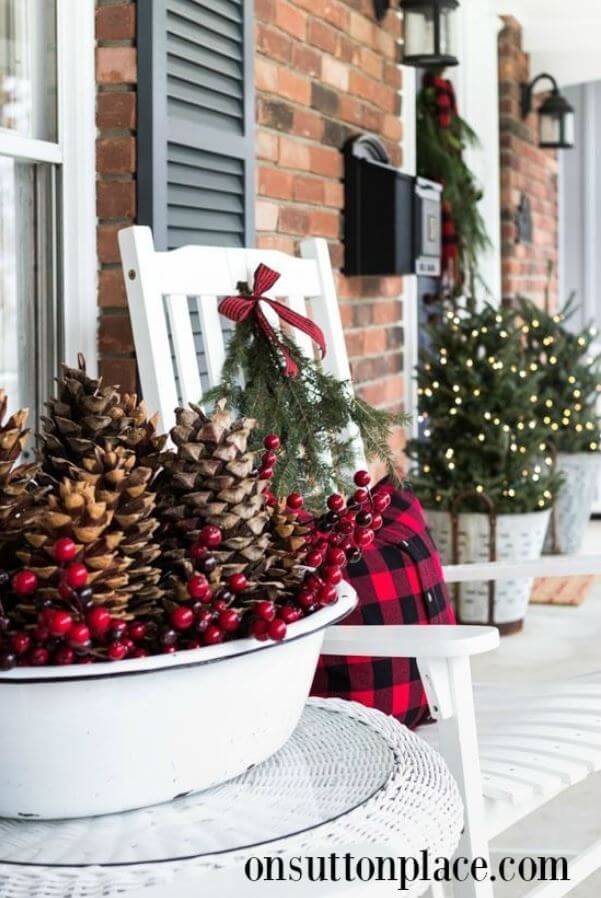 Christmas Porch Decor: Sizing and Color Ideas
If you want your decor to be visible from a distance, keep in mind the scale of the Christmas decor you put on your porch. Small ornaments and figurines will get lost, so aim for things that are a little oversized. We also love how red decor pops, even from afar. If a red front door is too bold of a choice for you, stick with neutrals there and weave in red elsewhere (like with some gorgeous poinsettias, a large Merry Christmas sign or a festive planter)! Also, you CANNOT go wrong with an adorable pup in boots!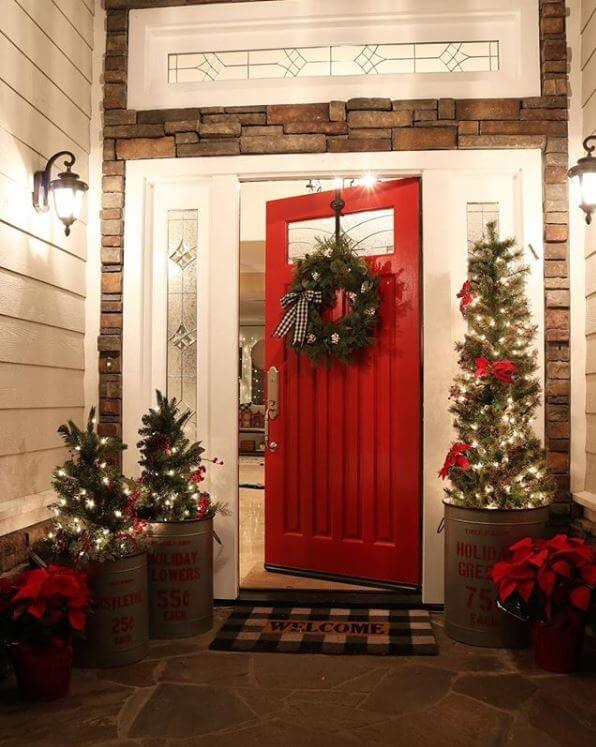 Vintage Charm Christmas Decor
Children, toys, the good old days and simpler times. Vintage items such as sleds, wagons, and ice skates bring back fond memories and childlike wonder to your decor. These are all great options for decorating your porch as they are outdoorsy items and also relatively big. Nutcrackers, skis, snowshoes, trains and vintage trucks are fair game too! We love that this wagon adds a bit of height to the display– alternatively you could stack some rustic Christmas-themed crates for height too! One of our faves for Christmas 2020 is our Decor Steals EXCLUSIVE 5 Foot Tobacco Stick Christmas Tree – so simple, yet playful and festive! The kids will love this Letters to Santa Box that you can position among some greenery.
Christmas Decor Beyond the Front Door
Now that we have a game plan for your Christmas porch decor, take a look at some of our earlier tips for indoor holiday decorating and be sure to check out our Decor Steals Holiday Shoppe for all of our latest and greatest Christmas steals! As always, we love your comments, questions and photos. Comment below or tag us on Instagram with @decorsteals or #decorstealsaddict!
---
---