How to Decorate That Empty Corner in Your Living Room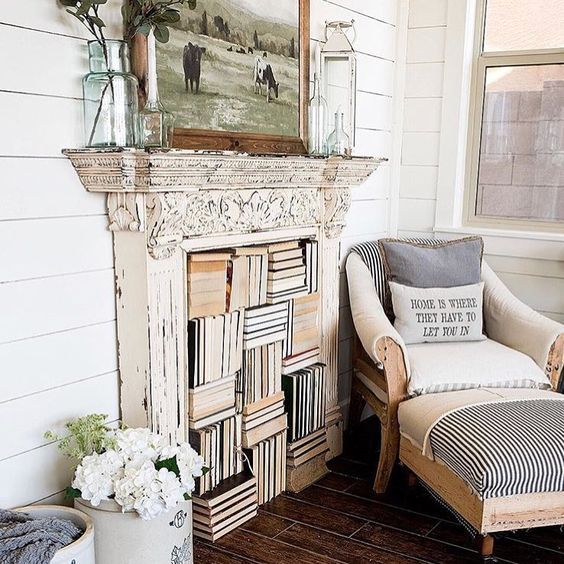 Every inch of your home counts! Even those little awkward corners and oddly-shaped alcoves. Those spaces get traction too and don't go unnoticed. That's why filling all the spaces in your living room is so important. The only obstacle is finding the right way to use the space and finding decor that is purposeful.
We've put together a list of useful updates to your empty corner that might have you wanting to redesign your space today!
1. Reading Corner For Your Living Room
Punctuate that empty corner in your living room with a simple setup that pops. Create a fun little reading nook by adding a bold patterned or vintage leather chair. Tie in a small side table topped with books and you have yourself the perfect cozy corner to dive into your favorite book.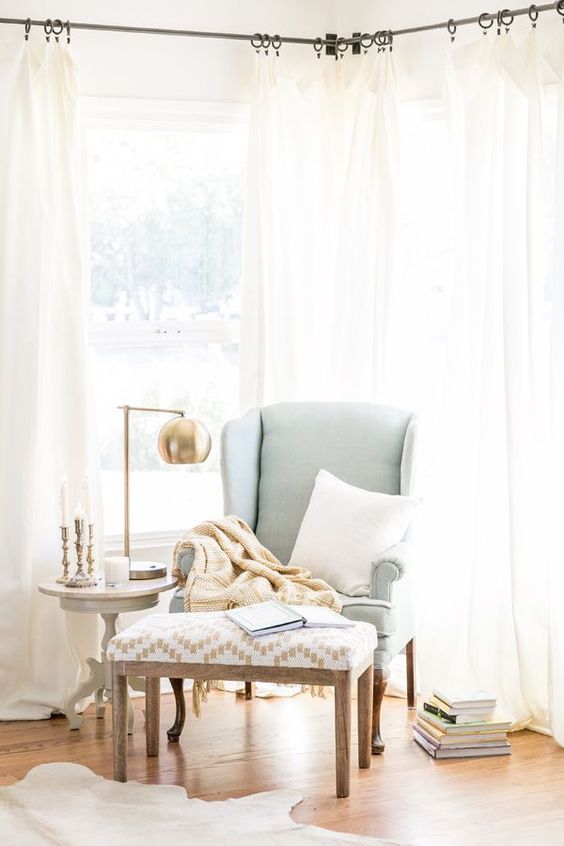 2. Empty Corner Turned Art Gallery
Wrangle in all your favorite prints, photos, inspirational quotes, and vintage framed articles (love this for a vintage look) and arrange them in your empty corner. You could make this space anything you want! We love the idea of a themed art gallery wall that serves as an inspiration center or a way to display your favorite artist's collection. Add a little table topped with florals and just like that your empty corner is a statement wall. Discover some other great ideas for wall decor by reading our blog post: 3 Simple Wall Decor Ideas and What Ties It Together
3. Bold Living Room Work Corner
Not all of us are so lucky to have a whole room dedicated to office space, but that doesn't mean we have to sacrifice having a spot for it. That empty corner in your living room is a great spot for your perfect little office. We love vintage vibes, so picking up a vintage desk and adding some modern farmhouse accents would really create an eye-catching pop that doesn't look cluttered or overdone.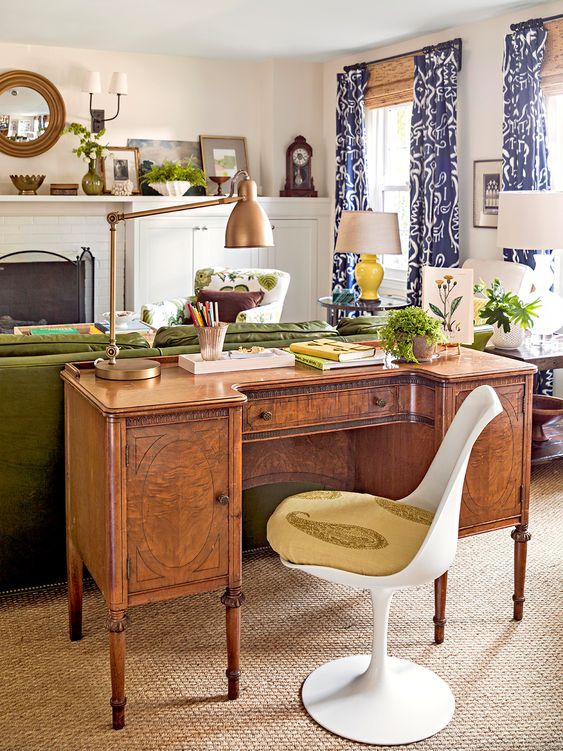 4. Built-In Bookcase
Get inventive and make your empty corner useful by adding some built-ins. This functional corner will be the perfect space for your book collection and a great way to divide or break up the room with some color and texture.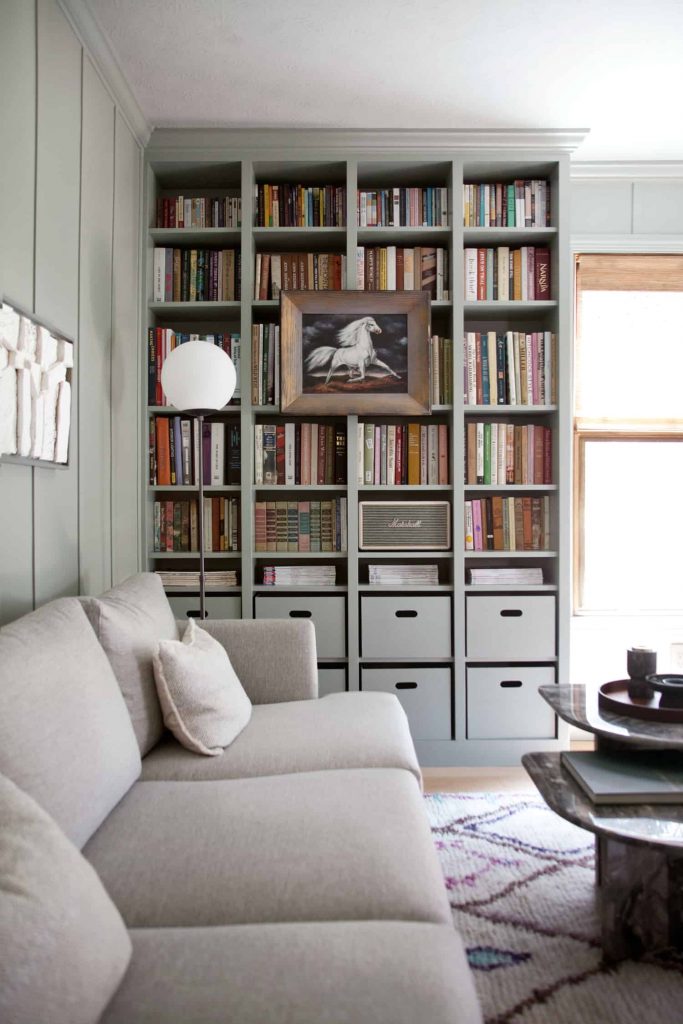 5. Coffee Bar Corner
Depending on the functionality of your home, a coffee bar might be the perfect way to utilize your empty living room corner. If you have an open concept home, a coffee bar that separates your living room from your kitchen can be a convenient and functional way to have your morning coffee. Add a bar cart, a k-cup caddy, and mug rack on the wall and you have your own personal in-home coffee shop.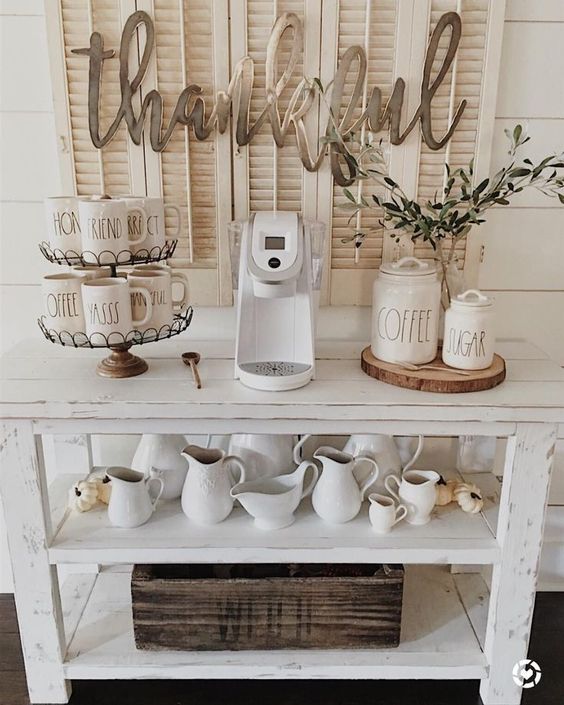 6. Storage Statement Furniture
A little alcove or corner in your living room is a great spot to add your heirloom furniture, such as your grandma's vintage chest or china cabinet. It doesn't have to be inherited. Add a chippy vintage-inspired chest or flea market find that will be a visual highlight for your space. Get bold with colors and opt for a dramatic piece that you can easily add neutral decor to. This will double as a place for some extra storage. Perfect for things like blankets and extra pillows.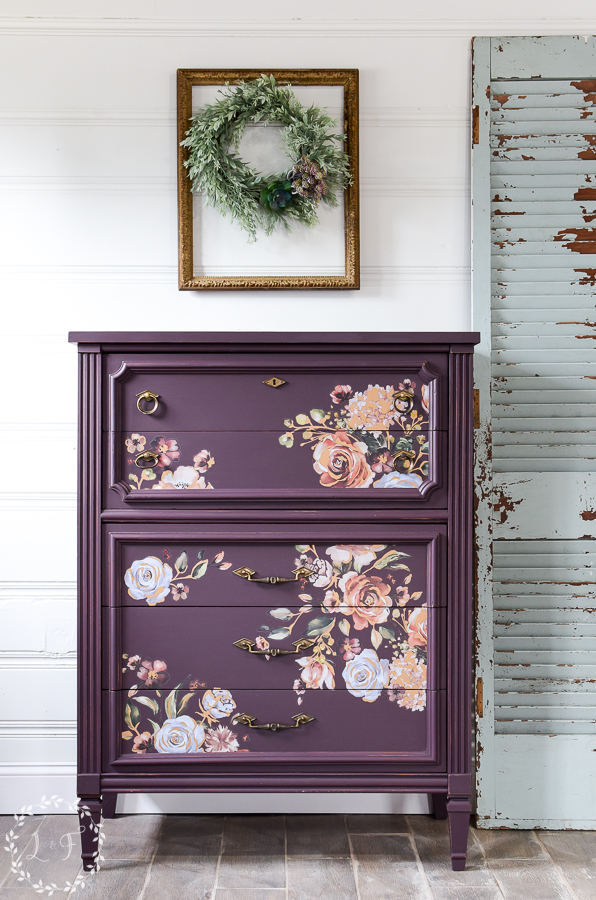 7. Living Room Faux Fireplace Mantel
Who doesn't love the look of a fireplace? But if you don't already have one, that doesn't mean you can't. Luckily, there is an option for you and it's also a great addition to your empty corner in your living room. Build a faux fireplace by adding a mantel shelf to a DIY wood piece (get DIY help here). Create the look of a real fireplace by adding some round wood slats to fill in the middle space or a peel-n-stick wallpaper backdrop. You can even fill the middle empty space with books like the photo below. Give your mantel shelf a statement mirror, some candlesticks, and a garland and you have a space that's a 10/10.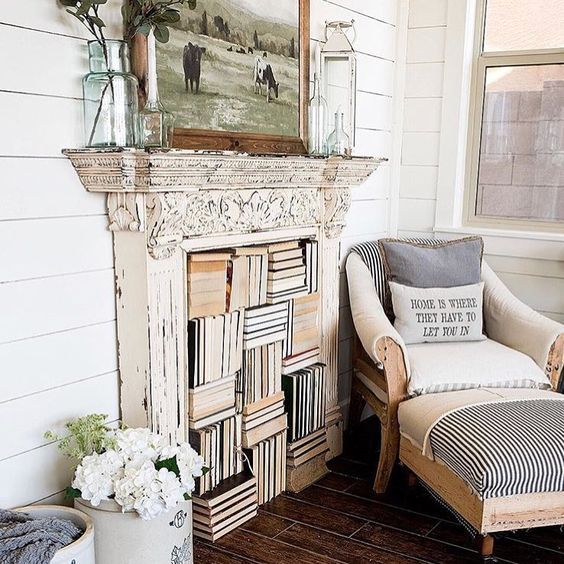 Every corner of your home deserves to be useful and functional. The above list of ideas will get you there in a snap. Let us know in the comments below if you have other ideas on how to build up your empty living room space. Also, let us know if you try any of these and how they turned out! Happy decorating!
---
---