How To Decorate Your Entryway Table Like A Professional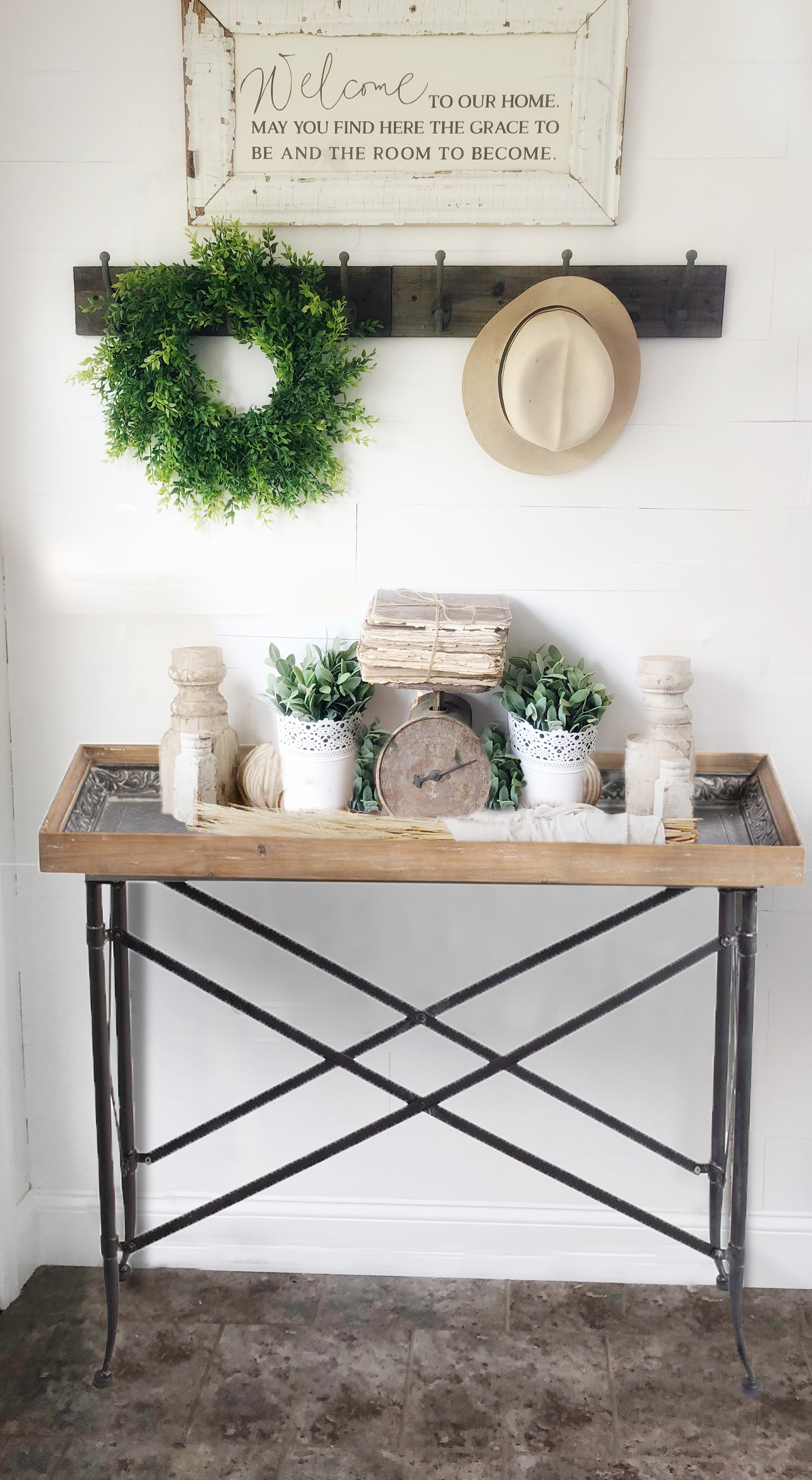 Do you ever walk into someone's home and immediately notice how cute and welcoming their entryway table decor is? We sure do. Have you been thinking about buying an entryway table or even accessorizing your existing one? If that is the case, we have this perfect little guide to get you started on how to decorate your entryway table. We'll show you all the tips and tricks for decorating your entryway table like a professional – you and your guests will adore entering your home!
Know the size of your entryway
Knowing the size of your entryway is critical to begin your decoration process. Asking "what size should my table be" and "where should I put it" are very common questions you will hear when it comes to entry table decor. Longer tables will usually be taller for proportion reasons and vice versa for shorter tables. Typically, 2 to 3 feet high and 2 to 5 feet wide will work just fine. Like any other table in your home, standard sizing is best so one table doesn't stick out too much as compared to the rest of your home.
If you have a small entryway, a decorative wall shelf might do best. If you have a larger entryway and more room to play with, a large console table, entryway buffet table, or credenza might work best. From there, you can look for the type of surfacing you want, such an antique or rustic weathered look. Once you've determined the size of your entryway, you can begin to look into the various styles you want to go with to start adding that vintage, farmhouse-charm style everyone loves. Once you've thought through all these elements, you can start thinking about the rest of your entryway table needs.
Get the look!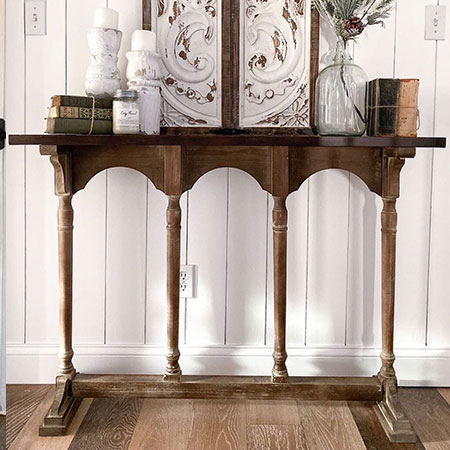 For all those homes that have a small or narrow entryway table, you may want to consider adding a piece that comes with built-in storage. You may know the feeling well. You come home and see mail, change, and car keys cluttering your entryway table or kitchen counter. For some of us, this triggers that organization anxiety that we want to get rid of. Well, with built in entryway table storage, you can come home to throwing your keys, wallets, purses, or change all in to designated compartments. From there, you can add all of the home decor, decorative pieces and accents you want without sacrificing the available space. Multi-functionality is a hot trend in the home decor space, so why not hop on board with your entryway table decor? 
Get the look!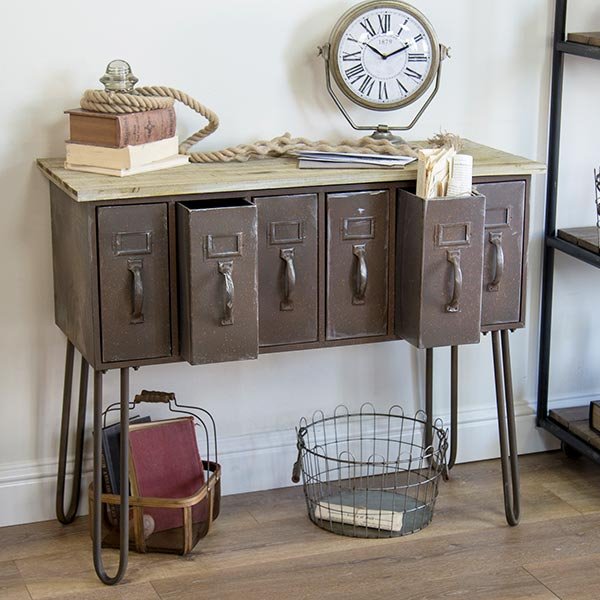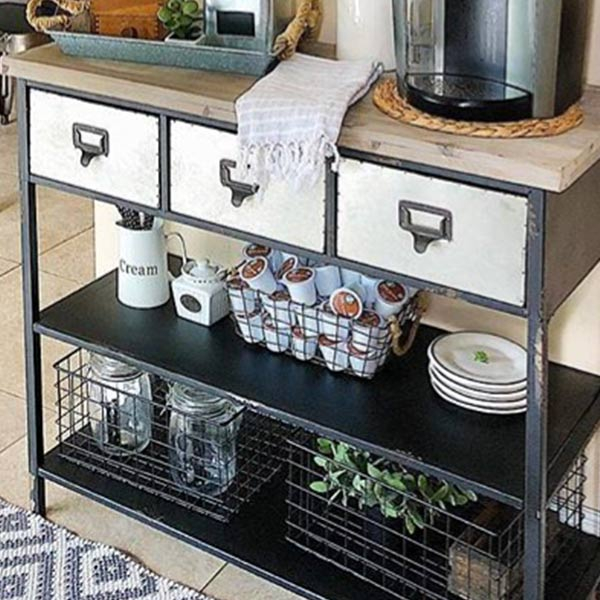 Lighting Up your entryway
When you first walk through that door, the available lighting in your home puts you in a certain mood. It is the tone setter for how you and your guests feel during the time inside your cozy space. Unfortunately, when overhead lighting is relied upon, it seems way too bright and doesn't capture the calm mood that your cozy home might be trying to perpetuate. A stylish lamp can provide that beautiful, dim glow that will highlight all of the lovely decorative pieces you've put together. Maybe even incorporate a custom shade to create a unique look, while still creating the lighting solution you're looking for. If you do need additional light, consider decorating with lamps on both sides of your table to put together that eclectic look! To save even more surface space, a wall mounted lamp or sconce could be a perfect solution in your entryway.
Get the look!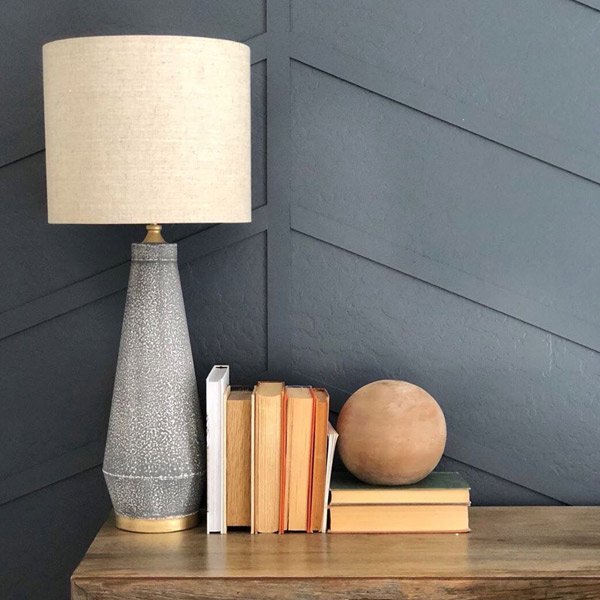 Finding the perfect Entryway Table anchor piece
When accessorizing your entryway table, many decor enthusiasts choose to have mirrors, wall art, or some other wall decor feature that serves as an "anchor" for the piece. The anchor is a piece that someone's eyes are immediately drawn to outside of the entryway table itself! Many people elect a wall mirror for their anchor. A few reasons for this is it may visually increase the size of your room and the neutral coloring doesn't compete with the color scheme you have in place. Plus, who doesn't like to take one last look at themselves before they walk out that door?
Wall art works great if you have a mirror nearby already. Maybe you want to choose a floral painting to bring that earthy vibe to your home. Or perhaps a bold abstraction piece to make a statement. Multiple smaller art prints work too, as long as the width doesn't extend out beyond the table too far.
A great rule of thumb when it comes to choosing your anchor piece is to choose an anchor that is narrower than the width of the entryway table. If the anchor's width falls outside of the table, it will feel out of place and may not highlight the beautiful entryway table you've been styling all this time! 
Get the look!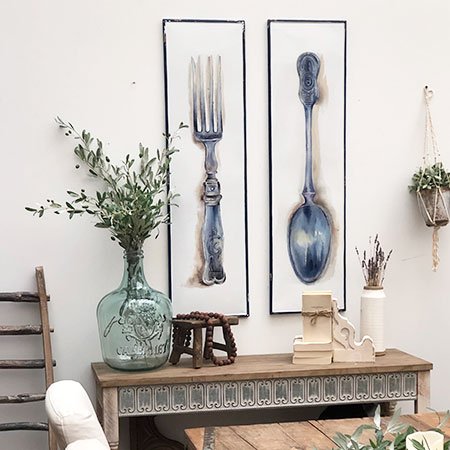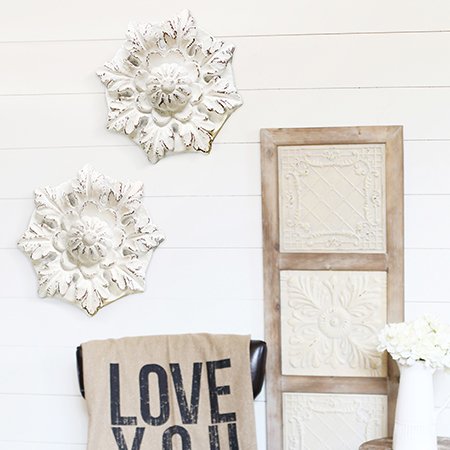 Entryway Table Shelf Fillers

Now that you've got your lighting, storage, and anchor piece in place, it is time for the exciting part of filling out the entryway table shelf that many come with. Using various decorative objects, books, vessels, figurines or plants, start to fill in the remaining space. Depending on how you styled the top of your entryway table, use similar sized accent pieces to decorate this area. This provides symmetry that looks great and professionally thought out! There is no set way on which object pieces should go here or that look the best. It is completely up to your personal preferences. We tend to recommend trying to cluster pieces together in groupings of 3, rather than a single item or items in a row. When you walk through that door, you should be greeted by pieces that warm your heart and put you in a mood that says "I'm so happy to be home!"
Get the look!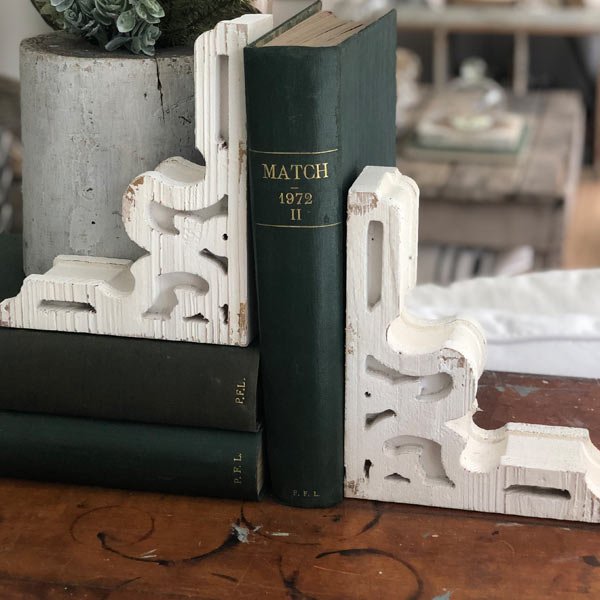 There are so many fun ways to create a beautiful living space using entryway table decor styling tricks. The great thing about an entryway table is there are no set guidelines or rules you need to follow when decorating this piece. Follow what personal taste you love and let your passion speak for itself. All we want to hear is how much your guests love walking in that front door because of the warm, cozy mood your entryway put them in.
Also check out our "Essentials for Styling the Perfect Console Table" below – this is a simple guide for styling eye-catching tabletops!
Have more ideas to add to the list? Comment below, we'd love to hear! Be sure to tag us @decorsteals in your photos when styling your steals – we can't wait to see what you come up with!
---
---