Farmhouse Rug Ideas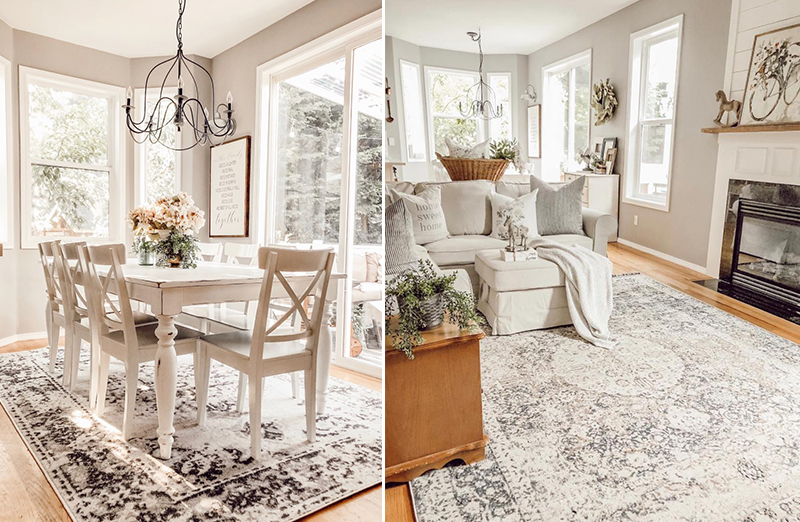 Okay picture this…stepping into an open concept home where everything is decorated perfectly but each space seems to mesh together too much because it isn't being defined at all! What's it missing? Well, that's easy…it's missing one of the most important elements, a rug! A good rug is needed when designing the interior of your home, otherwise, you lose the flow your space needs to differentiate rooms. Not only are rugs needed to define spaces, but they also add a homey touch that everyone craves.
Let's face it, rugs are expensive. They always tend to be an investment that a lot of us just don't want to deal with. It's sometimes the last item on our list of home updates, but it doesn't have to cost an arm and a leg. Finding farmhouse rugs that are affordable is easier than ever before. You now have tons of options and finding the best farmhouse style rug is exactly what we are here for! We got your back!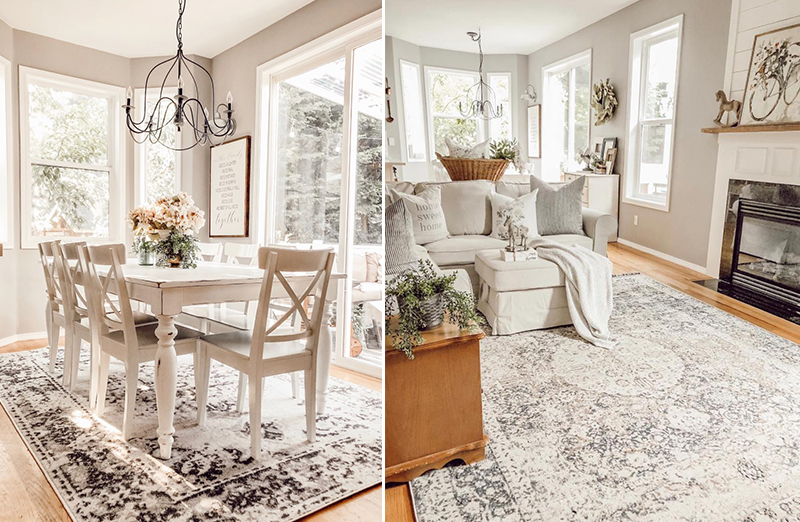 1. Neutral Farmhouse Rug
When on the hunt for a farmhouse style rug, you want to start with neutrals. Neutrals go with everything and they have a timeless look which means you can keep your rug for years! Channel your inner design star by picking a rug for the room not a room for the rug. You don't want to design around the rug…you want to be able to add the rug into the room as the finishing touch! Go for colors like white, cream, grey, neutral blues, and beiges. You can't go wrong with any of those as your starting point.
Once you've defined the space with a neutral rug, you can always go back and add some accent rugs or even layer your rugs (very trendy right now!) with some more vibrant colors and patterns. Accent rugs are much easier and affordable to switch up later or with the season.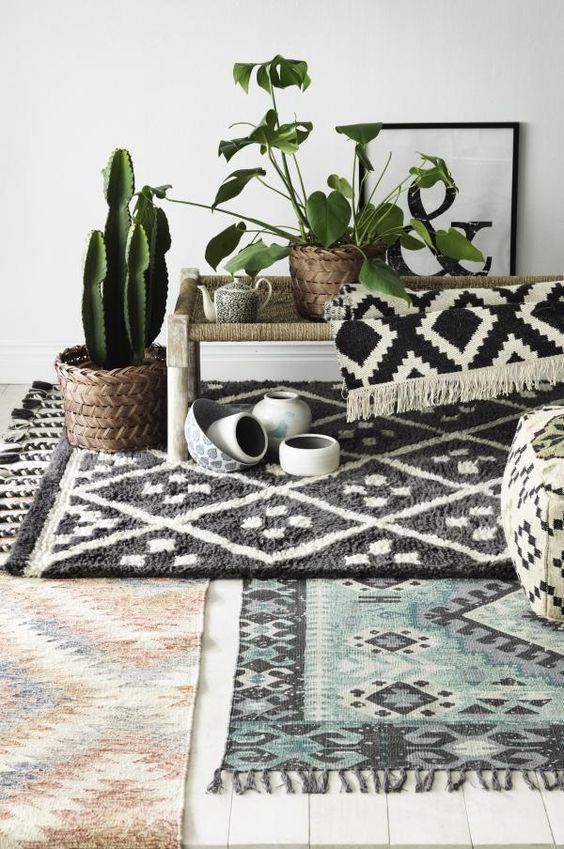 2. Jute Rug
Farmhouse rugs come in many different styles and sizes. Depending on how you want to define the space and also the durability you need will determine what type of rug you should get. For a more affordable option that is also extremely durable, a jute rug is usually hypoallergenic and also proves to be good with pets and kids. Jute rugs are extremely functional and not to mention they literally go well with any decor style. Not only do they look great in farmhouse style homes, but they also look amazing with boho and industrial themed settings. It's the universal rug and the go-to option for those of us that aren't exactly experts when it comes to design and feng shui.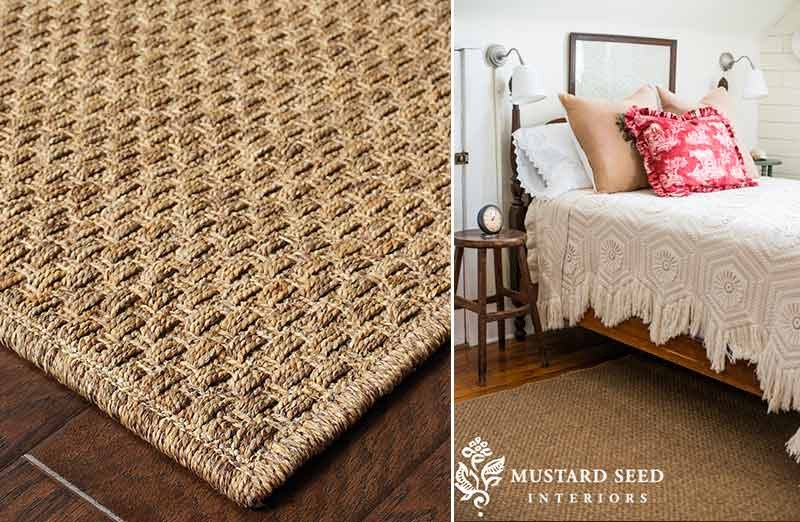 3. Indoor/Outdoor Farmhouse Rug
Looking for functionality? Another farmhouse rug option is an indoor/outdoor rug. These tend to be extra durable and they are a little easier to clean as well. The great thing about choosing to go with an indoor/outdoor rug is if you decide to replace the rug inside, you can always use it outside after. Makes purchasing this type of rug a no brainer if you have some outdoor space in need of a rug as well. Usually, indoor/outdoor rugs come in bolder patterns and colors, so it can be harder to find one that's true to farmhouse style. You may have to do some deeper digging to find exactly what you are looking for! Chevron patterned rugs in neutral colors are always a good option (see below).
4. Cozy Farmhouse Rug
If you are looking for the perfect farmhouse style rug, then trying a soft patterned rug with a little more depth and comfort is a great option! If you don't care too much about a rug that's super durable then this option is great for you. If you have hardwood floors it's usually nice to break up your space with a soft and cozy rug. We love this Loloi Emry Heather Gray Rug! It's the perfect length and also incorporates super neutral tones so it goes well with any space. If white doesn't sit so well with you, then opt for a light gray or beige rug with white accents and undertones instead.
5. Incorporating Color
COLOR! We know, we know…We said that farmhouse style rugs are all about the neutrals, but adding a small touch of color can be a really good thing! Especially if you already have too much neutral going on in your decor. Subtle pops of rustic blues or pinks can be the perfect way to incorporate color while still staying true to the farmhouse look. We even love bolder patterns when the rug looks to be distressed or has a slight vintage feel. This Loloi Oatmeal Silver Isadora Rug is the perfect example of bold meets classic farmhouse (see below).
6. Cowhide Farmhouse Rug
Maybe you aren't into the timeless rug selection, and that's okay too! Some of us want to keep up with what's trending and are willing to purchase a rug every couple of years as long as other large furniture pieces stay the same. One of THE MOST popular farmhouse rug selections out there right now is the cowhide rug! It's unique, soft and it's abstract nature makes it a conversational piece. If it's trendy rugs your into, then opting for a cowhide rug is the perfect option for you. These are great for those of you that like to switch around your decor a lot. They take on the chameleon of rugs title as they tend to have multiple uses. For example, they are great for laying with other rugs and we've even seen them hanging as a new take on interesting wall art. See!…chameleon for sure!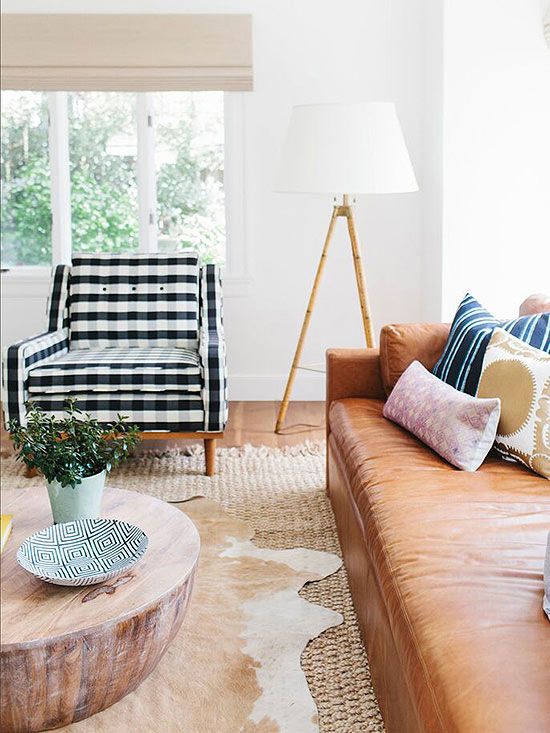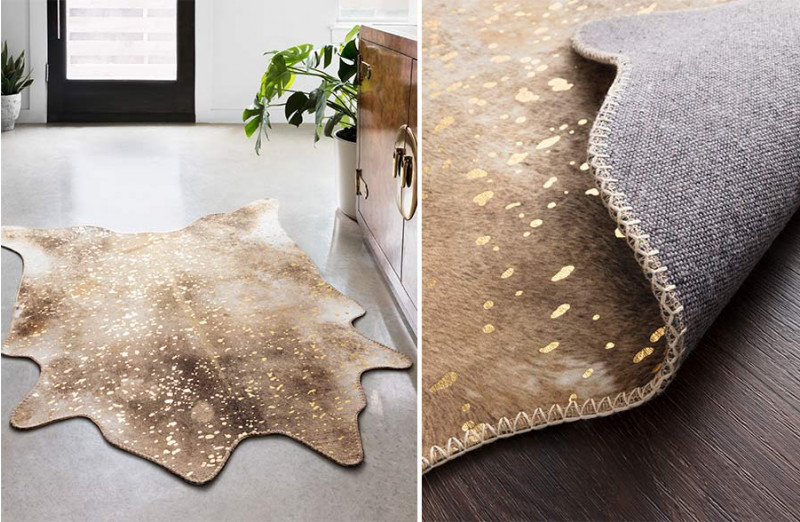 We hope you've enjoyed these farmhouse rugs options! Rugs are all about preference and finding the right one for your needs. Hopefully, these tips and helpful insight will make it easy to discover your next timeless or trendy farmhouse rug!
---
---