Spring Cleaning: Get Organized in Style with Farmhouse Decor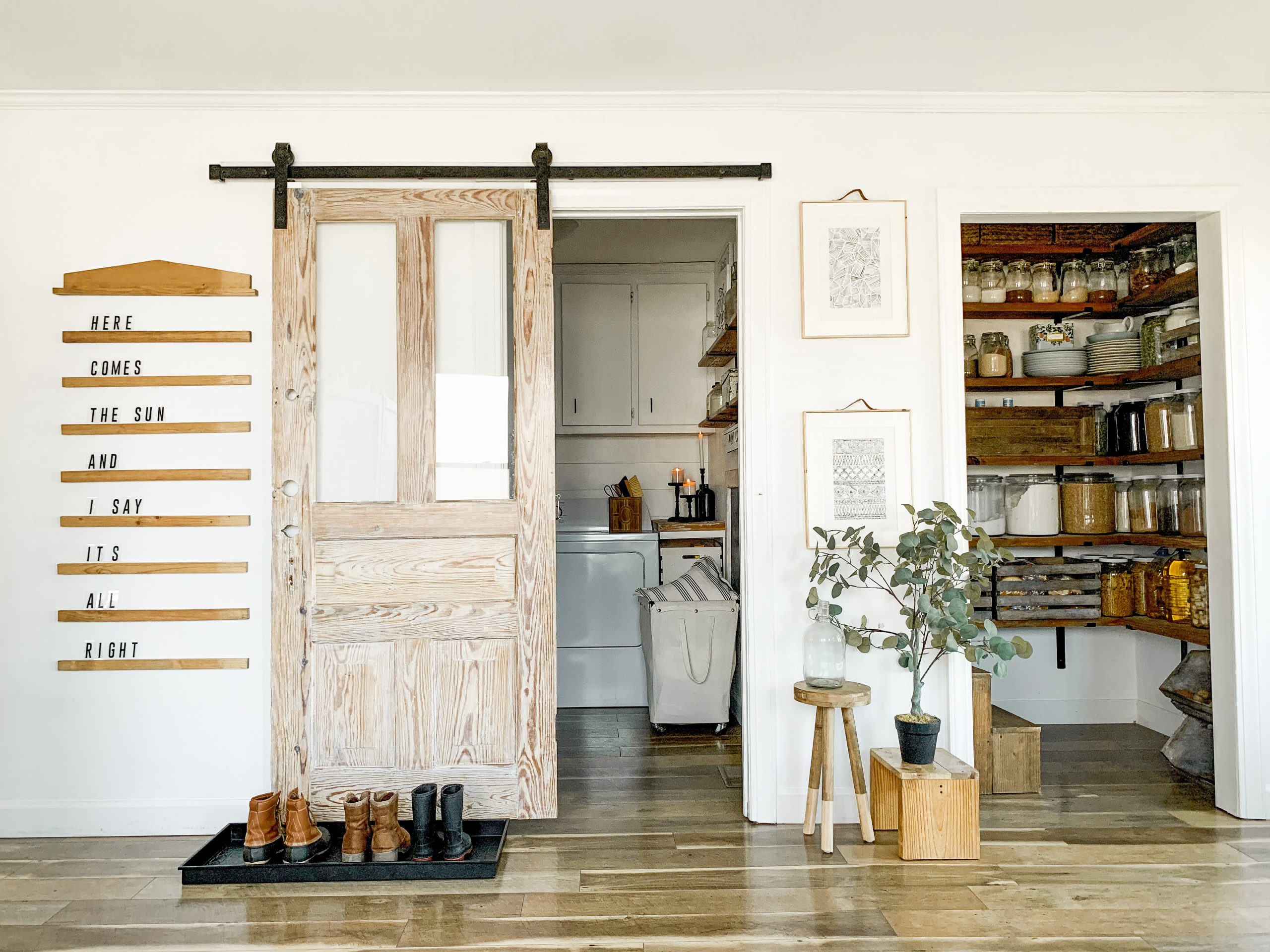 Spring cleaning is a time-honored tradition of thoroughly cleaning and decluttering a home, usually in the springtime. The practice is believed to have originated in ancient Persia, where people would "shake the house" after the long, dark winter months to welcome the spring season. In Jewish tradition, spring cleaning is part of the Passover celebration and is an opportunity to purify the home and prepare for the holiday. Spring cleaning is typically a deep cleaning of a home, where every nook and cranny is scrubbed and organized. This could involve tasks such as washing windows, scrubbing floors, dusting, and decluttering. The goal of spring cleaning is to create a fresh, organized, and rejuvenated living environment. While the process can be time-intensive, it is a great way to start the new season with a clean slate. Here are some tips for successful spring cleaning that will not only keep you organized, but will also enhance your existing farmhouse decor!
1. Set a plan
Decide what areas of your home need the most attention and create a cleaning schedule to make the process manageable. Don't get overwhelmed by thinking about the big picture… start small!
2. Declutter first
Start by removing any items that you no longer need or use, including clothing, books, outdated home decor and don't forget about that kitchen junk-drawer! The key here is to toss (or donate!) anything that you don't have use for anymore. We know, some things can be hard to part with but you have to stay practical and you will LOVE the end result! Once you have gotten rid of the clutter, the cleaning process will feel like a breath of fresh air!
3. Deep clean
Once the clutter is gone, it's time to dig in! Tackle deep cleaning tasks such as scrubbing floors, washing windows, and dusting ceiling fans. It's easy to get busy and forget the little details… now is the time to reach those high places and corner nooks you have been avoiding. Get the family involved! You can make it a fun game with the kiddos – who can collect the most dust? (haha!)
4. Organize with farmhouse decor
THIS is our favorite part! Once you've decluttered and deep cleaned, it's time to organize your space. Use organizers and storage containers to maximize space and keep items in their designated places. Things like tiered trays to hold toiletries in the bathroom not only save space, but they also add SO much character and style! Add an apothecary cabinet in your living room to store games and remotes, or create extra mudroom storage with our Wood Organizer Shelf with Drawers and Hooks and Woven Storage Baskets. With new daily deals launching on our site everyday – you're sure to find a storage solution you will love!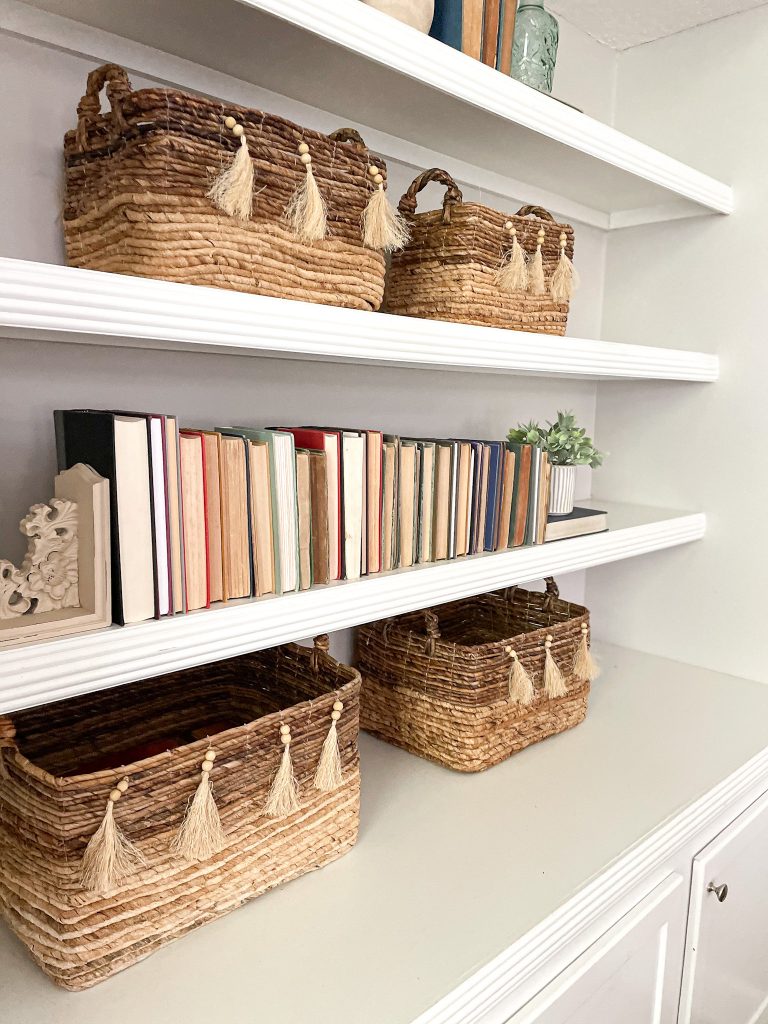 6. Maintain your clean space
Once your spring cleaning is complete, make an effort to maintain the clean and organized living environment. This might seem like the hardest part! Easy additions to your home like large baskets, storage cabinets and wall hooks will allow this step to be effortless.
Small ways to incorporate style with organization
Organizing your home in style involves combining functionality with aesthetic appeal to create a visually pleasing and organized living environment. To achieve this, consider using coordinating storage containers and baskets that match your farmhouse decor. Display items creatively, such as using shelves, hooks, and wall-mounted organizers to showcase items while keeping them organized.
Invest in home decor that keeps you tidy
Consider purchasing furniture with built-in storage, such as benches and coffee tables, to maximize space. Decorative farmhouse decor accents, such as rugs, wall art, and throw pillows, can add visual interest to your organized space. Farmhouse pendant lighting can also play an important role in enhancing the appearance of your organized space, especially in closets and cabinets. When organizing your home in style, it's important to mix and match different styles, make use of vertical space, be mindful of scale, create a focal point, and keep it simple. With a little creativity, you can create a stylish and organized home that is both functional and aesthetically pleasing.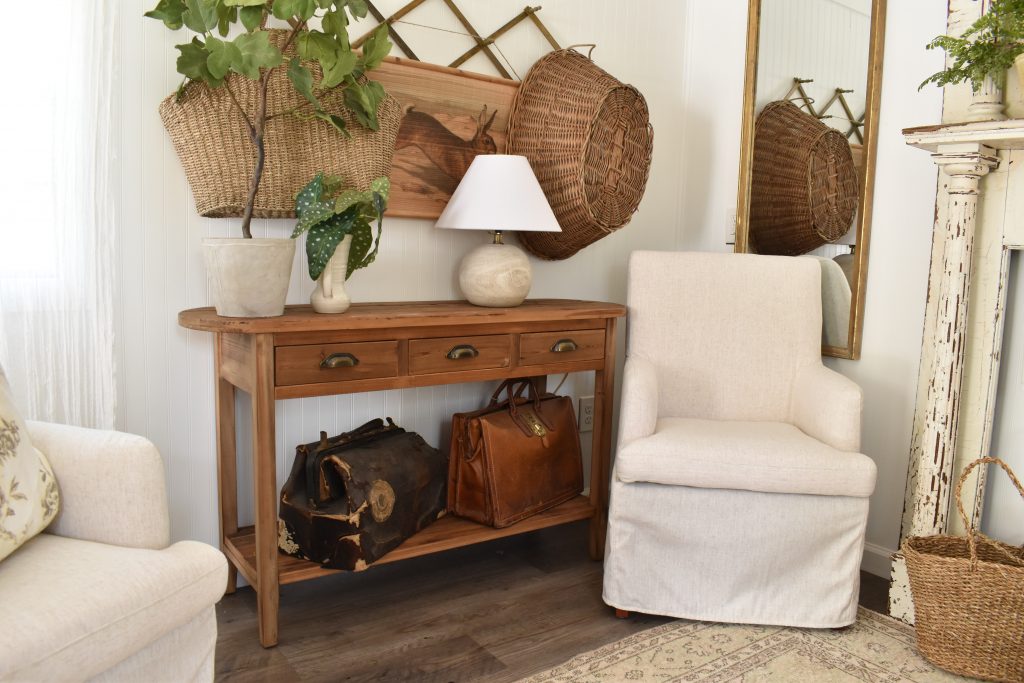 Change the layout
It's also important to consider the flow and layout of your home when organizing. The goal is to create a functional and efficient space, with a clear path for movement and a logical arrangement of furniture and storage. Consider the use of furniture dividers, room dividers, and partitions to create separate spaces within a room, while still maintaining an open and airy feel.
Add the finishing touch: Personalize it
Another aspect of organizing in style is to create a personalized look that reflects your individual style and taste. This can be achieved by incorporating items that have sentimental value, such as family heirlooms, or personal collections, such as books or artwork. The use of labels, tags, and signage can help to clearly define the contents of containers, drawers, and cabinets, while also adding a touch of personality to your organized space.
Overall, organizing your home in style is about finding a balance between functionality and aesthetic appeal. By combining form and function, you can create a home that is both beautiful and practical, and that truly reflects your individual style and personality.
---
---