Styling Your Wooden Herb Buckets: Design Ingenuity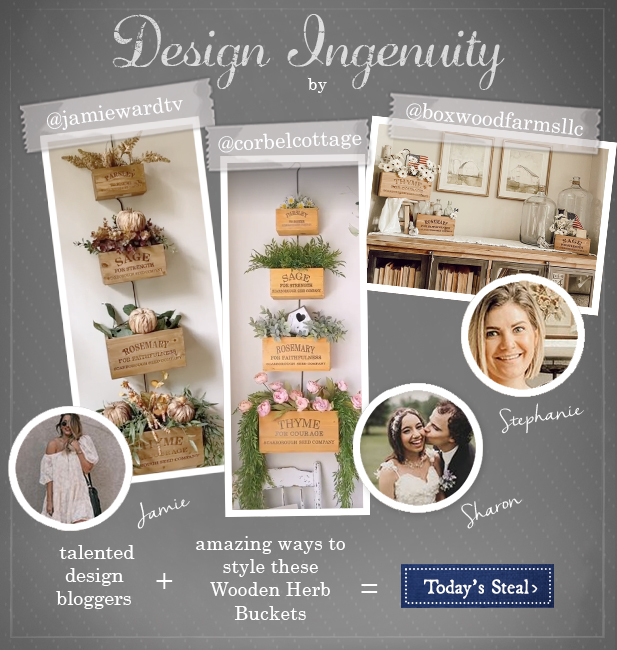 Let's use our community's design ingenuity and show you some great farmhouse décor styling tips for your Wooden Herb Buckets. Our Natural Wooden Herb Buckets have been one of our farmhouse staple items for pretty much the entire history of Décor Steals. These Herb Buckets are such a versatile piece that we've seen styled in every which way, for every season, and for every occasion – from attaching the hooks to hang them and use as indoor wall planters, hanging them on a display ladder, removing the hooks and simply displaying on a tabletop or kitchen counter, these planters are perfect in every which way. Here's a few of the popular ways our customers have styled them:
Faux florals are easy to maintain, no mess to style, and can be easily swapped out for seasonal florals. We love it when greenery and florals are combined for a nice pop of color.
2. Fresh herbs, flowers, or other plants
This is for the more intermediate plant lovers, unlike myself 😊 If going fresh, we recommend a plastic liner to preserve the wood. You can never go wrong with using the traditional fresh herbs for each of the boxes which not only look great but will give you an endless supply of garnish for cooking!
3. Seasonal décor
These herb buckets also work great dressed up seasonally with décor items such as mini patriotic flags, bunnies, plastic pumpkins and Halloween pieces, or a winter scene with fake snow and holiday accents.
4. Everyday décor
Utilize everyday décor items such as propagation or apothecary bottles, add a riser inside and display small wooden signs or other accent décor.
Ideas for Styling Your Wooden Herb Buckets
Check out some our talented customers and influencers and how they styled these planters:
@Jamiewardtv made a night out of her styling sesh with a little wine, some faux florals, a few pumpkins, and we have ourselves a beautiful fall themed set up on her wall. So easy to hang! Cheers!
@boxwoodfarmsllc went Patriotic on us for her tabletop display and really showed the versatility in this piece by using not only faux florals, but flags, and apothecary bottles for a display we can salute to! Perfect for a living room or dining room display. Insert Celebrate America Steal it Box plug here😉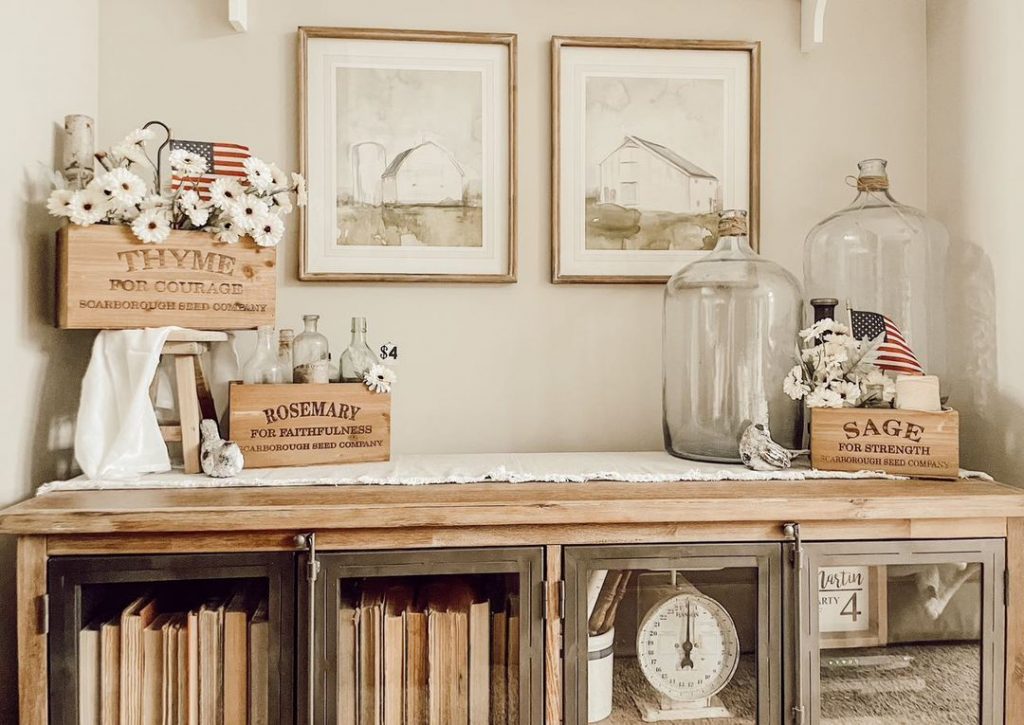 Here are some of the Décor Steals' gals showing us that fresh plants can also be used along with some seasonal accents to really make this fun! Just remember, a plastic liner is highly recommended for fresh plants to preserve the wood.
And finally, our in-house content creator @cottagecorbel always turns it up with an exciting reel showing off her styling of the wooden herb buckets with major spring vibes mixing greenery and colorful florals.
Design Ingenuity Series
The Design Ingenuity Series is a Décor Steals classic that we are reviving. This series will match up a couple of our very talented bloggers and influencers to show you unique and beautiful ways to style your Décor Steals items. Finding a product you like is the easy part, but styling in your home to get that "Instagram-worthy" look is where the challenge begins. We are here to help you with that with Design Ingenuity! Stay tuned!
---
---