How to Host the Perfect Patriotic Party with Porch Decor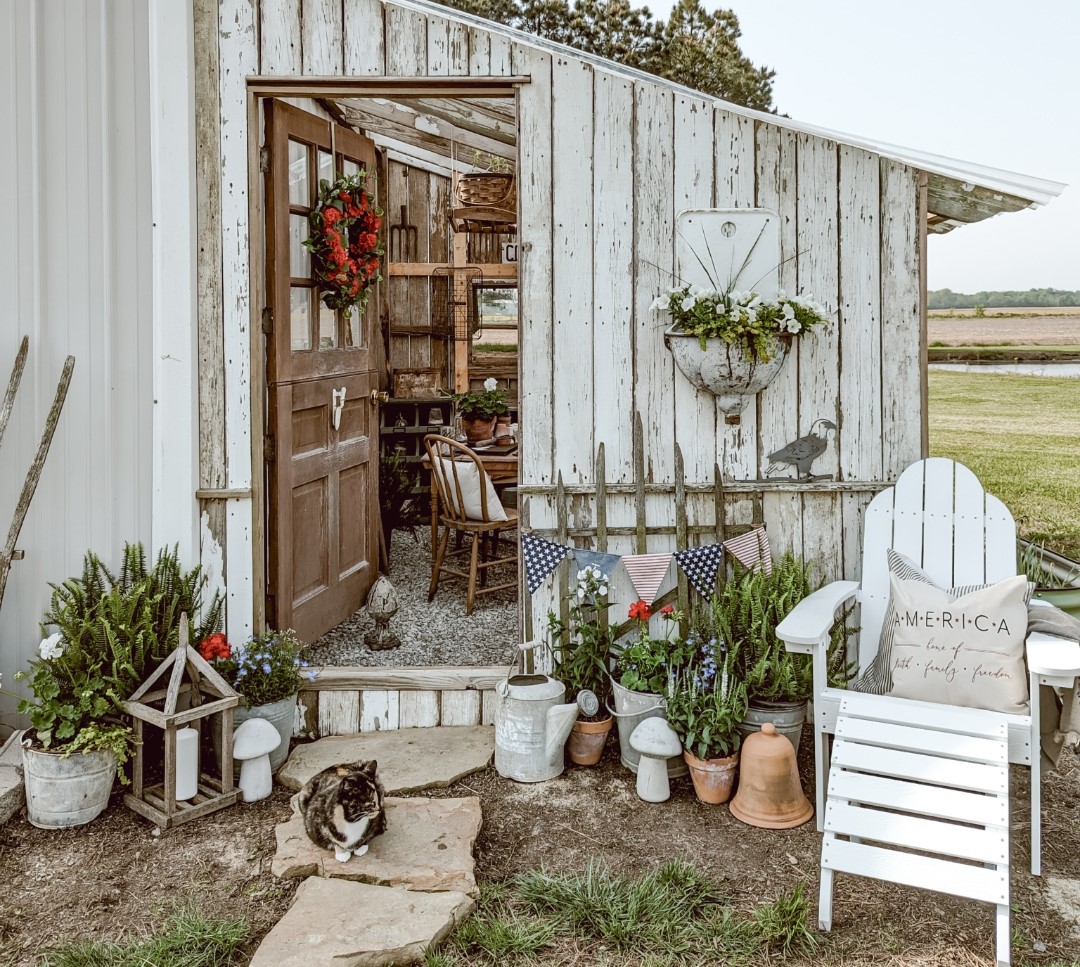 Summer is a time for celebration, and what better way to celebrate than with a patriotic outdoor party? Whether you're planning a Fourth of July celebration or just want to show your love for your country, a patriotic party using porch decor is the perfect way to enjoy the company of family and friends while showcasing your patriotic spirit. Here are some tips for hosting a successful patriotic outdoor party.
Plan your party around a patriotic theme
To create a cohesive atmosphere, choose a patriotic theme that reflects the colors and symbols of the American flag. For example, you could use a red, white, and blue color scheme or choose decorations that feature stars and stripes. You could also incorporate patriotic symbols like eagles, the Statue of Liberty, or the Liberty Bell. Choosing a theme will help you focus your decorating and menu planning, creating a more cohesive and memorable event.
Create patriotic invitations
Invitations are the first impression your guests will have of your party, so it's important to create something that reflects the theme and gets them excited. You could use red, white, and blue paper or include patriotic graphics or symbols on the invitation. Consider adding a line to the invitation that encourages guests to wear red, white, and blue to the party to help set the mood.
Plan your menu
Food is a central part of any party, and a patriotic outdoor party is no exception. Plan a menu that features traditional American dishes like hamburgers, hot dogs, and apple pie. You could also serve patriotic-themed desserts like cupcakes decorated with red, white, and blue frosting or a fruit salad featuring strawberries, blueberries, and whipped cream. Consider serving drinks that reflect the patriotic theme, such as red and blue lemonade, or a signature cocktail featuring a red, white, and blue garnish.
To create a festive atmosphere, decorate your porch or outdoor space with patriotic decorations like American flags, bunting, and balloons in red, white, and blue. You could also use outdoor lighting to create a cozy ambiance after dark. Consider incorporating patriotic symbols like eagles or the Statue of Liberty into your decorations, or adding fun touches like a DIY photo booth featuring patriotic props.
Plan patriotic activities
To keep your guests entertained, plan patriotic activities that reflect the theme of the party. You could start the party with a flag-raising ceremony or a patriotic sing-along. Plan a game of red, white, and blue cornhole or a scavenger hunt that includes patriotic clues. You could also have a craft table set up with materials for making patriotic-themed crafts like wreaths or flags.
Consider safety precautions
If you're hosting a party outdoors, it's important to consider safety precautions like providing sunscreen, bug spray, and plenty of water. You should also make sure your guests are aware of any potential hazards in your outdoor space, like uneven terrain or nearby bodies of water. If you're serving food outdoors, make sure it's kept at a safe temperature to prevent foodborne illness.
Have fun!
The most important part of any party is to have fun and enjoy the company of your guests. Don't get too caught up in the details – focus on creating a festive atmosphere and spending time with the people you care about. With a little planning and preparation, you can create a patriotic outdoor party that will be the highlight of the summer.
A summer patriotic themed outdoor party is a perfect opportunity to showcase your love for your country and enjoy the company of family and friends. Here are some ways you can use porch decor for your summer patriotic themed party:
Use the colors of the flag: Red, white, and blue are the colors of the American flag, and they should be the dominant colors in your party decorations. You can use these colors in your tablecloths, napkins, and utensils.
Patriotic table settings: You can create a patriotic table setting by using red, white, and blue plates and napkins. You can also use American flag-themed centerpieces or small American flags as place settings.
Balloons: Balloons are a great way to add a festive atmosphere to your party. You can use red, white, and blue balloons and arrange them in clusters around the party area.
Patriotic bunting: You can hang patriotic bunting along your porch or deck railing to add some patriotic flair to your party. You can also hang it from trees or other outdoor structures.
Patriotic banners: Hang banners with patriotic messages or quotes that celebrate the American spirit.
American flag-inspired decor: Use American flag-inspired decor like table runners, pillows, and throws to add a patriotic touch to your party.
Outdoor lighting: Adding outdoor lighting can add to the festive atmosphere of your patriotic themed party. You can use string lights or lanterns in patriotic colors to illuminate your party area.
Food and drinks: Make sure to serve food and drinks that are patriotic themed, like red, white, and blue cocktails or desserts decorated with American flag patterns.
Add patriotic artwork: Consider hanging patriotic artwork on your porch, such as a painting or a vintage poster. You could also hang a chalkboard with a patriotic quote or message. Another idea is to create a DIY patriotic wreath for your front door using materials like burlap, ribbon, and floral wire.
Incorporate patriotic symbols: Incorporate patriotic symbols like eagles, the Statue of Liberty, or the Liberty Bell into your porch decor. You could use a metal eagle sculpture as a focal point, or add a small Statue of Liberty figurine to your decor. Consider using patriotic symbols as part of your planters or flower arrangements.
Use festive lighting: Consider using festive lighting to create a patriotic ambiance on your porch. You could use red, white, and blue string lights, or add some battery-operated candles in patriotic colors. If you have a porch swing, add some twinkle lights around it to create a cozy atmosphere in the evening.
Add a patriotic doormat: Add a patriotic doormat to your porch to welcome your guests and show your love for your country. You could use a doormat that features the American flag or a patriotic message like "God Bless America." Consider adding a wreath or flower arrangement to your front door to complement the doormat.
By incorporating these creative ideas, you can show your patriotism and celebrate your love for your country with your porch decor. Get creative, have fun, and enjoy the festive atmosphere that you create!
Remember, the key to a successful patriotic themed outdoor party is to have fun and celebrate the American spirit with family and friends.
---
---