Decorate like a STAR with the Celebrate America Steal It Box!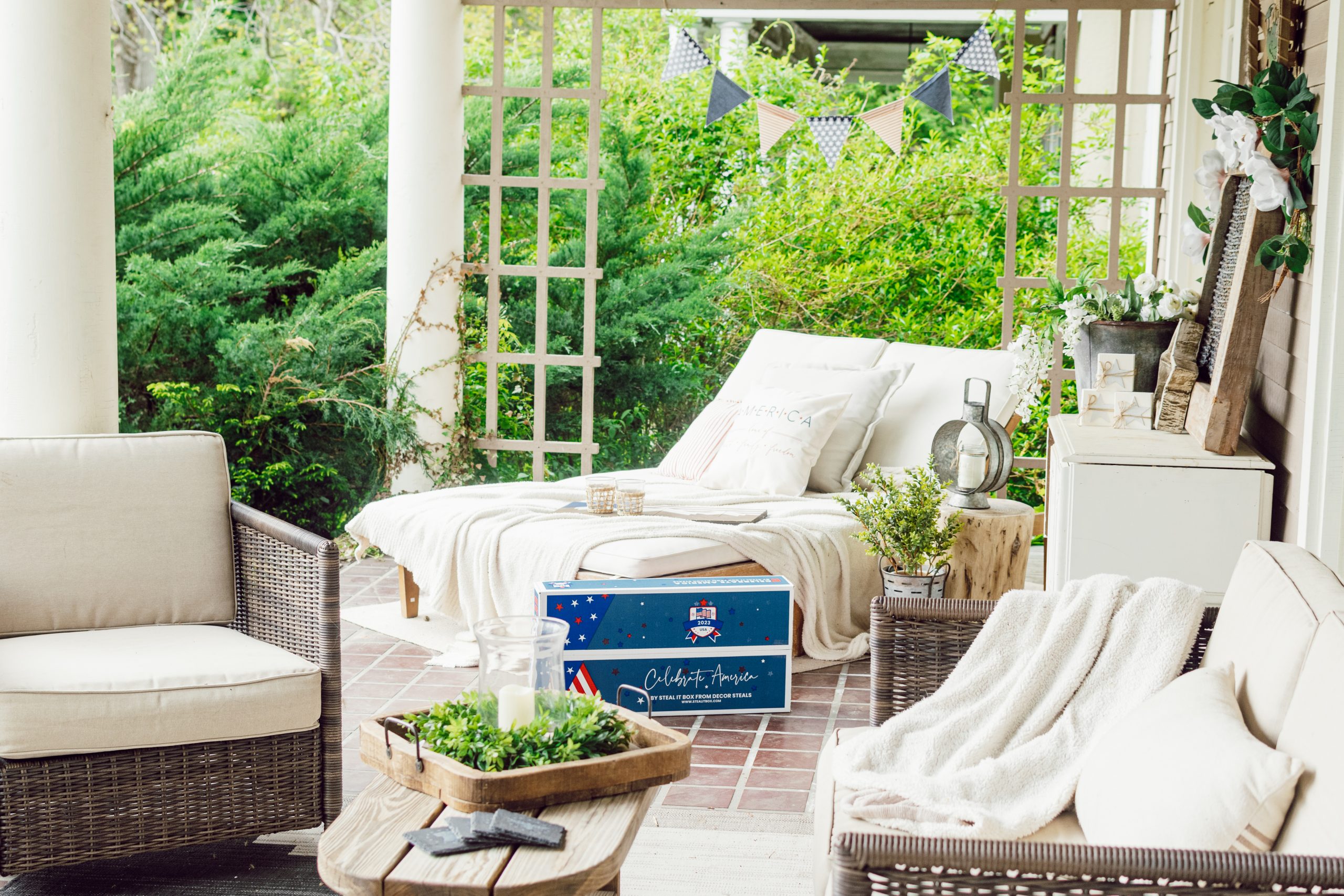 Patriotic decor is important to use in your farmhouse because it can help you express your love for your country and show your appreciation for the sacrifices made by those who have served or are currently serving in the military. By displaying the American flag, patriotic quotes, or other Americana-themed items, you can create a sense of pride and unity within your home. This can be especially important during patriotic holidays such as Independence Day or Veterans Day, as it can create a festive atmosphere and serve as a reminder of the values that your country stands for. Our Celebrate America Steal It Box is the perfect way to get started on your patriotic home decor journey.
In addition to expressing patriotism, incorporating patriotic decor into your farmhouse can add character and warmth to your home. Farmhouse decor is known for its rustic and charming character, and patriotic elements such as vintage flags, star-spangled throw pillows, or red, white, and blue accents can complement this style and add a touch of nostalgia and history. The combination of patriotic and farmhouse decor can create a welcoming and cozy atmosphere that reflects your personal style and values.
Patriotic decor is also versatile and can be incorporated into any room in your home. From the living room to the kitchen, there are many ways to add patriotic touches to your farmhouse decor. For example, you could display a vintage flag in the living room, use a star-spangled tablecloth in the dining room, or create a wreath with red, white, and blue ribbons for your front door.
With the summer months quickly approaching, this also means plenty of patriotic holidays to celebrate! What better way to get started than using our Celebrate America Steal It Box!? This curated home decor box contains SEVEN FULL-SIZED decor items that will have your home decked out in no-time! And with our tips and tricks below, you'll be decorating like a STAR! Warning… if you keep scrolling, there are spoilers of what is inside our newest Steal-It-Box! And trust us… you'll love them all! Now, let's explore each piece…
1. Barn Quilt Inspired Flag 
What better item than an iconic flag to start the celebration. This handcrafted wood flag incorporates the heritage of America with a barn quilt design. Barn quilts have been used in many ways since the birth of our country, from displaying family heritage to signifying supplies for soldiers and safe passage of the underground railroad. Now you can proudly display this work of art in your very own home. Your porch, backyard or barn will be the perfect setting for this one-of-a-kind piece. Best of all, this flag is multifunctional. We intentionally designed this gem to double as a riser. Place on any table during a patriotic or summer celebration!
2. Metal Eagle Adornment
The Bald Eagle is our national bird as well as a symbol of strength, courage, and FREEDOM! It is no wonder that you can find this treasured creature on some of the most important pieces of American property- from famous documents to currency. Now you can add a Bald Eagle to your very own little slice of the US to A. This uniquely crafted metal bird stake is made by a family-owned small business in Utah. Designed with nature in mind, the steel is raw and ready to be hammered into your landscape. The eagle can be inserted into a tree, the corner of a shed or even perched on a porch post. Over time, raw steel will naturally patina with shades of rust depending on your geographic location. The rust will not destroy your eagle, rather enhance the beauty. Not a fan of rust? No worries, a simple application of your favorite spray sealer will do the job, just apply annually if keeping outdoors.  Follow the QR code for an installation video and sealing instructions. 
3. Patriotic Pillow Cover 
Who doesn't love to compliment a space with a few good pillows? Add comfort and style to your sitting area, inside or out, with this patriotic pillow cover. Each pillow is expertly designed and printed on high-quality machine washable fabric and can be safely displayed outdoors. A hidden zipper closure allows for easy insertion and removal of a pillow insert (not included). This design embodies the freedom of an American and you can be proud to know your purchase is supporting a young family business in North Carolina. 
4. Natural Slate Coasters 
Sun shining on your face, warm breezes and ice-cold beverages await you this coming season. Protect your furniture while honoring those who protect your freedom. Rugged earthy stone, graced with iconic images of the Liberty Bell, Old Glory, and more make up these 100% absorbent natural coasters. With each piece telling a story about our country's history-this beautiful set will have conversation flowing at any gathering. Use for years to come indoors and out without the fear of fading.  
5. American Seed Balls 
Let your patriotism bloom! Add America's favorite colors to your garden and with these easy-to-use seed balls. Seed balls are an easy and fun way to plant seeds without the need for digging or planting. Simply scatter the seed balls in your desired area, water and watch them grow! For this collection, we partnered with a small farmer in Texas to cultivate the perfect seed blend for cut and come flowers. Red Zinnias, pure white Cosmos and Mealy Blue Sage are strong growers in all regions of the United States and cutting the blossoms only encourage more growth! Making these florals perfect from garden to table. 
6. Decorative Star Blocks 
With the Star-Spangled Banner being our national anthem, what better way to speak to a huge part of who America is than with these beautiful and bright star blocks. Designed and made by hand in rural Texas, these star blocks add sparkle and femininity to this box and to your patriotic home décor. Each block was sanded, painted and hand tied to ensure all details were carefully attended to. The stars are painted with a special metallic silver to add a glint of shine. Layer on a bookshelf or stack to add height and dimension to the centerpiece of your outdoor lunch spread this summer. 
7. Patriotic Pennant Banner 
No porch is complete without a thematic banner to bring the décor scape together. This season you can display your patriotism with this classic pennant banner comprised of denim, red and white stripes, and stars. Each pennant was cut and sewn with pride by a small America family business in North Carolina. Keep this strikingly beautiful and timeless item up for summertime celebrations or all year round. You can feel proud of your purchase and support of American small business'.
Our team worked tirelessly with artisans across America to bring you hand crafted décor made right here in the USA. You can have the confidence that your patriotic purchase is supporting families and businesses, locally. No one else is bringing such a collection at an amazing price, right to your door. Inspiration for this inaugural Celebrate America Steal It Box stemmed directly from your favorite spots to relax outside- your porch and backyard. Gathering with friends and family in a beautiful space is what our forefathers had in mind when it came to freedom. We have thoughtfully designed and curated this special box so that you will have a turnkey way to decorate with charming pieces that speak to the Land of the Free. so what are you waiting for? With SEVEN amazing home decor pieces, this Celebrate America Steal It Box will have you decorating like a STAR! Grab yours to gear up for the upcoming holidays before they sell out!
---
---