Simple Summer Porch Decorating Ideas – 9 Ways
Sharing is caring!
Let's be real, we are all anticipating summer and getting outside more this year. School is winding down and Memorial Day Weekend is quickly approaching, so now is the time to really start thinking about your summer décor refresh. Daylight is becoming aplenty for most of us, so outdoor living season is here! We want to give you 9 simple summer porch decorating ideas to fit your farmhouse style and freshen up your porch, big or small. We want to put a smile on your face as you approach your front door or hang out on your back patio all summer long.
Depending on the size of your porch, the front porch ideas may be purely decorative if space is limited. If not, sky's the limit to add both function and style to an outdoor dining or living area. Here are 9 simple summer porch decorating ideas, and most importantly budget-friendly ideas, to run with:
1. Create a Planter Vignette
If you have the space by your door, layer a few different sized and shaped planters to really create a popping visual scene. You can definitely get a little creative here, but you also want to keep a cohesive feel with similar color and material with the planters. Fill these with a couple type of plants or flowers to add that color pop as you approach your front door.
2. Add a Unique Planter
For smaller spaces especially, your porch can still stand out on the block by adding a unique planter with florals. For that farmhouse and cottage feel, repurposing a vintage style piece can never go wrong……. think a vintage watering can or petite wheelbarrow.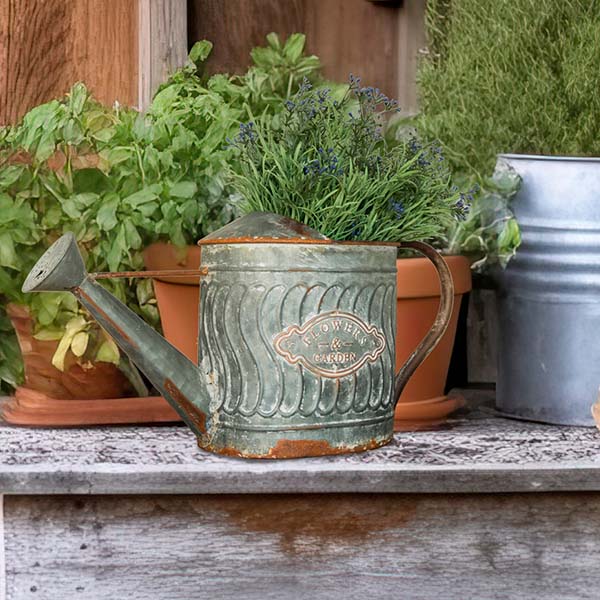 3. Lanterns are Always a Staple Porch Item
You can never go wrong with adding lanterns to the mix, front porch or back/side patio. Lanterns can add both style and functionality with some accent candle lighting. Adding remote LED candles with timers are a great way to add some lighting elements to the porch lanterns without worrying about a live flame. Rustic or primitive lanterns are a nice touch to complete the farmhouse porch look.
4. Pops of Color
It's Summer! Let's add some pops of color to your porch for goodness sakes. The easiest way to do this is with some colorful florals. We already talked about planters, so now's the time to add these colorful plants and flowers to the scene. Fresh florals are always a winner, but we all know they are not for everyone due to weather, location, or those "vegetationally challenged". Faux florals have come a long way over the years and there are definitely some great options out there between wreaths, stems, and bouquets. Peonies and Ranunculus are a couple of our summer flower favorites.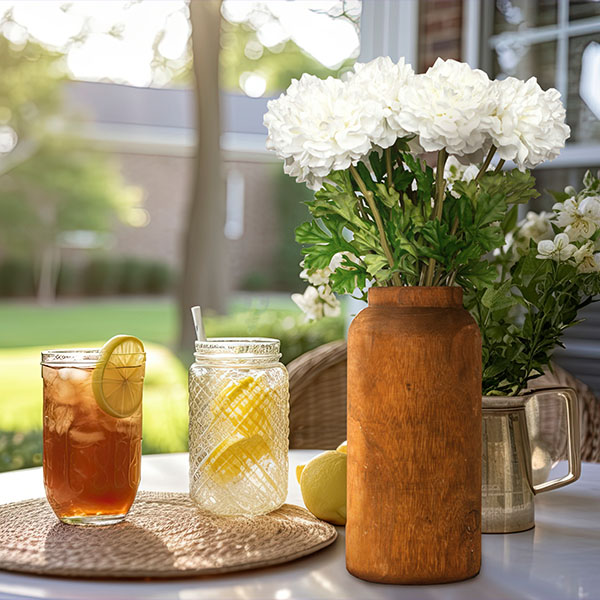 5. Bring on Nature's Furry Friends
Animal statues, figurines, and birdhouses are all great complements to an inviting porch. Nature's creatures are a gift and we should celebrate them. Nothing is more relaxing than listening to the sweet chirping of birds in the morning on your porch.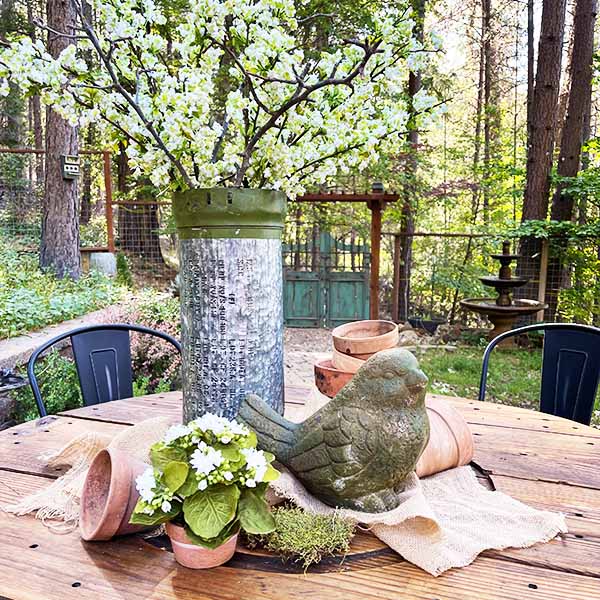 6. Swap Out Your Door Mat
Your doormat has likely seen better days after a rough winter and/or rainy spring. Swap that baby out with something fresh for summer. This is another easy way to add a pop of color and fun to your front porch. There are so many fun options these days for something simple and stylish, to flamboyant and witty.
7. Make Your Porch an Outdoor Living Area
If you have the space, add some multi-functional furniture pieces, an outdoor rug to separate the spaces, a dining table for outdoor eating and gathering. People tend to hang around the kitchen during parties or gatherings, but we want to take the party outside in 2023!
8. Style With Pride With Your Red, White, and Blue
Summertime usually kicks off with Memorial Day, ends with Labor Day, and peaks with a bang during the 4th of July! A summer porch may not be considered complete without a little red, white, and blue americana décor to show your pride. Flags, banners, signs, and buntings are a few consistent pieces you can go with. Our Celebrate America Steal It Box also makes the Americana porch décor as easy as can be with a curated collection all together in one box!
9. Can't Forget the Rocking Chairs
Rocking chairs are a porch classic. They immediately create that outdoor cottage feel. Classic wooden rockers are always a great look, but for a more modern, durable option, there are beautiful weatherproof Polywood versions. Rejuvenating an old wooden chair is also a fun DIY project for those a little handy.
Bottom line, summer vibes are calling you and the best way to start is right at your front porch. Have fun with it. Bring joy to yourself every time you come home. These simple summer porch decorating ideas will get you started!
Like what you read, check out our other blogs here – Read More
---