14 Ways How to Style Patriotic Decor for Your Home
Decorating for the summer is so challenging because your decorating options are way more limited! The most popular way to decorate for the summer is with patriotic decor! At Decor Steals, we love to help you find TONS of ways to save money by offering budget-friendly home decor and home decor styling tips! The BEST WAY to easily save money is by styling the same item in different ways so that you will have many different uses for many years! Here are 14+ different ways to style the same 7 items from our Celebrate America Steal It Box so that you can celebrate your patriotic pride (and budget)! As a bonus, read to the bottom for extra styling tips on more ways to style and save!
3+ Ways to Style this Quilt-Inspired Wooden Flag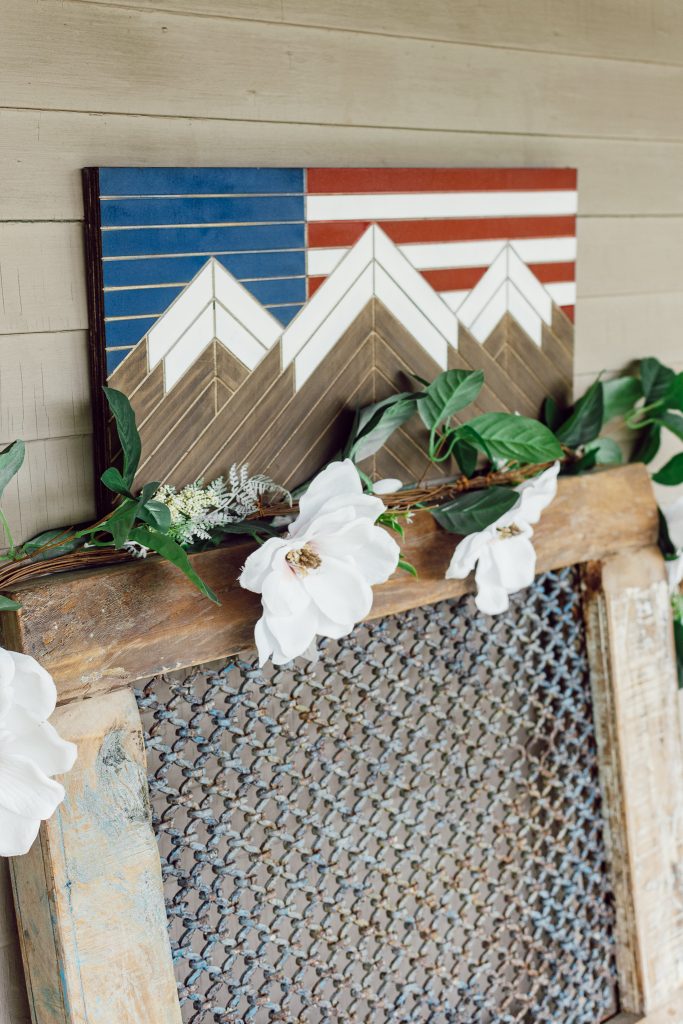 When decorating for the summer or any patriotic holiday, always start with the American flag because it's the symbol of our country! This handcrafted wood flag incorporates the heritage of America with a barn quilt design. With three mountains engraved in a chevron design in front of the American flag as a beautiful backdrop, this special home decor item is FULL of so much history! This Quilt-Inspired Wooden Flag comes with a unique design that was inspired by the history of hanging quilts on barns that can be traced back to 300 years ago! They have so much history and symbolism behind them from representing family heritage to signifying supplies for soldiers and safe-passage of the underground railroad, depending on the local family or community who has them displayed. Hang this Quilt-Inspired Wooden Flag on the wall or lay it flat to use as a tray for drinks, a charcuterie board, or as a riser to elevate home decor items!
3+ Ways to Style this Patriotic Pillow Case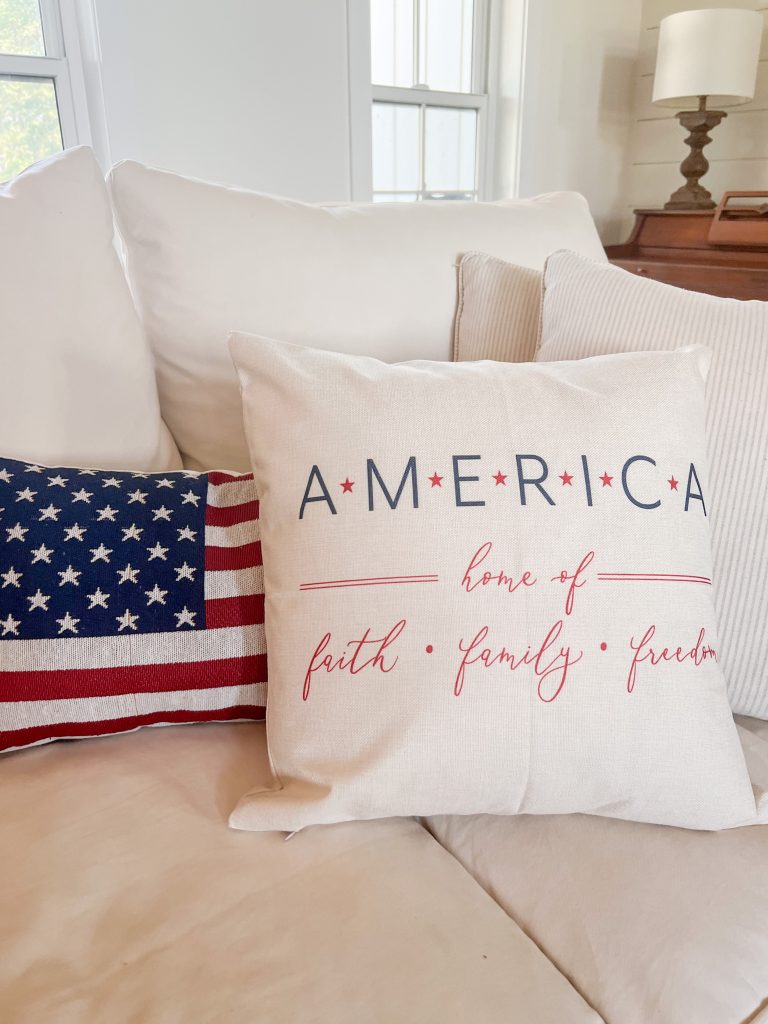 The easiest, fastest, and most budget-friendly way to change decor for every season is with pillows! For the right type of pillow, opt for pillow covers as they typically cost less and save on storage space. Choose pillow designs that are outdoor-safe to allow for multiple decorating locations without having to buy multiple indoor-only and outdoor-safe pillows. This Patriotic Pillow Cover is expertly designed, printed on high-quality machine washable fabric, comes with a hidden zipper closure, and can be safely displayed outdoors! This pillow reads "America" in a modern, navy, blue font with red stars and "home of faith, family, and freedom" elegantly displayed in a beautiful cursive font. Not only does this design embody the freedom of an American, but this pillow was also made by a young family business in North Carolina. Style this pillow on your couch, porch swing, entryway bench, bed, or as a basket filler!
3+ Ways to Style this Patriotic Pennant Banner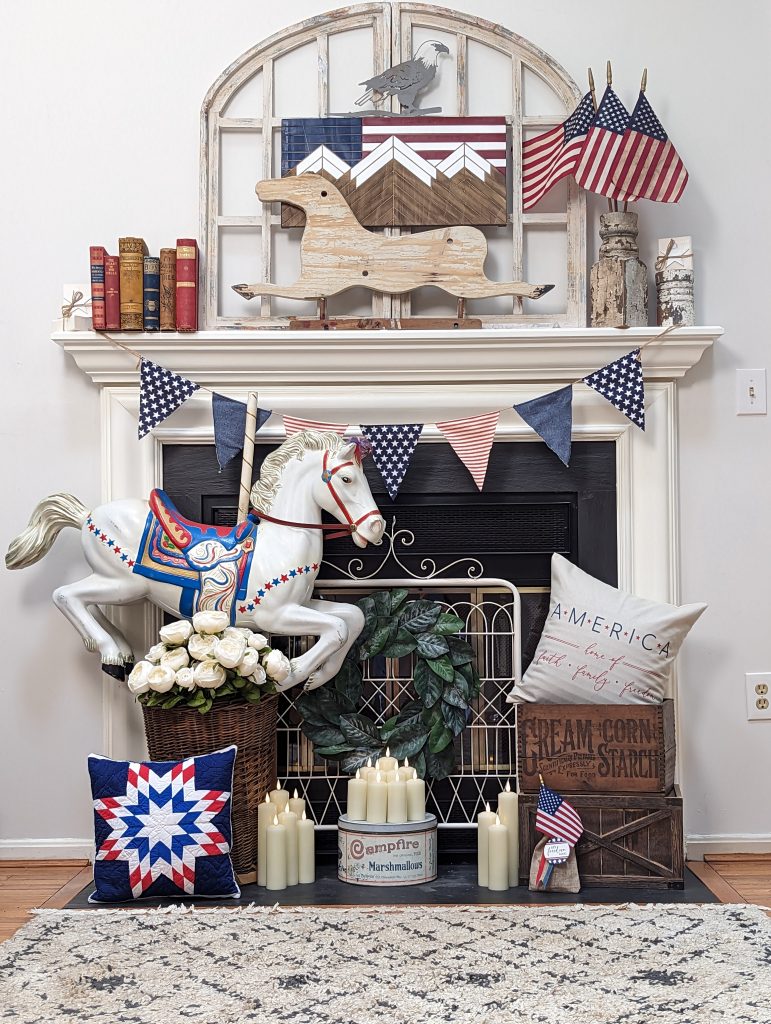 The design of pennant banners dates back to Europe and the Middle Ages. During battles, each knight would carry a pennant flag on their lance. Early designs of pennant flags consisted of a motto, crest, or some heraldic or ornamental designs. Pennant flags represented a particular knight and his men, a sign of rank, a warning to the enemy, or used in ceremonies. Pennant flags made it easier to differentiate between ships. Pennant flags are also used for sports teams or universities with the team name, motto, or mascot. Regardless of how their designs have evolved throughout history, they have always been a symbol of who you are or what you love to celebrate! Display your patriotism with this classic Patriotic Pennant Banner, comprised of denim, red and white stripes, and stars. Keep this strikingly beautiful and timeless item up for summertime celebrations or all year round. Hang this banner up on your mantel, front porch, entryway table, hutch, or bookshelf, or layer it on your tiered tray for a creative festive display!
5+ Ways to Style this Metal Eagle Adornment
As the bald eagle is our national bird, it is no wonder that this beautiful bird can be found on some of the most important pieces of American property – from famous documents to currency. This uniquely crafted metal bird is made of 10 gauge steel in a beautiful, detailed laser-cut design. This eagle was designed with the outdoors in mind, ready to be hammered in a tree, shed, porch post, or mailbox post. This feathered friend can nest in any home in many different locations, such as in a tree, fence, wall, hanging basket, tablescape, planter, or wreath!
4+ Ways to Style These Decorative Star Blocks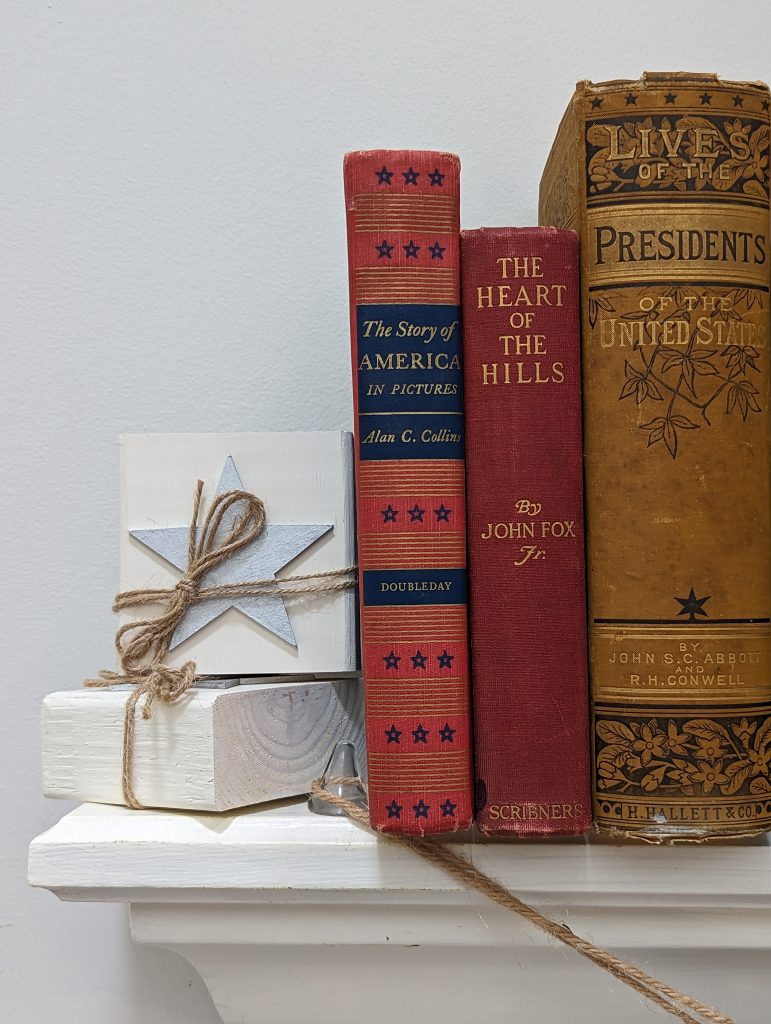 To continue carrying the theme of stars and stripes from the American flag, these Decorative Star Blocks are a great versatile decor item that can be styled in many ways. Designed and made by hand in rural Texas, these star blocks add sparkle and shine anywhere! Each block was sanded, painted, hand-tied, and the stars were painted in metallic silver to add a glint of shine. Style them as signs on your tiered tray, centerpiece tray, or tablescape. In addition to displaying them as decorative signs, use them as napkin holders as part of a patriotic table setting, bookends, or risers to elevate a display. They were designed to be perfectly neutral to fit within any home decor style, but they can be painted too!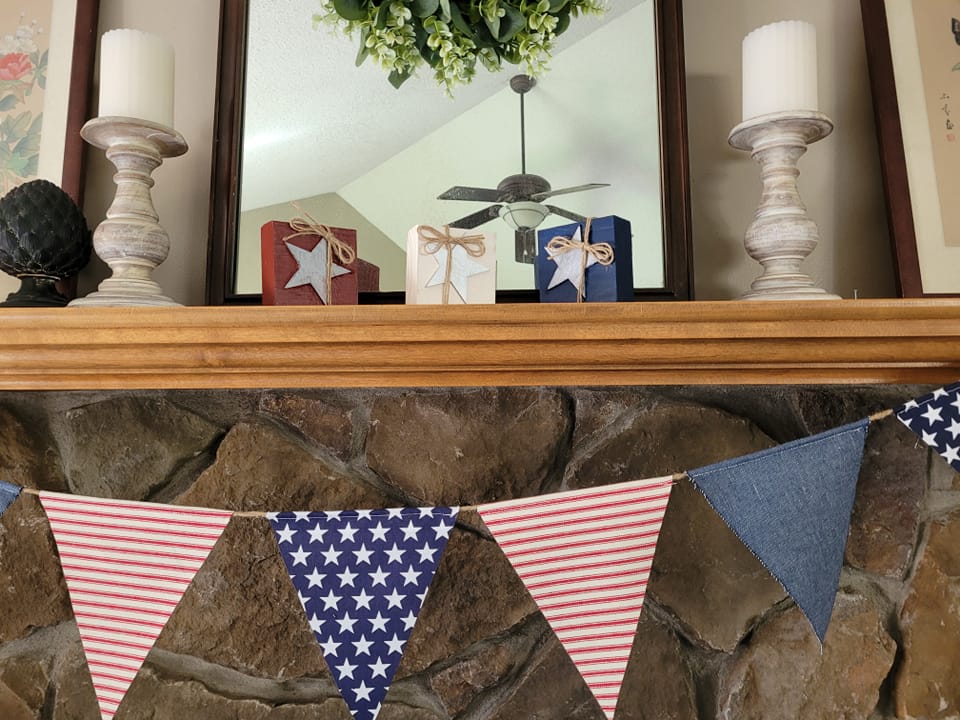 3+ Ways to Style These Natural Slate Coasters
It's important to consider protecting your home from drinks and food, so why not do it in style! Beautifully crafted of rugged, earthy stone, these 100% absorbent Natural Slate Coasters are graced with the iconic patriotic symbols of the Liberty Bell, Old Glory, Statue of Liberty, and American bald eagle. With each one telling a story about our country's history, this beautiful set is perfect for function and decor! These coasters will protect your furniture from drinks and can be combined to create a trivet for serving warm food in pots and pans. They can also be propped up and displayed like artwork within your vignettes!
4+ Uses for American Seed Balls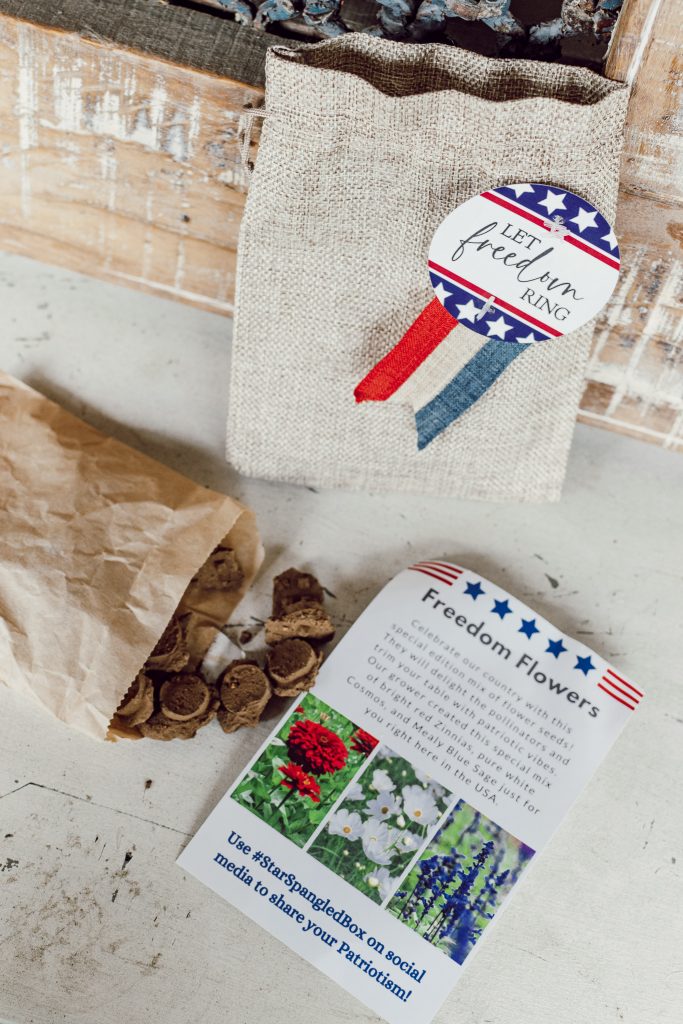 Let your patriotism bloom with these freedom flowers! Add America's favorite colors to your garden with these easy-to-use seed balls. Whether you are a dedicated plant parent or a serial plant killer, seed balls are a great option for anyone regardless of gardening skill level. As an easy and fun way to plant seeds without the need for digging and planting, simply scatter the seed balls in your desired area, water them, and watch them grow! Each bag comes with 15 seed balls filled with hundreds of seeds of red zinnias, white cosmos, and mealy blue sage. Plant yourself a garden and reuse the bag filled with patriotic flags, florals, or other treats inside! Give the perfect gardener gift or create a fun family activity for the Fourth of July to create lasting memories that will bloom back every year!
BONUS: Extra Ways to Style All of Your Patriotic Decor Together!
PATRIOTIC COFFEE BAR STATION: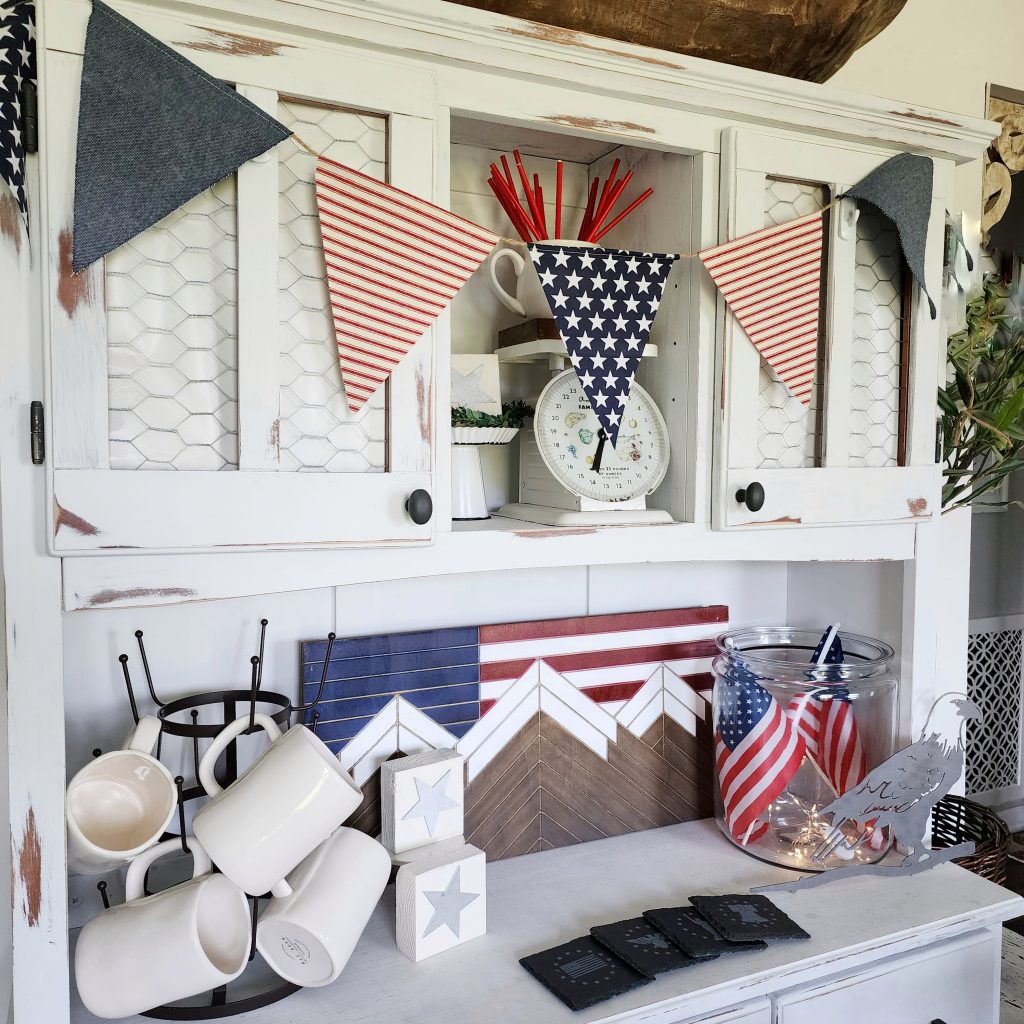 PATRIOTIC CONSOLE TABLE VIGNETTE: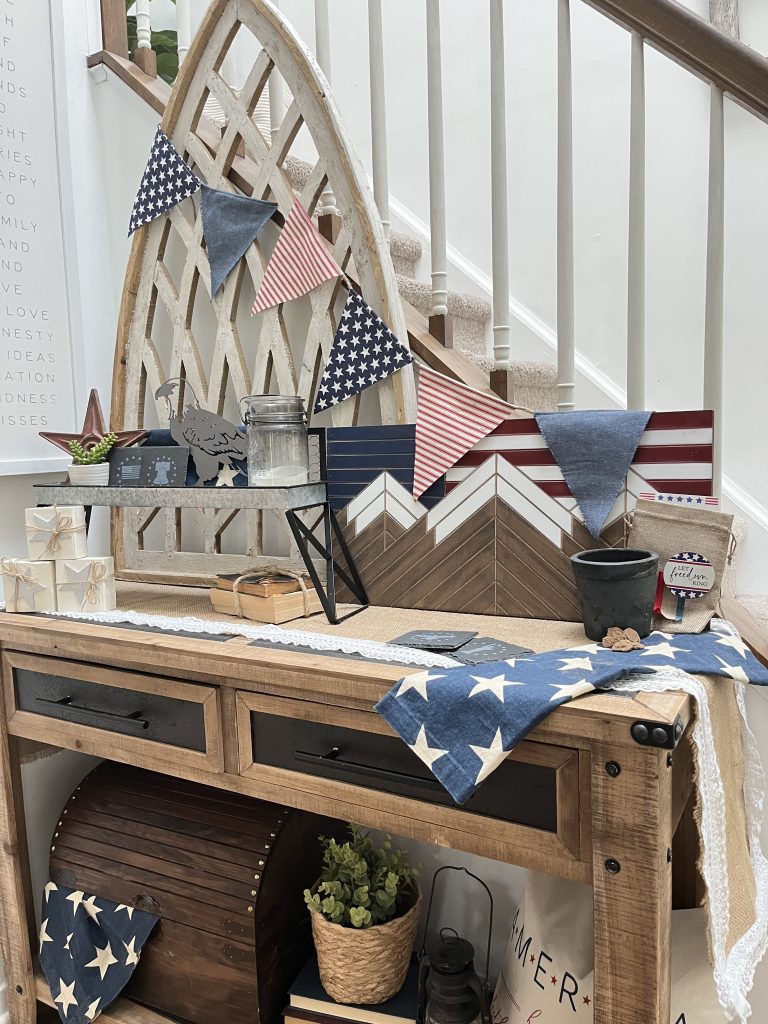 GARDEN SHED DECOR: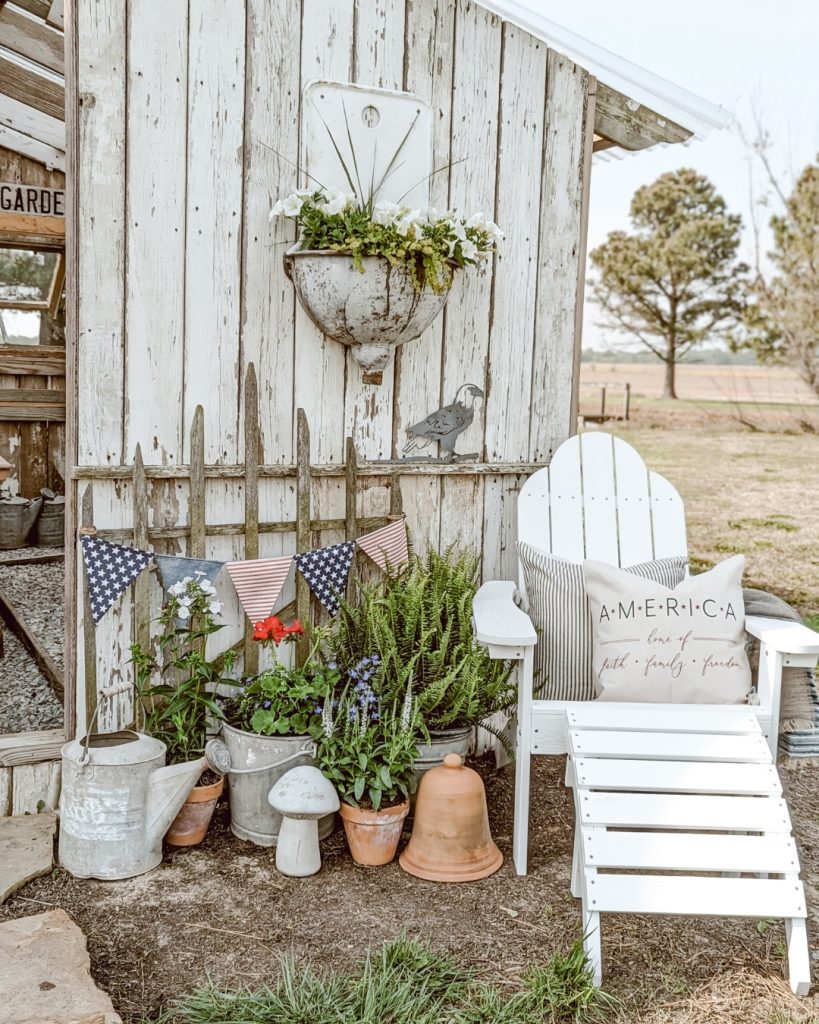 PATRIOTIC MANTEL DECOR:
PATRIOTIC PARTY HOSTING: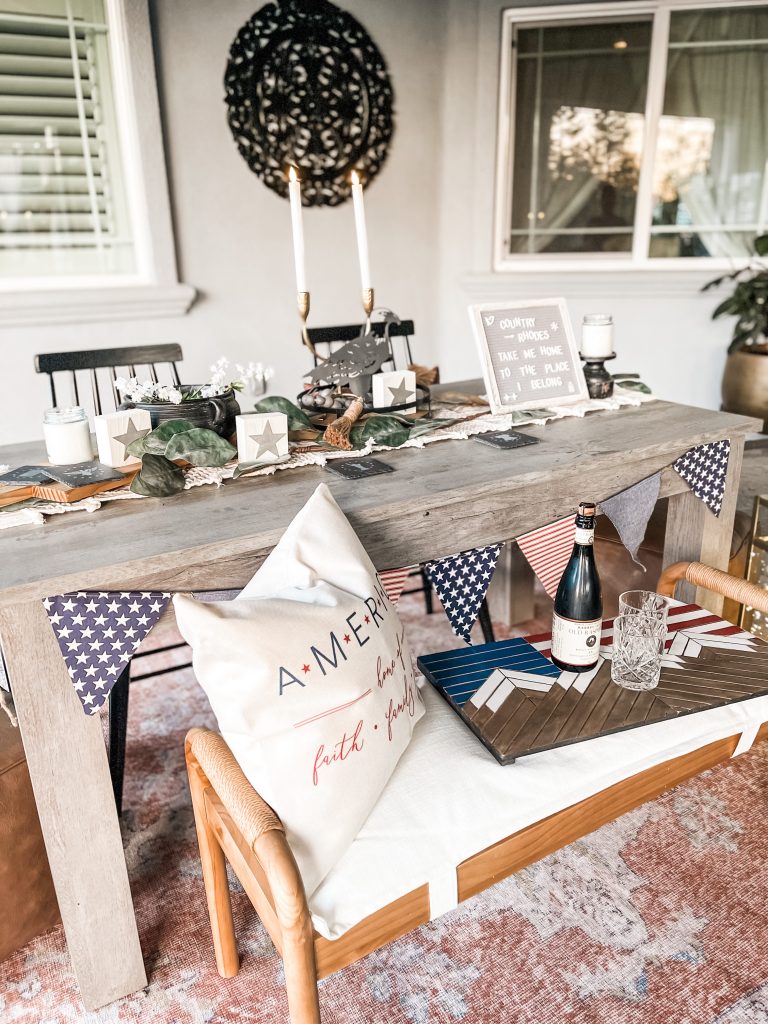 PATRIOTIC PORCH DECOR: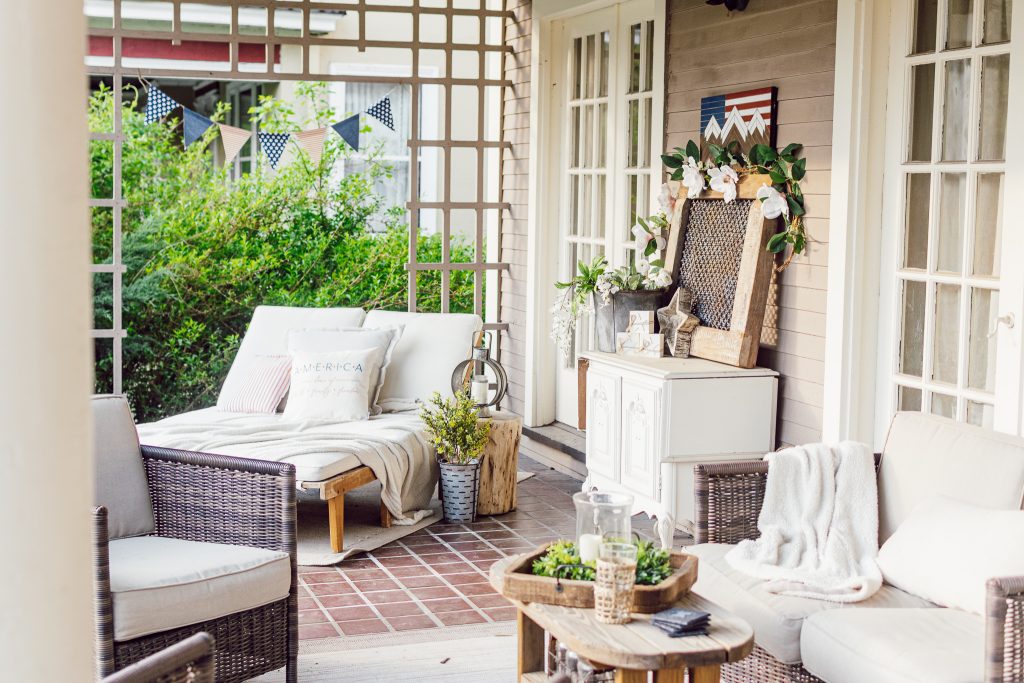 PORCH SWING PICNIC: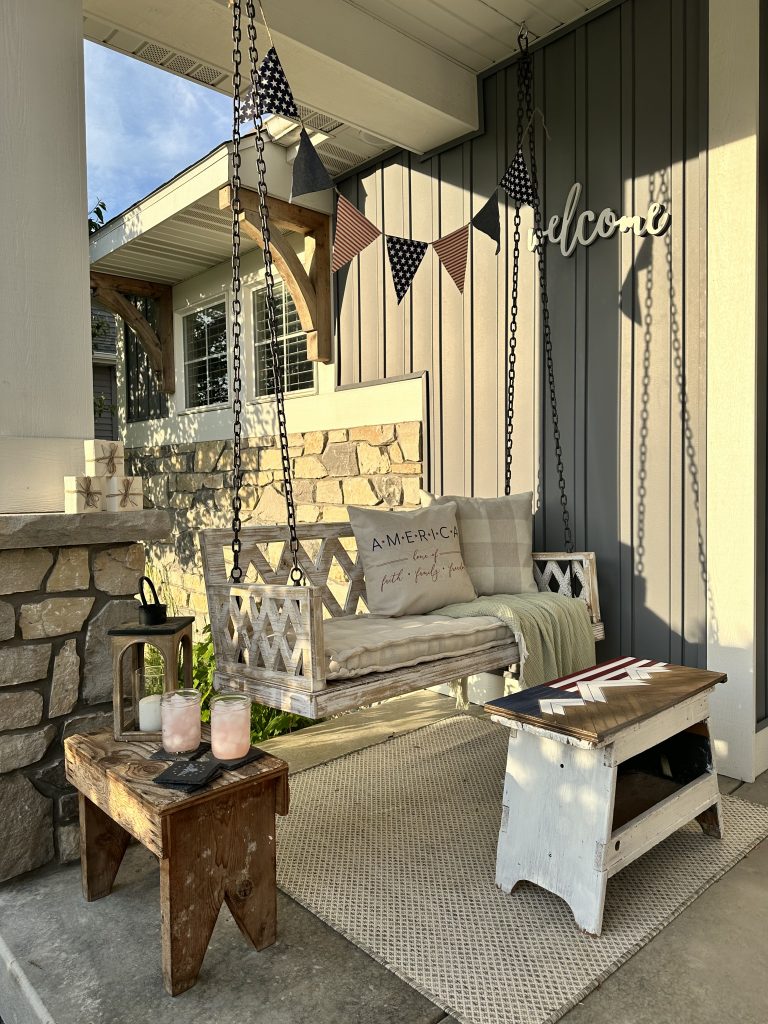 By incorporating these creative ideas above, you can style the same patriotic decor items in new and exciting ways to help save you time and money in the long run! Easily save money by styling the same item in different ways so that you will have many different uses for many years! Celebrate America by sharing your patriotic pride this summer and all year long using the items in our Celebrate America Steal It Box, which is the BEST WAY to celebrate small family-owned businesses in the USA and honor those who protect our freedom every day.
Like what you read, check out our other blogs here – Read More
---
---