Embracing the Harvest Season: Fall Farmhouse Trends for a Cozy Home
As the air turns crisp and the leaves begin to change, it's time to transition our homes into a warm and inviting sanctuary that captures the essence of fall. The fall farmhouse style beautifully blends rustic charm with seasonal elements, creating a cozy ambiance that celebrates the harvest season. In this blog, we'll explore some upcoming trends for creating the perfect fall farmhouse look in your home. From warm color palettes to vintage accents, let's dive into the world of autumn-inspired interior design.
Warm and Earthy Color Palette:
At the heart of the fall farmhouse style lies a rich and earthy color palette. Picture deep reds, burnt oranges, mustard yellows, olive greens, and rich browns that mimic the hues of autumn foliage. These warm tones evoke a sense of comfort and create a welcoming atmosphere throughout your home. Consider using these colors in your furniture, textiles, and decor accents to infuse your space with the spirit of fall.
Natural Materials:
Nothing says farmhouse like natural materials that bring the outdoors inside. Embrace the charm of reclaimed wood, stone, jute, and burlap to add warmth and texture to your fall farmhouse decor. Whether it's a rustic wooden coffee table, stone fireplace surround, or a jute rug, these materials create a sense of authenticity and connection with nature, making your home feel like a serene retreat.
Cozy Textiles:
As the temperatures drop, it's time to indulge in soft and cozy textiles that beckon us to snuggle up and relax. Layer your spaces with plaid or checkered blankets, cable-knit throws, and soft cushions in fall-inspired colors. These textiles not only provide warmth but also add depth and visual interest to your rooms, making them the perfect companions for chilly autumn evenings.
Vintage Accents:
One of the charms of a fall farmhouse style is the inclusion of vintage and antique pieces that tell a story of bygone eras. Scour thrift stores or flea markets for weathered items like old lanterns, distressed wooden furniture, and vintage signs. These accents add character and nostalgia to your decor, creating a timeless and cozy ambiance that celebrates the past while embracing the present.
Let the changing seasons take center stage by incorporating fall-themed decorations throughout your home. From pumpkins and gourds to cornstalks and dried foliage, these elements bring the beauty of the harvest season indoors. Consider using wreaths made from autumn leaves and pinecones to adorn your front door or mantelpiece, welcoming your guests with the spirit of fall.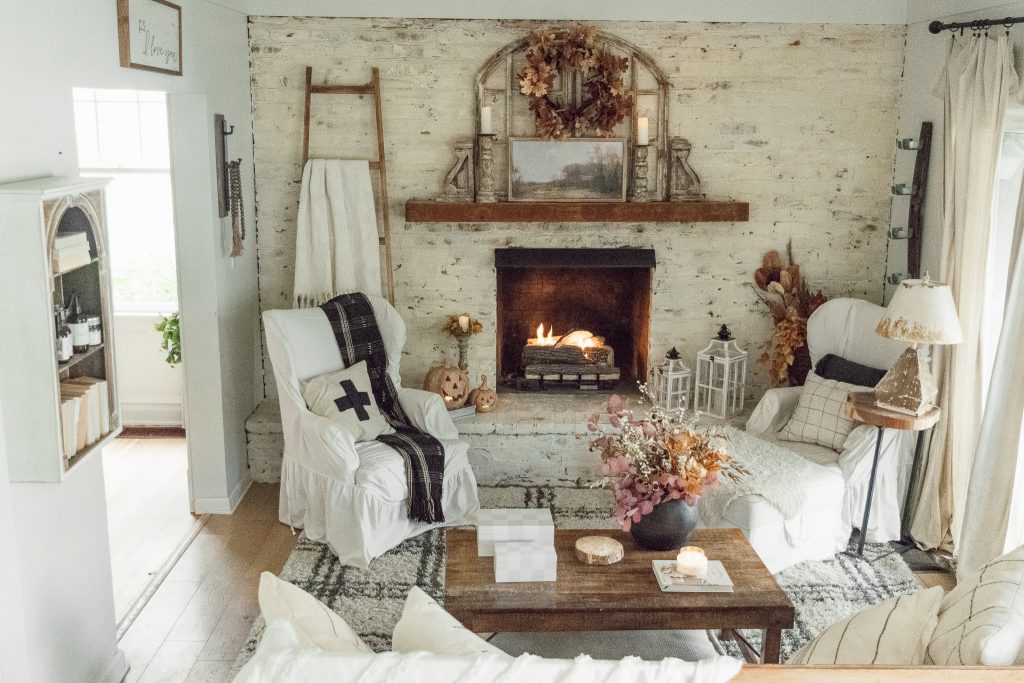 Farmhouse Kitchen:
The heart of any farmhouse is the kitchen, and fall is the perfect time to enhance its rustic charm. Open shelves stacked with dishes and glassware, a large farmhouse sink, and vintage-inspired kitchen accessories are all great additions. Display seasonal fruits and vegetables on your countertops, and consider hanging a decorative wreath or two to add a touch of autumn to your culinary space.
Rustic Lighting:
Lighting plays a crucial role in setting the ambiance of your fall farmhouse. Opt for fixtures with a rustic or industrial vibe, such as chandeliers with wrought iron accents or pendant lights with exposed bulbs. These lighting choices not only illuminate your space but also add a touch of old-world charm that complements the overall farmhouse aesthetic.
Statement Wall Art:
Introduce art pieces that reflect the beauty of the fall season and resonate with your farmhouse decor. Consider paintings or prints featuring landscapes, barns, or harvest scenes. These artworks can become striking focal points that capture the essence of fall and evoke feelings of nostalgia and coziness.
Farmhouse Florals:
Nature plays a significant role in a fall farmhouse style, and floral arrangements can bring that spirit indoors. Decorate your home with dried flowers or faux floral arrangements in rustic containers such as galvanized buckets or wooden crates. These floral elements add a touch of nature and contribute to the overall warm and inviting atmosphere.
Layered Rugs:
Give your floors a touch of luxury and comfort by layering rugs. Start with a large natural fiber rug as a base, which not only adds warmth but also brings in an organic feel. Then, top it with a smaller patterned or colorful rug that complements your fall farmhouse theme, adding visual interest and comfort to your space.
Creating a fall farmhouse style in your home allows you to embrace the beauty and richness of the harvest season while infusing your space with rustic charm and comfort. With warm color palettes, natural materials, vintage accents, and seasonal decor, your home will become a haven that celebrates autumn's arrival. So, why not welcome the fall with open arms and transform your home into a cozy farmhouse retreat that perfectly captures the essence of this beautiful season?
---