Embrace the Spirit of Xmas in July with Modern Farmhouse Christmas Decor
Who says the joy and magic of Christmas should be limited to just one month of the year? With the concept of "Xmas in July" gaining popularity, it's time to bring a touch of holiday cheer to your home, even during the summer months. In this blog post, we'll explore how you can create a stunning modern farmhouse Christmas decor scheme that embraces the spirit of Xmas in July. Get ready to infuse your space with warmth, rustic charm, and festive vibes all year round!
Embrace Natural Elements: One of the defining features of modern farmhouse decor is its connection to nature. For your Xmas in July celebration, embrace natural elements in your decor. Incorporate fresh greenery, such as spruce branches, eucalyptus, or holly, into wreaths, garlands, and centerpieces. The vibrant green hues will add a refreshing touch to your home. To achieve a long-lasting display, consider mixing faux greenery with fresh elements.

Hang a beautiful eucalyptus wreath on your front door to welcome guests with its invigorating scent and natural elegance. You can also adorn staircases, mantels, and windowsills with garlands made from intertwined branches, berries, and pinecones. To add a touch of whimsy, consider incorporating fairy lights into your greenery, creating a magical ambiance both indoors and outdoors.
Cozy Textiles and Warm Colors: The modern farmhouse style is all about creating a cozy and welcoming atmosphere. To achieve this, introduce cozy textiles into your Xmas in July decor. Layer your furniture with chunky knit blankets and plaid or faux fur throws, inviting guests to snuggle up and enjoy the festive spirit. Arrange cushions in seasonal patterns like classic red-and-white buffalo check or muted neutrals for a farmhouse touch.

When it comes to color, opt for a warm and inviting palette that complements the farmhouse aesthetic. Traditional Christmas colors like deep reds and vibrant greens can be incorporated through accent pieces such as stockings, table runners, and curtains. To balance the bold colors, use neutral shades like cream, beige, and gray as a base. This combination will create a harmonious and inviting atmosphere throughout your home.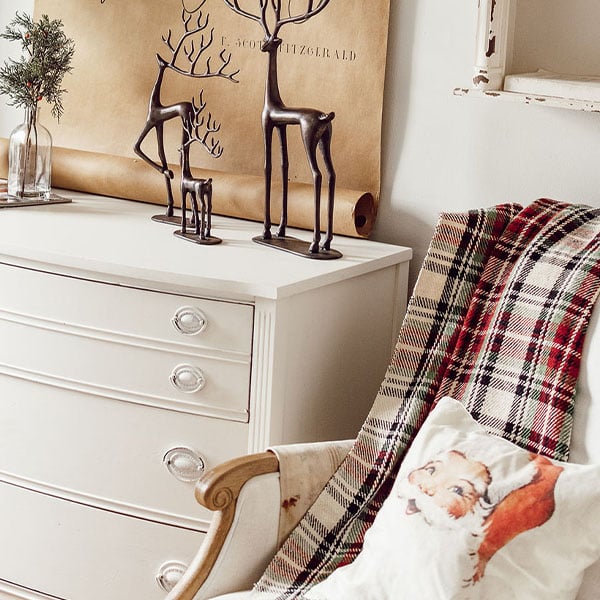 Rustic Ornaments and Vintage Touches: Ornaments are an essential part of any Christmas decor, and for your modern farmhouse Xmas in July theme, choose ornaments that exude rustic charm and vintage appeal. Look for wooden ornaments in the shape of farm animals, snowflakes, or holiday sayings. These rustic accents can be painted or left in their natural wood finish for an authentic farmhouse look.

Consider incorporating galvanized metal accents, such as stars, bells, or miniature buckets, into your ornament collection. The weathered appearance of galvanized metal adds a touch of farmhouse nostalgia. To add a personal touch, include handmade ornaments or repurpose items that hold sentimental value. Vintage sleds, antique mason jars filled with fairy lights, or homemade cinnamon stick ornaments can bring a unique and personal touch to your tree.
Farmhouse-Inspired Tablescapes: The dining table is the heart of any festive gathering, and a farmhouse-inspired tablescape will set the stage for a memorable Xmas in July celebration. Start with a neutral tablecloth or a burlap runner as a base, adding texture and a rustic touch to your table. Layer the table setting with textured placemats and opt for simple white or cream dinnerware that allows the natural elements to take center stage.

Incorporate natural elements like pinecones, sprigs of holly, and cinnamon sticks as charming accents. Place them around the table settings or arrange them as a centerpiece. Consider adding small potted herbs like rosemary or thyme to the table for a fresh and fragrant touch. Complete the farmhouse-inspired look by using antique candle holders, lanterns, or mason jars filled with fairy lights to create an intimate and inviting ambiance.
Illuminating with Warm Lighting: Lighting plays a crucial role in creating a cozy and enchanting atmosphere for your Xmas in July celebration. Opt for warm and soft lighting options that mimic the glow of candlelight or a crackling fireplace. Hang string lights along your mantel, wrap them around stair railings, or drape them over furniture to create a magical ambiance throughout your home.

Consider placing pillar candles in vintage candle holders or lanterns for a traditional farmhouse feel. If safety is a concern, flameless LED candles are a wonderful alternative that still provide the warm flickering glow without the risk of an open flame. Arrange them on your tablescape, windowsills, or even outdoors for a cozy and inviting atmosphere that captures the essence of Xmas in July.
Xmas in July is the perfect opportunity to bring the joy of Christmas to your home, no matter the season. By incorporating elements of modern farmhouse decor, you can create a charming and cozy ambiance that captures the essence of the holiday all year round. Embrace natural elements, introduce cozy textiles, opt for rustic ornaments, design farmhouse-inspired tablescapes, and illuminate your space with warm lighting. With these tips, your Xmas in July celebration will be a memorable and delightful experience for you and your loved ones. Embrace the spirit of the season and let your modern farmhouse Christmas decor shine brightly, even in the midst of summer.
---
---