Getting Creative with Pops of Color
Let's address one thing first...bold pops of color aren't for everyone, but what better time to add some color than Spring and Summer! During our mindless scrolling on Instagram we have been noticing the more bright side of decor start to make it's way back into our feed. We've been seeing some new trends and beautiful patterns that have really sparked some much-needed inspiration for the spring cleaning season ahead.
Adding a touch of color isn't always easy and making it tie into your home effortlessly can be a challenge. One mistake we see a lot of people make is trying too hard to match everything perfectly. Finding the exact blue or pink with every item isn't the way to go. Try adding different shades of two to three different colors to really brighten up your space. Different shades of one color appeal more to the eye and also makes your space feel more authentic.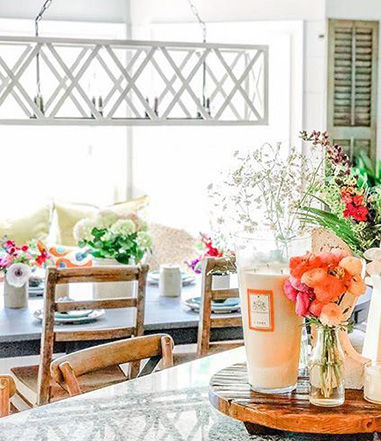 Take the dining room above for example. This is a much more extreme version of adding pops of color but we LOVE it! Everything else in the room is neutral other than the dining room chairs! Keep your magnolia wreath up. Leave your staple pieces like your rustic iron chandelier and jute rugs the same year round. These staple pieces are what set the tone for the entire space and if you are looking for simple budget-friendly updates, changing up accent pieces is much more cost effective.
Updating With Accent Pieces
It doesn't have to be furniture pieces that add pops of color. Try incorporating your favorite seasonal flowers and greenery. They can be your latest blooms in your garden, picked up from your local market, or if real flowers aren't your thing opt for some faux flowers. We love the idea of adding fresh hydrangeas, faux peonies, or even olive steams throughout your home. It brings the colors and beauty of the outdoors in all while updating your space in a budget-friendly way!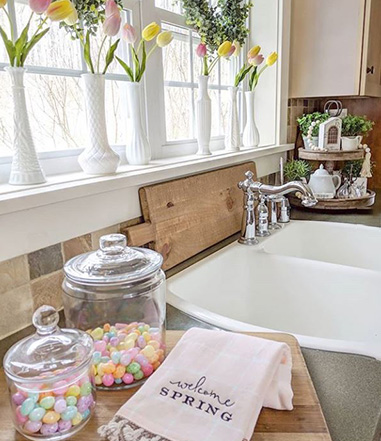 Adding color can be as simple as picking up some fun decorative pieces such as a bright clipboard, plant seed packs, or even adding a scarf or fun hat to your entryway hooks. It's simple subtle updates like this that truly transform the look and feel of your home. Keeping the staple pieces like your storage baskets, entryway hooks, and lanterns the same makes adding and taking away for each season super easy.
Moral of the story is adding pops of color is a simple way to update your space for the season and it doesn't have to break the bank. Home decor is a reflection of your personality so the great news is there is no right or wrong way to do it. Simply add the items that speak to you and you'll have a cozy home that's unique to you and your family... and nothing beats that!
---
---