Staircase Styles: What You Need to Know to Step it Up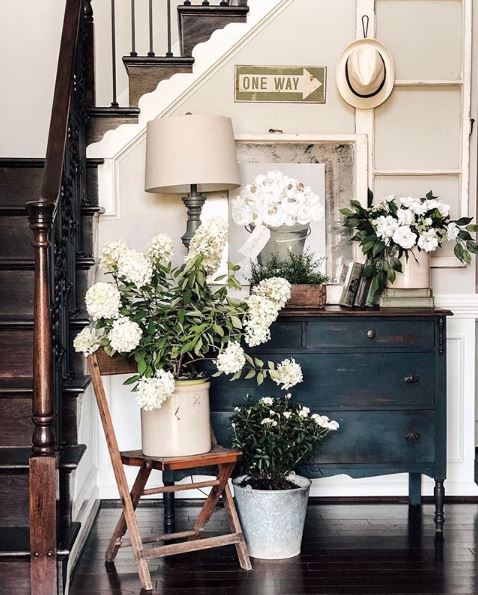 View your staircase as design highlight in your home, not just a necessity. Not all stairs are created equal, so here is a rundown of the various staircase styles, materials, and modifications you can incorporate into your home. Naturally, your staircase needs to fit the space you have in your home, but you can still update and personalize your stairs to suit your design aesthetic.
Glossary of Staircase Design Terms
Banister– Often referred to as a handrail or top rail, it is the long support that runs along the side of a staircase.
Baluster– Often referred to as a spindle, is one of the upright, usually rounded or vase-shaped supports of a banister.
Floating stairs– are characterized by a design where there are no supports between treads, giving the illusion that they have floating steps.
Landing– A landing is a small platform used to break up a flight of stairs.
Nosing– The horizontal, protruding edge of the tread on the steps. Bullnose is a common nosing, but other variations exist and may be preferable if you are looking to achieve a more contemporary look.
Riser– A stair riser is a vertical surface between the adjacent treads on a stair.
Stringer– A means to provide structural support for the treads.
Fully Open– Staircase with no walls on either side.
Partially Open / One Wall– Staircase with a wall on one side, and open or with just a railing on the other.
Enclosed / Two Wall– Enclosed staircase with walls on both sides and no railing.
Staircases Styles & Shapes
First, we will look at the various kinds of staircase designs. Each one comes with pros and cons, and which you go with will come down to how it fits your space, style, and needs. Thanks to Homestratosphere for their very helpful diagrams showing the types of staircases (seen in blue below). Most of these styles can be achieved with a range of materials–wood, stone, metal or even glass. That being said, wood is still by far the most commonly seen in homes.
Straight Stairs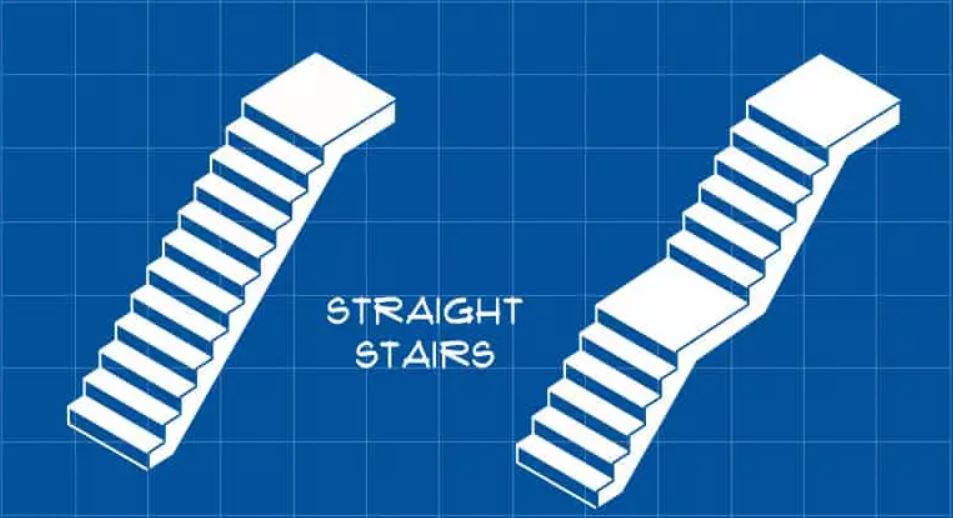 The simplest type of staircase is Straight Stairs. These go from one floor to the next with little to no frills or changes in direction. They are among the most common types of stairs found in both homes and businesses. Straight stairs have a small landing midway to break up the flight at times, especially if the stairs are more than 12 feet high.
Pros of Straight Stairs: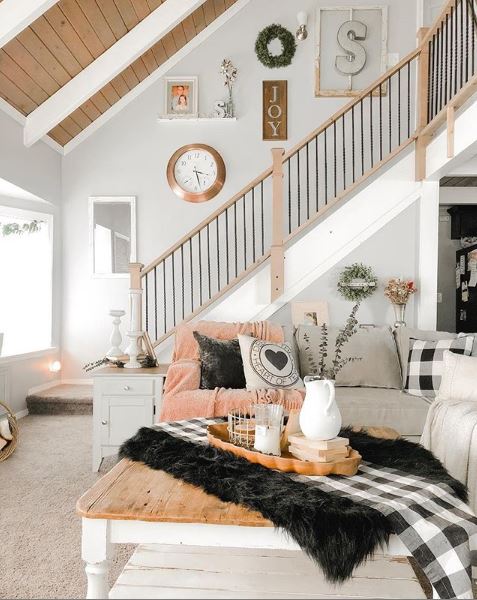 Straight stairs are often the easiest to go up and down.
They work well with almost any design style.
They are easy to build– they only need to be connected at the top and the bottom with no additional support, and it is typically easy to measure for and find railings to fit.
If you pick treads, risers, and stringers carefully, straight stairs can be the least obstructive of staircase styles.
Cons of Straight Stairs:
Straight stairs use up a fair amount of linear space, particularly if you are required to add a landing midway up.
You get less privacy between floors than you do with other styles.
L Shape or Quarter Turn Stairs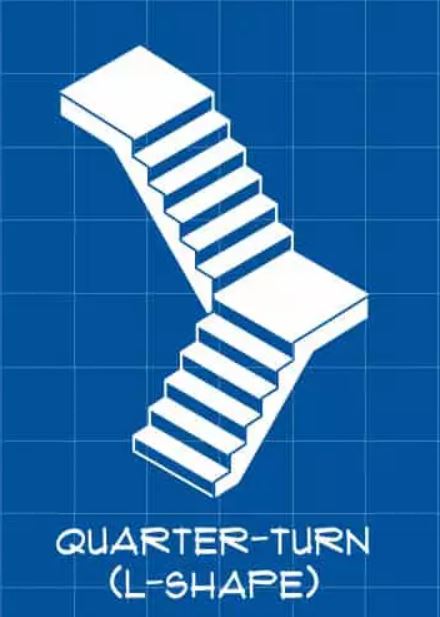 L shaped stairs are a variation of the straight staircase design with a bend in some portion of the stair. They usually feature a 90-degree bend, but this can vary. This bend is usually achieved by adding a landing.
Pros of L Shaped Stairs:
L shaped stairs are more visually interesting than straight stairs.
If placed in the corner of a house they may save space.
The landing in the bend provides a resting point.
They provide a partial visual and sound barrier between floors.
The bend can also add a layer of safety if one were to fall down the stairs as you wouldn't fall as fast as you would with straight stairs.
Cons of L Shaped Stairs:
L shaped stairs are a bit less "straight forward" to measure and build.
Support is typically required for the landing in an L type stair. If you have surrounding walls, this can easily be hidden, but if you opt for an open look it could be a deterrent.
It can be a bit more challenging to move large items up and down the stairs because of the bend.
Winder or Winding Stairs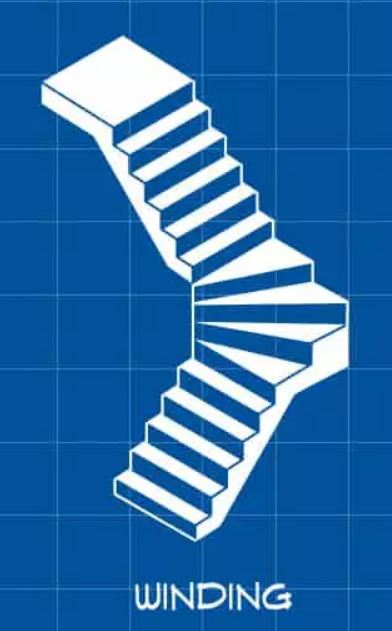 Winding stairs are similar to the L shaped stair but instead of a flat landing, the steps are angled to create the bend. They are often used as a secondary staircase, particularly in older homes. In these cases, the winding stair is often used as an access to the kitchen while a grand staircase is more prominently located in the foyer.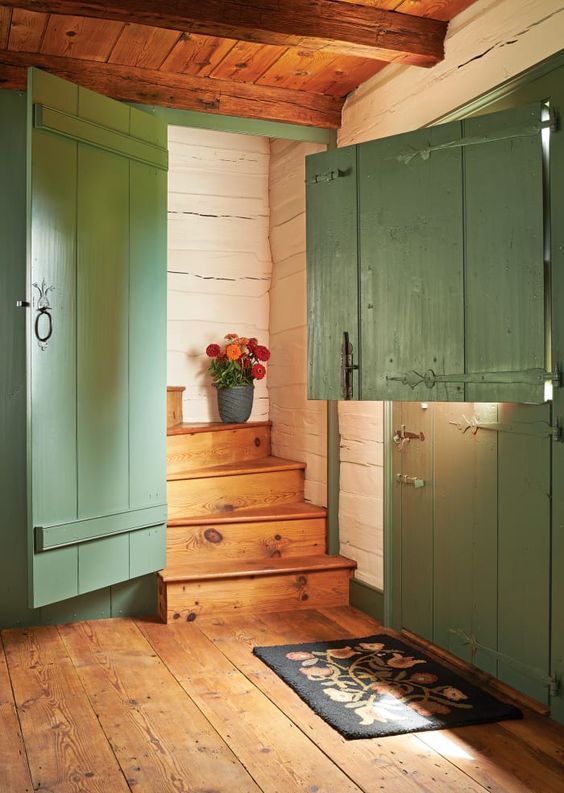 Pros of Winding Stairs:
The main advantage of winding stairs is that they take up less space than their relatives.
Winding stairs create a smooth transition between levels and their compactness lends itself to sustainable design, so they have gained popularity in modern homes too.
Cons of Winding Stairs:
Winding stairs are a little harder to navigate than L stairs.
It can be more difficult to add a handrail.
Like with L shaped stairs, center support is typically required.
U Shape or Half Turn Stairs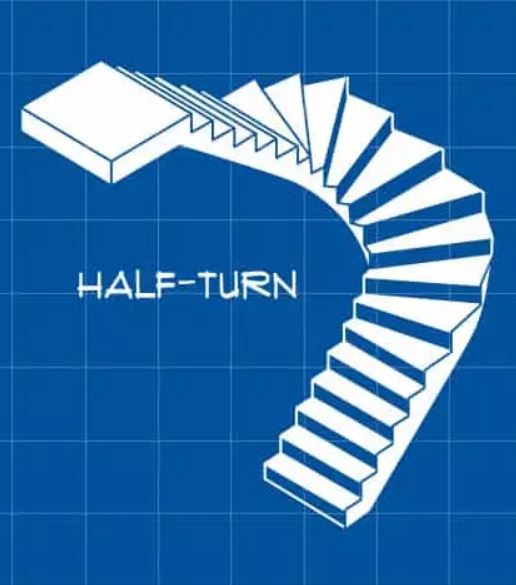 U shaped stairs are more or less two flights of straight stairs that are parallel and joined by a curved landing / rounded steps that create a half turn.
Pros of U Shaped Stairs:
They are more architecturally interesting than some other staircase styles.
U shaped stairs can be easier to fit into a floor plan.
Cons of U Shaped Stairs:
These stairs are definitely a bit more difficult to build.
It is more difficult to find and fit railings for U Shaped Stairs.
180 Degree or Switchback Stairs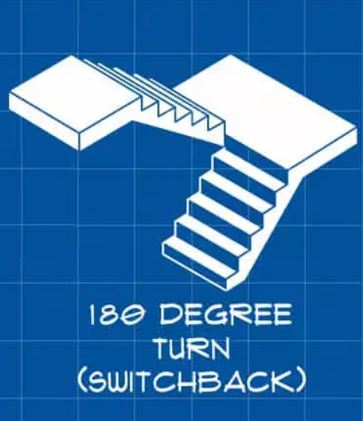 Switchback or 180-degree stairs are very similar to U shaped stairs. They too consist of two parallel flights of stairs, but at joined by a flat landing instead of rounded steps.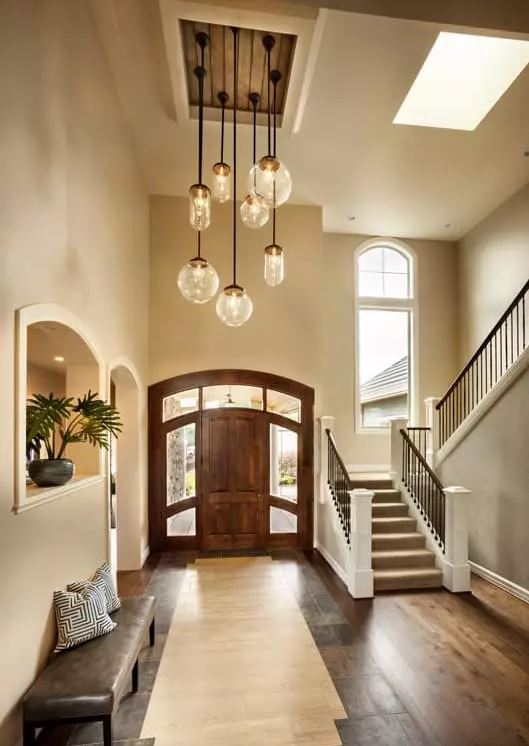 Pros of Switchback Stairs:
Switchback stairs are fairly easy to build and find railings for.
The landing allows for rest on the way up or down.
They may provide some privacy between levels, as well as safety in the event of a fall.
Popular because you save space by doubling up.
Cons of Switchback Stairs:
A larger landing in this style of stairs can take up a bit more space than is desirable.
Not considered an overly grand staircase. For instance, you don't get a view of the lower area as you descend like you do with a winding or bifurcated staircase.
Spiral Staircase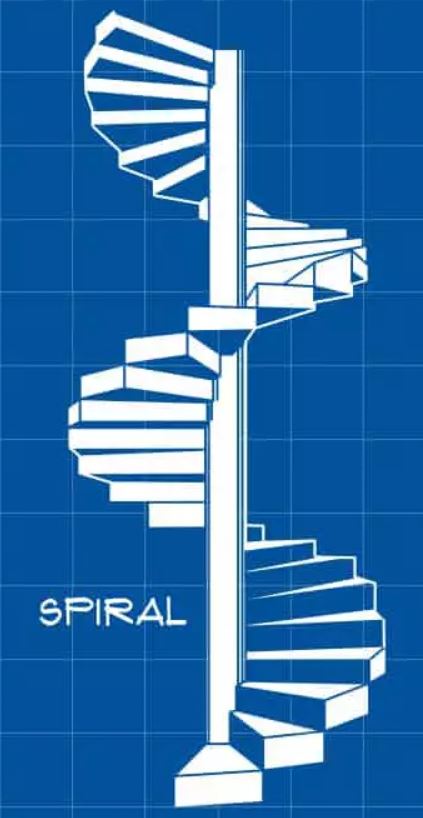 Spiral stairs have a very compact design and the treads radiate around a center support pole.
Pros of Spiral Stairs:
One of the key advantages of spiral stairs is their compactness. Because of this, they are found in lofts, cabins and other smaller spaces!
Spiral stairs can be attractive and interesting to look at.
Since the center pole provides the structural support for the stairs, they are often easier to install other types of stairs.
Cons of Spiral Stairs:
Only one person can go up or down the stairs at the same time.
Spiral stairs are more difficult to navigate, especially while carrying large items. That being said, walkability improves as the outside diameter gets larger, so if you have space, you may want to consider going a bit larger.
They cannot be used as the primary access to a full second floor of a home, based on building codes.
Curved or Circular Stairs
Like spiral stairs, curved stairs follow a helical arc. However, they usually have a much larger radius (and rarely make a full circle). They are often located at the entry of a home where they make a great first impression.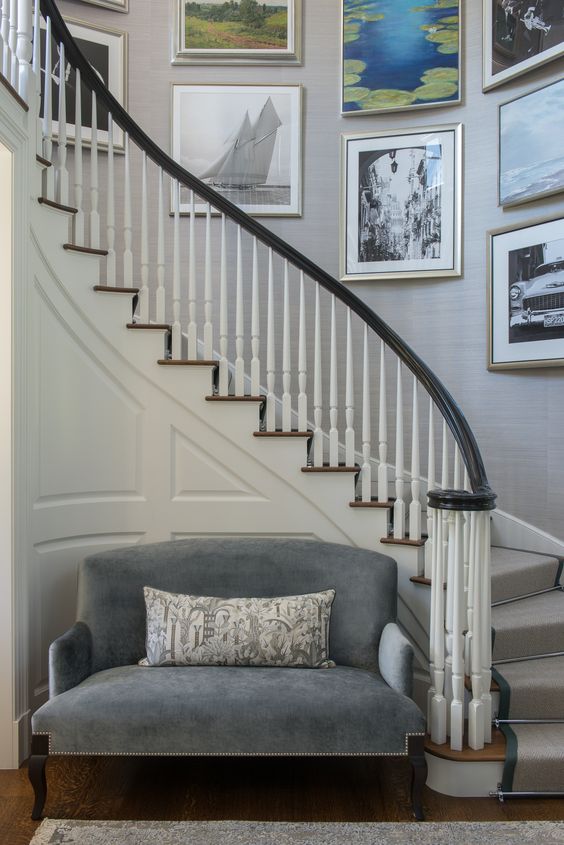 Pros of Curved Stairs:
Curved staircases are often very elegant and traditional.
They are easy to walk up if the radius is large.
Cons of Curved Stairs:
Curved stairs are by far the most difficult to build.
Similarly, because of their complexity, they are very expensive to build too.
Bifurcated Stairs or Split Staircases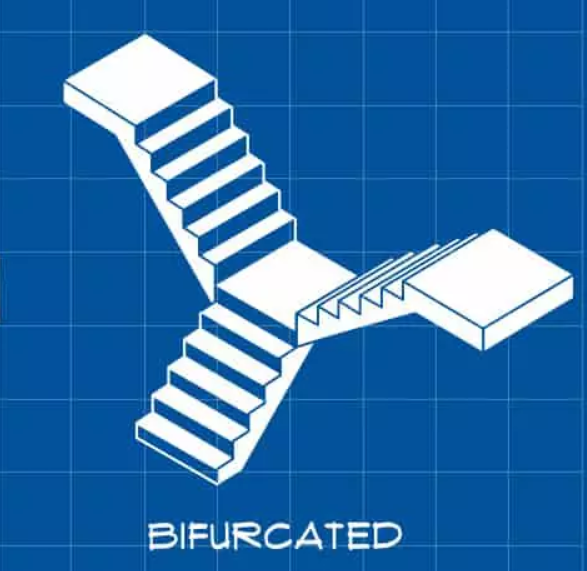 Bifurcated stairs are defined by a staircase splitting into two, as may be inferred from the "bi" in its name. Sometimes this is a single flight of stairs at the base that splits into two more narrow flights of stairs toward the top. Other times, the stairs will start as two staircases at the base that join together at a landing or at the top of the stairs. Typically this is a very grand staircase style reserved for elaborate estates or large commercial structures. That being said, we found a variation of the bifurcated stairs (with a quarter turn mixed in) to be a perfect fit for the modern farmhouse styled home below as well.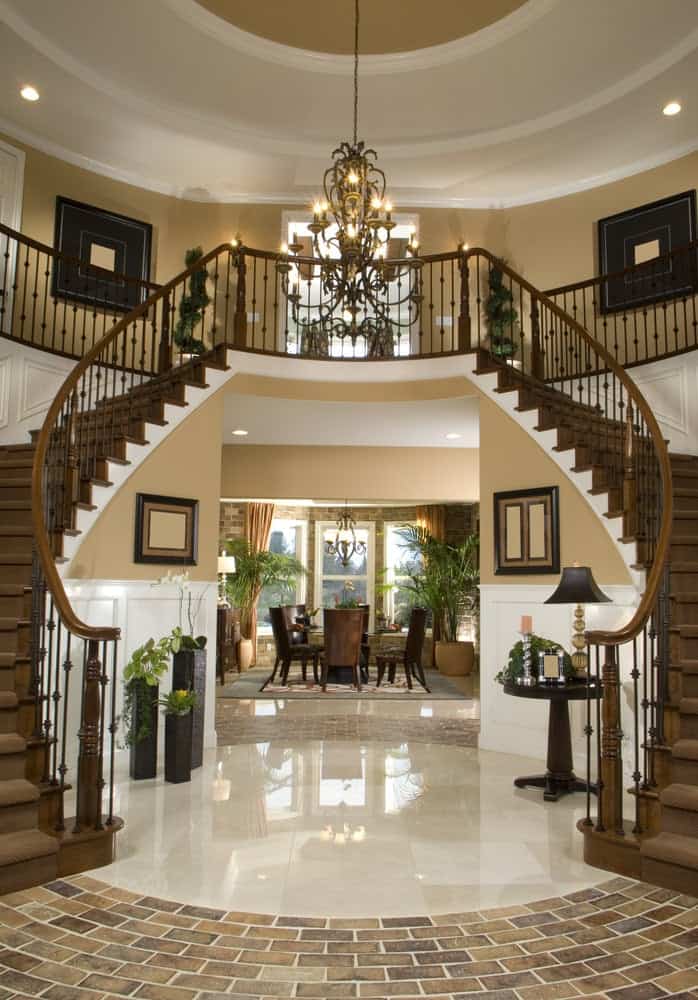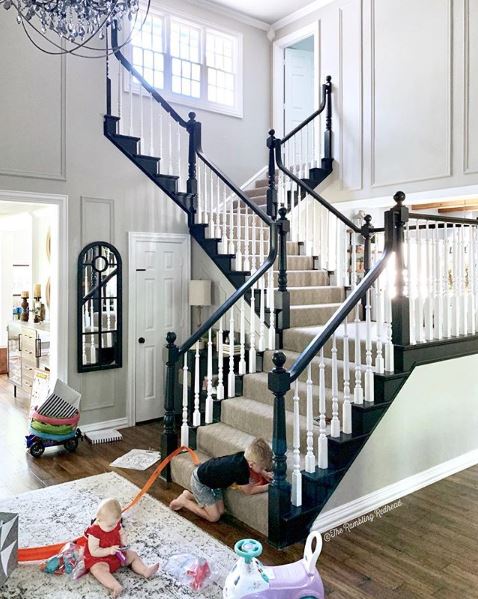 Pros of Bifurcated Stairs:
With their extravagant use of space, split staircases can be used as a statement of grandeur in the home.
With variations in the construction of this staircase, you can select a format and style that best suits your space.
For a very large home or business, the split stairs can improve accessibility.
Cons of Bifurcated Stairs:
Bifurcated stairs command a lot of space on both levels of your home.
Railings can be quite difficult to measure for and fit.
These staircases due to size and complexity often cost more than their alternatives.
Floating and Cantilevered Stairs
Floating Stairs
Another type of stairs you should be familiar with is Floating Stairs.
By definition, a flight of stairs is said to be "floating" if the space underneath the staircase is open. Most floating staircases do not have risers which create the illusion that each step is floating. Floating stairs are typically either fully opened or partially opened.
Floating steps can take on the shape of almost any of the aforementioned styles. They are customarily found in more contemporary or industrial style homes.
The two examples above look very similar, however, you should note that the photo on the left shows a staircase with a single stringer design and the one on the right features two stringers. Stringers are the support beams you see underneath the stairs running the length from the lower level to the top level. Also, the right staircase incorporates a landing in the switchback design we learned about earlier.
Cantilevered Stairs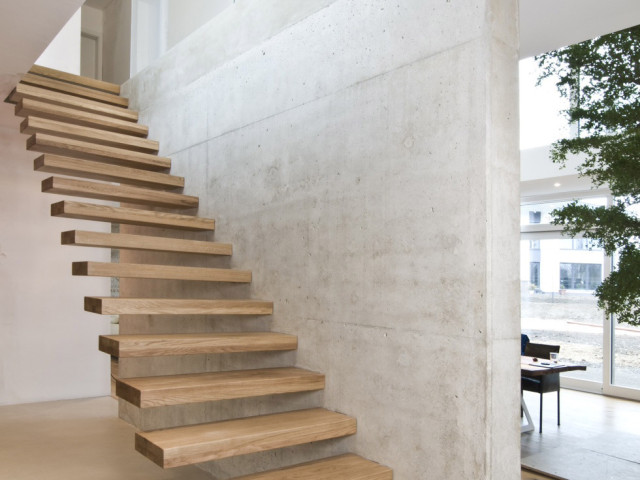 Cantilevered Stairs are closely related to Floating Stairs but are characterized by having only one end of each stair attached to the wall. These treads can be attached using a metal frame, pockets in the wall, or even a single stringer that's attached to the wall.
These allow for a lot of light and visibility but could present some safety concerns depending on if a railing is incorporated. Also, these are almost exclusively seen in contemporary settings so keep that in mind.
Staircase Design Accents
Now that we have discussed all the major staircase styles, we wanted to take a minute to reflect on the various design choices you incorporate.
Traditional staircases are often made of either stained or solid painted wood. This style is still very popular today but is certainly not the only option. If you like the look and feel of wood but want to spruce things up, you can choose a two-tone look, add a runner, decorate the stair risers or add a more elaborate railing.
Two-Tone Wooden Staircases
Two-toned staircases make for an updated but still neutral look. We are seeing a lot of black treads and handrails these days, but a white and wood combination can look equally sharp. We have seen all three beautifully combined as well. Let yourself think a little outside the box here!
Railing Styles to Consider
Horizontal Metal or Cable Railings
In lieu of vertical spindles, add a railing featuring horizontal metal bars or cables for a more industrial take on railings.
We like how distressed wood was added to the cable railing here to give the look a more casual, coastal vibe. The options are truly limitless, so get creative!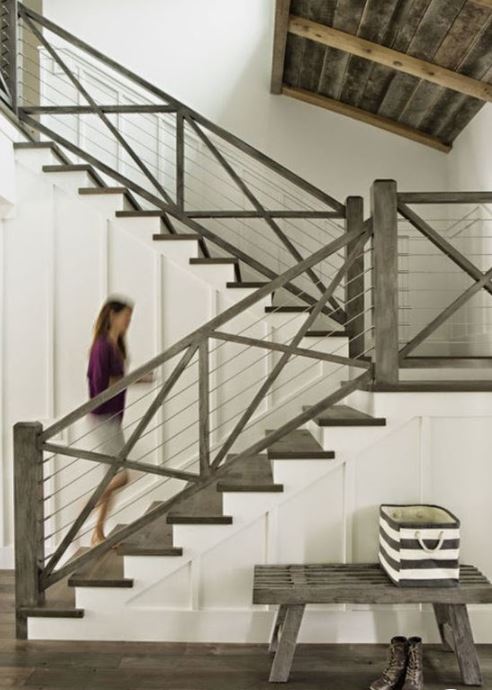 Glass Staircase Railing
If you like the look of floating or cantilevered stairs, a glass railing may be for you! Glass railings allow for the maximum amount of light to shine through, yet offer a layer of safety to these edgier designs. Be prepared to Windex frequently though!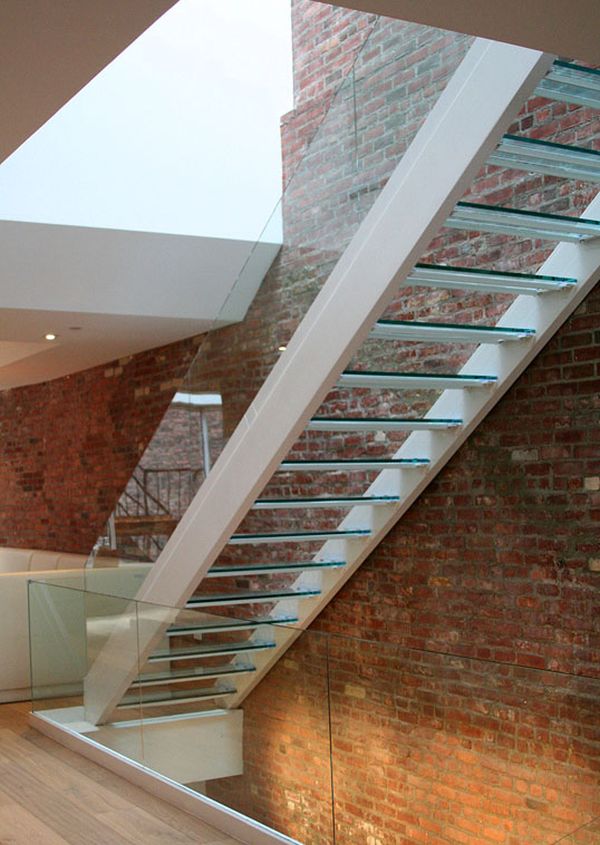 Metal Baluster Railing
Metal balusters are a great alternative to wooden balusters or spindle. Make them simple, modern, ornate, or geometric. Pair these with a similar metal handrail, or go with metal spindles but a wood handrail that ties in with the treads.
Decorative Stair Risers
If you aren't ready to rip out your existing stairs but still want to spruce them up a bit, a fun area to play with is with the risers! We see amazing renditions with tilework, stenciling, painting and beyond. Pinterest is a great resource for inspiration!
Carpets, Rugs & Runners
Carpeted Stairs
Carpeted stairs aren't as popular as they once were, but certainly still have their place! Simply replacing existing carpeting with a fresh, clean, lower pile look can give your staircase a real makeover. Your carpet can run the full length across each tread or may stop just before the balusters depending on the style you have. An alternative is carpeting the treads but leave the risers bare to show off some of the beautiful wood and achieve a two-tone look and texture.
Staircase Runners
Adding a stair runner is an increasingly popular idea that brings the perks of carpet (warmth, softness, slip resistance, etc) but gives you flexibilty. A runner adds fun and color yet showcases your stairs at the same time.
Under Stair Storage & Ideas
When designing your dream staircase evaluate the space underneath your stairs. Certain staircase styles allow for open space underneath which is attractive, while others provide great enclosed storage. We love this cute storage idea below and wrote about a few others in an earlier blog post. There is no right or wrong, except of course if this becomes wasted space! Who doesn't need more storage?
Now that you are well versed in staircase styles, design options, trends, and terminology you can confidently conjure up your next dream staircase or your next DIY project! We would love to hear how you make your staircase a highlight of your home– comment below!
---