5 Must Have Decor Items for your Balcony Garden
It's that time of year to start thinking about our gardening efforts! While some have large, spacious yards to plant their flowers, herbs, and vegetables, there are those who live in our small apartment in the middle of a sprawling urban complex, so we must look for more creative ways to take care of our plant pals. Enter the balcony garden: the number one way for both you and your chlorophilled friends to enjoy the sunshine. We all have our own personal preferences when it comes to flowers, but garden spaces are about more than just our plants! Here's a list of five must-have objects to enjoy your green oasis to the fullest.
Planters for your balcony garden
In ancient Japan, the art of bonsai can be dated back as far as the 6th century, when the Chinese traded miniature potted plants with Buddhist students. Bonsai has changed dramatically since then, but one core concept remains the same: the pot the plant resides in is just as important as the plant itself. A unique planter is a great way to pull in a bold color or pattern that makes a statement on your balcony garden.  While not all of us are growing miniature trees in our back garden, we still want to put our best foot forward in providing your flowers with a home they (and you!) can genuinely enjoy. Hanging planters are a great addition to any smaller balcony space. Utilize your walls, your railings, and your ceilings if you have them to maximize the amount of space – and plants – available to you.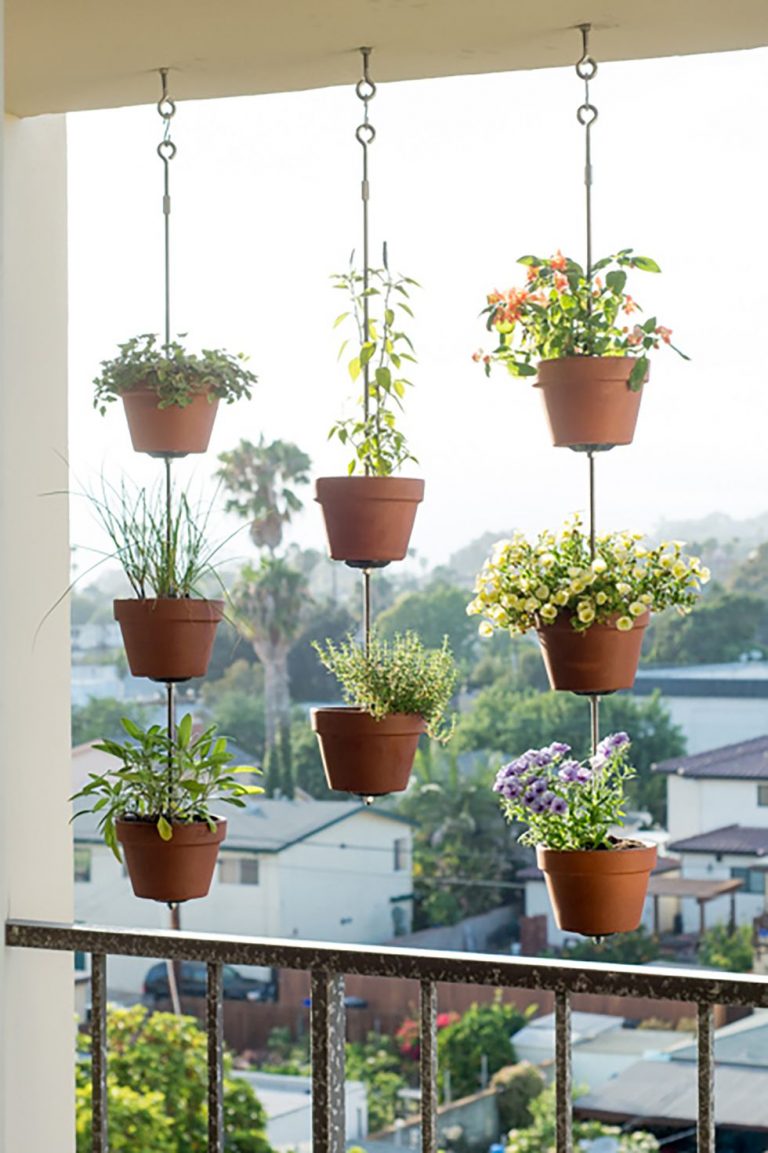 Your plants aren't the only thing that needs a place to set itself down, pull yourself up a seat to enjoy your space in comfort. For a classic garden look, we suggest wrought iron or metal furniture. The heavy material is great for keeping your furniture grounded even in the strongest winds – an incredibly important consideration when your balcony is high in the air. For best results, coat any wrought iron in a rust protector. This will keep your furniture long lasting and safe from the elements.

Design your balcony garden around the amount of space you have. Some people can easily fit a bench along the wall, other balconies might only have room for a single chair. You know your space better than anyone; measure out your area and use your space to be the best that it can.
Lighting your balcony garden
Sometimes you want to visit your balcony garden after hours, but how are you going to enjoy the night if you can't see the beautiful space around you? Lighting is an incredibly important resource for any living area and can be used both to enhance the surrounding features as well as provide decoration on its own. Without a ceiling to hang a chandelier from, a popular option for lighting is a wall sconce. Wall sconces will hang from the side of your building and provide light. Other options for lighting include floor lamps, table lighting such as candles and lanterns, and string lights for wrapping around the balustrade.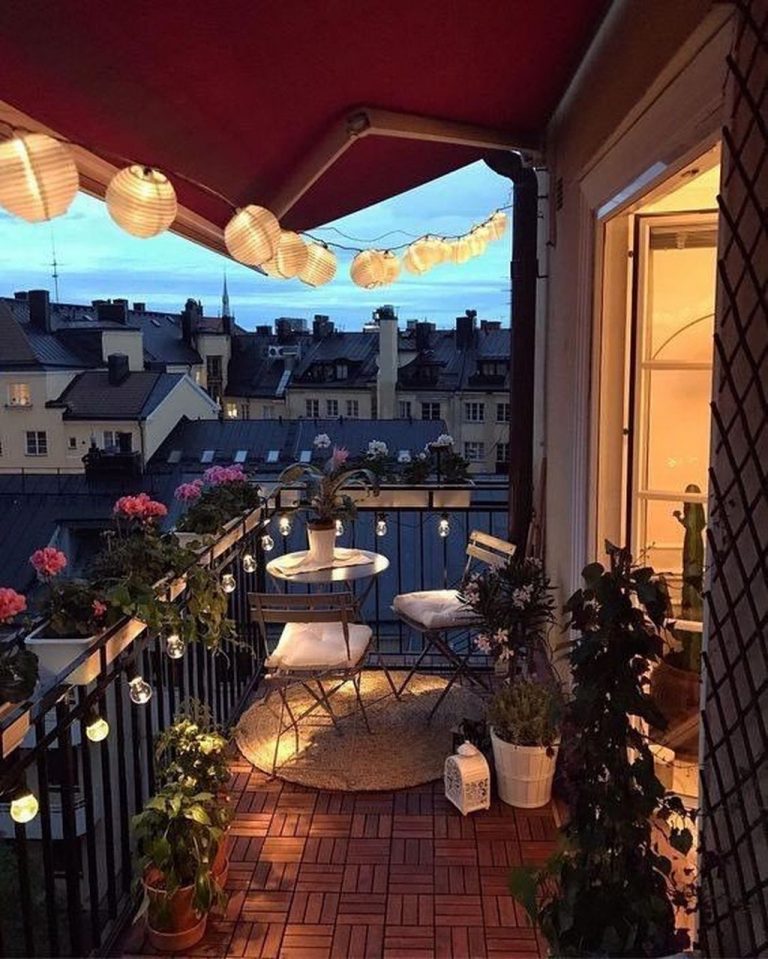 You have your garden, your seating, and your lights all in place. As you walk through the door everything looks perfect until you turn around to see a large empty wall amidst the otherwise detailed surroundings. You could hang more plants on the side of your building, or you can pair your garden with a large, detailed decorative item. Utilizing texture and color is important in areas with limited space. Because you're unable to create contrast using 3-dimensional space, letting flat surfaces such as porch signs, decorative iron, and treated wood mosaics are your best bet to break up the space and create contrast.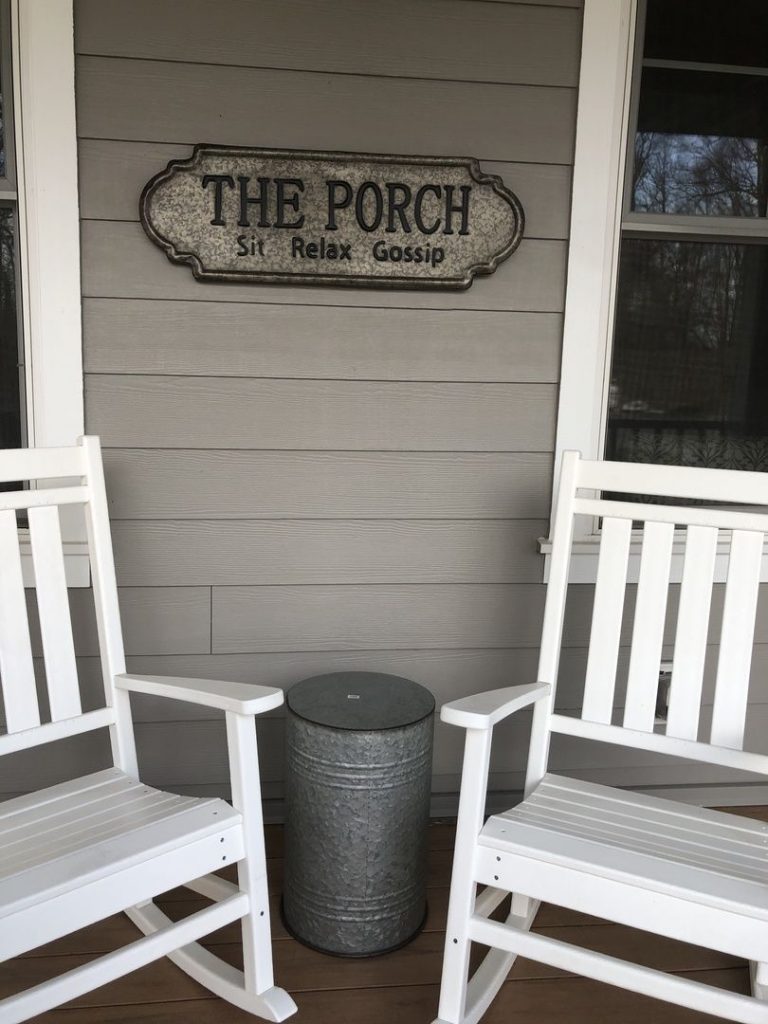 Storage for your balcony garden
As anyone living in a small space knows, storage is essential. When you buy furniture, it can store items. When you buy décor, it can store it can store items. Sometimes even items meant to be stored away can hold even more items if you're clever. Your balcony garden should be no different. For instance, our Modern Industrial Cement Storage Stool not only looks great, but is multi-functional as well – put a cushion on top and you have a perfect spot to both, rest your feet and hide away all of your gardening tools.
Gardens and décor are practically inseparable. Each one helps elevate the other to make the space your own. We hope you're able to take the tips above to create a space where you feel at home, because the more time you spend in your garden the more your plants will thank you! What do you have to add to this list, please share in comments! As always, be sure to tag @decorsteals so we can see how you've styled your treasures!
---
---