Spring Decor Ideas To Freshen Up Your Space
There's no better time than Spring to livin' up your home with some quick and simple ideas! The best way to usher in the season is by adding some warm-weather refresh to your clean and tidy home. Get ready to upgrade your space with any (or all) of these spring decor ideas.

Don't worry! These aren't your major home renovations or time-consuming DIY projects. These are just simple spring decor ideas to easily transition your space from the gloom of winter to the blooming essence of spring in no time. These spring decor ideas are really just an excuse to boost your decor in your living room, kitchen, dining room, bedroom, or office. This is done easily with beautiful pastel accents, seasonal centerpieces, and beaming spring patterns. No matter what your style is, you'll discover inspiration from this list of ideas on how to easily incorporate spring into your current decor.
1. Pastel Spring Decor
When you dream up Spring, what's the first thing that comes to mind? For us, it's PASTELS! Everything from bight blues and pints to the enchantment of watercolors. Bringing pastels into your home is as simple as swapping out your accent items. This is a super cost-effective way to incorporate the beautiful colors of Spring and your home will definitely thank you for it!

Pops of color can be simple. All you need to do is find the right accessories to brighten things up! Try incorporating some fun festive colors with a little egg coloring DIY or try these fun velvet easter eggs. Colored pastel eggs are an easy way to really channel some Spring decor vibes without compromising on budget.

If eggs aren't your thing, no big deal! Try bringing the fun of the season into your kitchen or living room with some colorful festive upgrades. Swap those neutral or dreary-colored tea towels for some bright new ones. Try out a bold new apron for cooking and keep it on display so it continues to bring life to your space when you aren't using it. You could even add some pops of color with a brightly colored throw or some updated decorative pillows.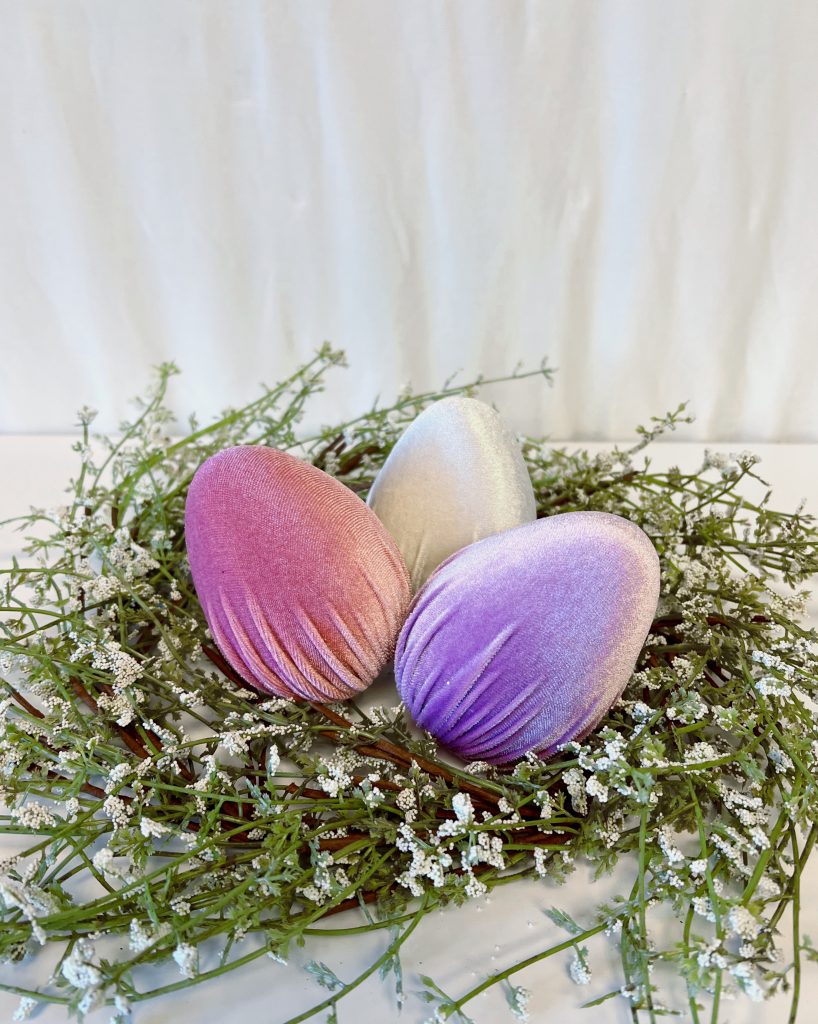 2. Seasonal Spring Decor
Nothing's more enjoyable than decorating for the season and what better way to do that than with some truly festive decor! Incorporating bunnies, chicks, eggs, fun easter sayings and more is the perfect way to get everyone excited for the warm months ahead. The great thing about this is it's easy to do with some budget-friendly additions!

Next, We love the idea of adding some bunnies to the mix, and honestly, this can be in the form of so many different pieces. Whether it's metal or fabric display figurines (we absolutely LOVE these!) or some functional decor that screams Spring (like these bunny bookends), you simply can't go wrong!

Another creative way to incorporate Spring is by adding seasonal quotes and prints to your decor mix. It's simple to swap out some framed art each season and it's the easiest DIY option out there! The great thing about adding some prints to your decor is they can go anywhere you have some empty wall space and they can easily be changed for every season! Not only will prints be the perfect addition to your home, but find some inspiring Spring quotes to add to your spaces. We love this cutting board as a simple way to update your kitchen! Try adding some of these elements throughout every area of your home to really capture the essence of the season.
3. Bring In The Bloom Of Spring
With Spring comes flowers and that means the most gorgeous cascade of colors and new life everywhere you look! Find ways to bring the beauty of the outdoors in as a way to really elevate your space. Not only is the blooming season so beautiful but live plants in the home can be great for your overall health!

Some of our favorite ways to bring the beauty of Spring indoors are to find the perfect pots! We love the idea of starting small with a charming tabletop potted display for your Spring decor. Fill it with your favorite herbs, flowers, or even faux plants for a pop of life that is sure to turn heads. Once you have the perfect display, add some garden markers to take the look to the next level!

If DIY is your thing, you could always opt for creating an indoor or outdoor garden during this time! We love the idea of creating a beautiful herb garden for cooking or even planting some beautiful wildflowers to really accentuate your decor. Check out this easy to do DIY Wildflower Seed Balls in Kraft Pot for a fun activity and a great addition to your Spring decor.
These are just a few ways to incorporate Spring into your home! If you are looking for everything to boost your home decor this season, head to our category of all things SPRING to get the best overall look! From tiered display trays to pops of color and garden essentials, our Springtime at Cottontail Farms Collection has everything you'll need!
---
---