6 Simple & Brilliant Christmas Decorating Ideas
Know What You Have and Love and Start There!
Shop your home first! Take inventory of what you currently have so that you can fill in the gaps that you are missing! It's also okay if you don't have anything! The recommended 6 simple & brilliant Christmas decorating ideas below will elevate your space and give it that designer feel… on a budget of course! Because that's what we love helping you with at Decor Steals!
1. 6 SIMPLE & BRILLIANT CHRISTMAS DECORATING IDEAS: Gather Meaningful Pieces
Gather meaningful pieces to create new holiday traditions! Our homes should inspire us to go out into the world to do great things and then welcome us with refreshment! Gather heirloom pieces, vintage items, souvenirs, or other memorabilia as meaningful reminders of what makes your home special to you and your family! Your home is the very important, influential building block for your daily experiences and lifetime memories that you create!
This 52 Inch Tall Vintage-Inspired Lifesize Santa Cutout was inspired by the 1950s era when you would see a lifesize Santa in a window store display! Gone are the days of waiting in endless lines competing to get the perfect photo of trying to get your child smiling with Santa! This jolly fellow comes with a metal stand that allows you to prop him up on your front porch or next to your Christmas tree in your living room as the perfect backdrop for some wonderful holiday family photos year after year! This timeless Santa will be a staple used for years to come!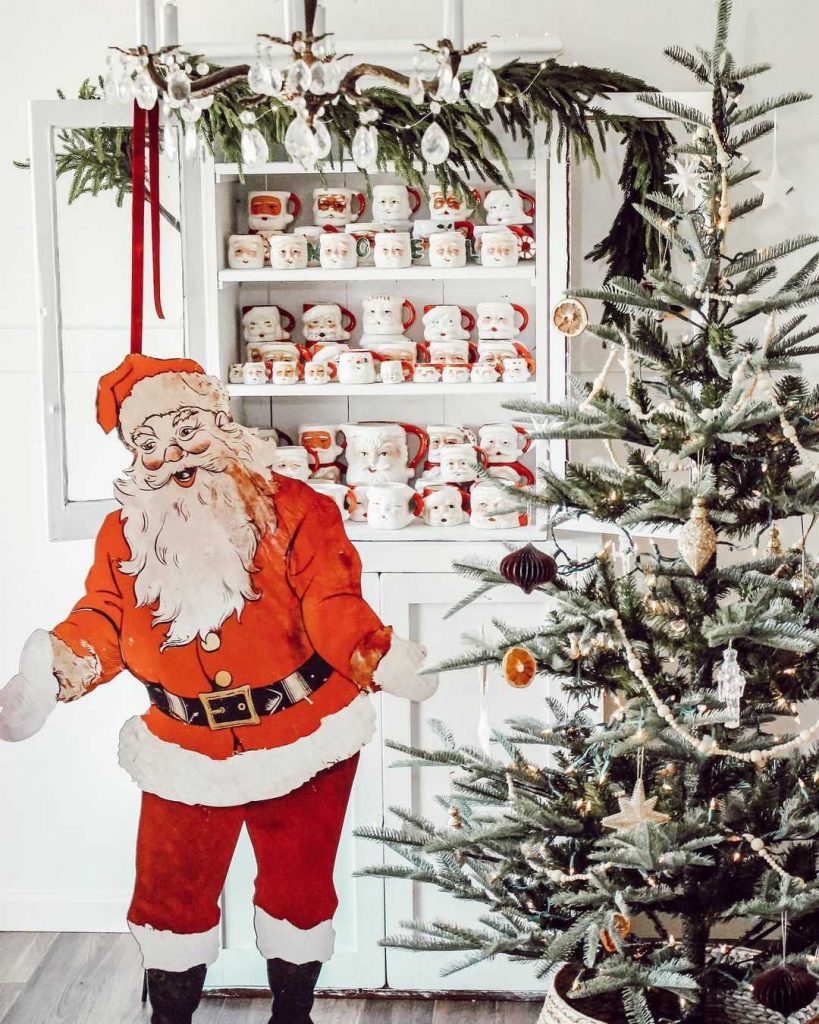 This Light Up Glitter Houses Advent Calendar is a great way for you and your family to countdown the days to Christmas! This Light Up Glitter Houses Advent Calendar is filled with vintage-style bottle brush trees and numbered mini Putz-style houses on the side of a snowy mountain! The name for Putz houses evolves from the German word "putzen," which means to clean or decorate! Advent calendars trace back to the 19th century in Germany when families would use chalk marks on doors or lit candles to count the days leading up to Christmas. Gerhard Lang created the first printed Advent calendar, which was inspired by one his mother had made for him featuring 24 colored pictures attached to a piece of cardboard. Inspired by his mother's design, Lang modified his calendar to include little doors which are now a staple in most Advent calendars to this day! For this Light Up Glitter Houses Advent Calendar, you can create your own family tradition by hiding little candies or other small surprises inside each cardboard house to excite your family leading up to Christmas!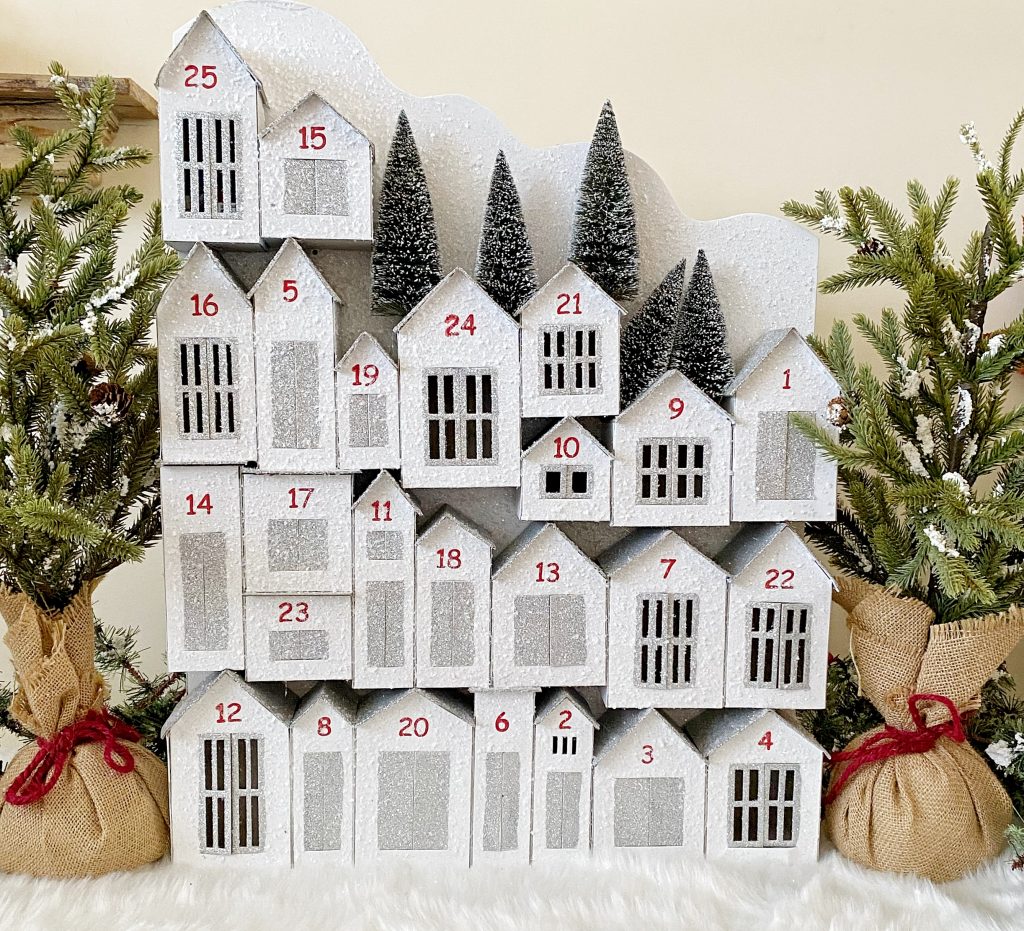 2. 6 SIMPLE & BRILLIANT CHRISTMAS DECORATING IDEAS: Bring the Outside In
The easiest way to change up any space in your home for any season is with greenery! If you don't have much decor or don't know which type of items to invest in, high-quality faux greenery is a must! Faux greenery is a lifetime investment that pays off in the long run because you can re-use it every year and it helps you save money by not buying real greenery that dies every year! The best type of faux greenery to invest in is timeless greenery that can be used throughout multiple holidays or seasons!
This Flocked Winter Pine Tree in Galvanized Bucket will add cozy vibes all winter long! Sometimes putting up a large Christmas tree with ornaments and lights can feel super overwhelming, especially during the most stressful time of the year! That's when it's important to keep things simple by simply adding a tree that is all ready to go straight from the box! This Flocked Winter Pine Tree in Galvanized Bucket already comes with so many details! It's beautifully crafted from faux pine with pine cones in a corrugated metal bucket with moss! As a flocked, soft green tree, this perfectly neutral tree looks great as-is within any home decor style!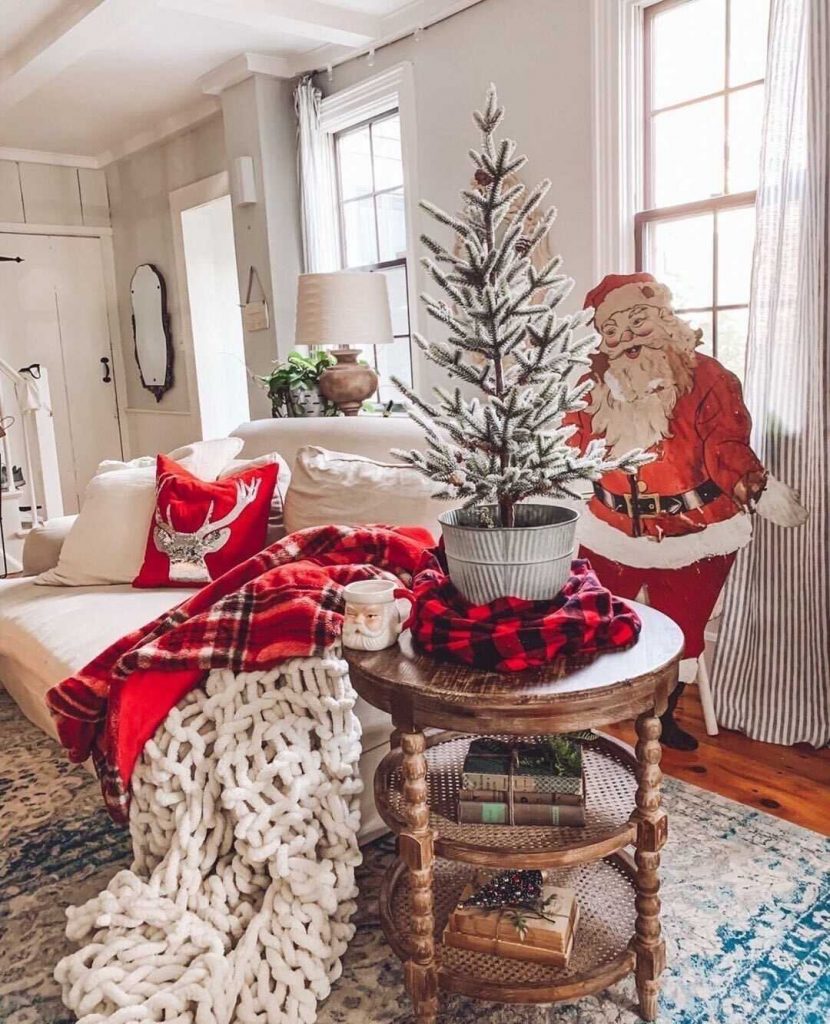 This Pre-lit Woodland Christmas Garland and matching Pre-lit Woodland Christmas Wreath will instantly upgrade your front door, tablescape, or mantel for the holidays. When styling with greenery, incorporating multiple types of stems is what will ultimately elevate your design for a more custom designer look. The mix of faux pine, cedar, and magnolia leaves come altogether into this one beautiful, cohesive look for winter! Your life is already made easier with anything that comes pre-lit. Plus these items are perfectly neutral and can be left up throughout the entire winter season! Welcome guests into your home with this wreath hanging on your front door and garland hanging above your doorway. For a tablescape, place the wreath in the center with some chunky candle holders, or lay the garland across with skinny taper candle holders! Hang this wreath above your mantel and elegantly drape this garland across your mantel to welcome Santa down the chimney!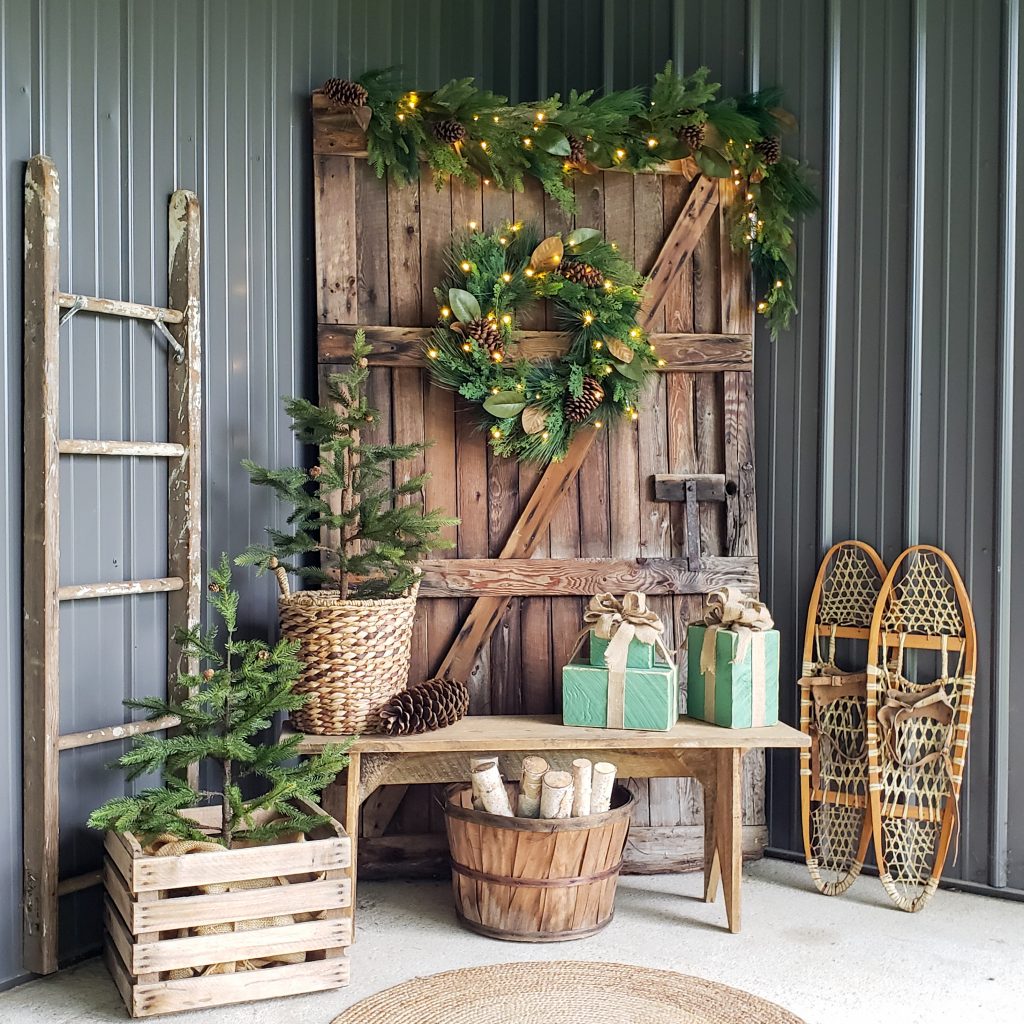 3. 6 SIMPLE & BRILLIANT CHRISTMAS DECORATING IDEAS: Big Statement Makers
Big statement makers make you go – WOW! They are THE FIRST ITEM you notice because not only are they HUGE in size, but they are also incredibly UNIQUE in design! The added benefit of statement makers is that most do not require extra decor items to decorate a space because statement makers already make such a huge impact and elevate a space all on their own. If you find it overwhelming to focus on too many details, including ONE big statement item is the best way to decorate your space to make it easy on yourself!
This HUGE Metal Merry Christmas Sign is 47″ FULL of Christmas spirit! If you don't have anything else for Christmas decor, this sign is all you need to make an easy impact in any space. This sign comes with all the vintage Christmas vibes with a beautiful cursive font and amazing cutout details. Hang this up on your front porch or entryway to greet guests, above your mantel to create the perfect family photo backdrop, or above your bed to excite your family members every day for Christmas!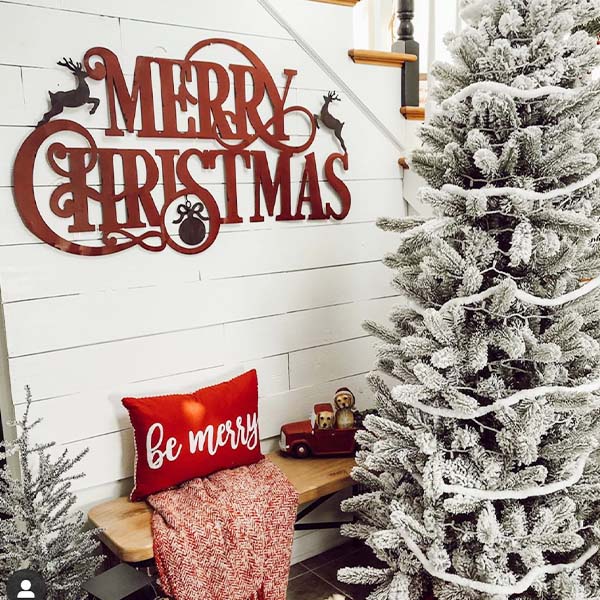 4. 6 SIMPLE & BRILLIANT CHRISTMAS DECORATING IDEAS: Functional Christmas Elements
To get the most bang for your buck, invest in versatile items that can be functional or used as decor! These are items that you may use to complete daily tasks that also make your home look beautiful when not in use! Some common household examples are cutting boards, mirrors, books, ceramics, etc.
These ENORMOUS Embossed Round Christmas Trays come with beautifully embossed "Merry Christmas" and wood handles for easy transport. These are like two items in one because they can be used as trays or signs! Add a liner and place appetizers on top or incorporate these trays as a part of your centerpiece with faux greenery and candles. When not in use, simply lean these trays like signs against the wall behind your stove in the kitchen, on a shelf, or above a buffet in your dining room!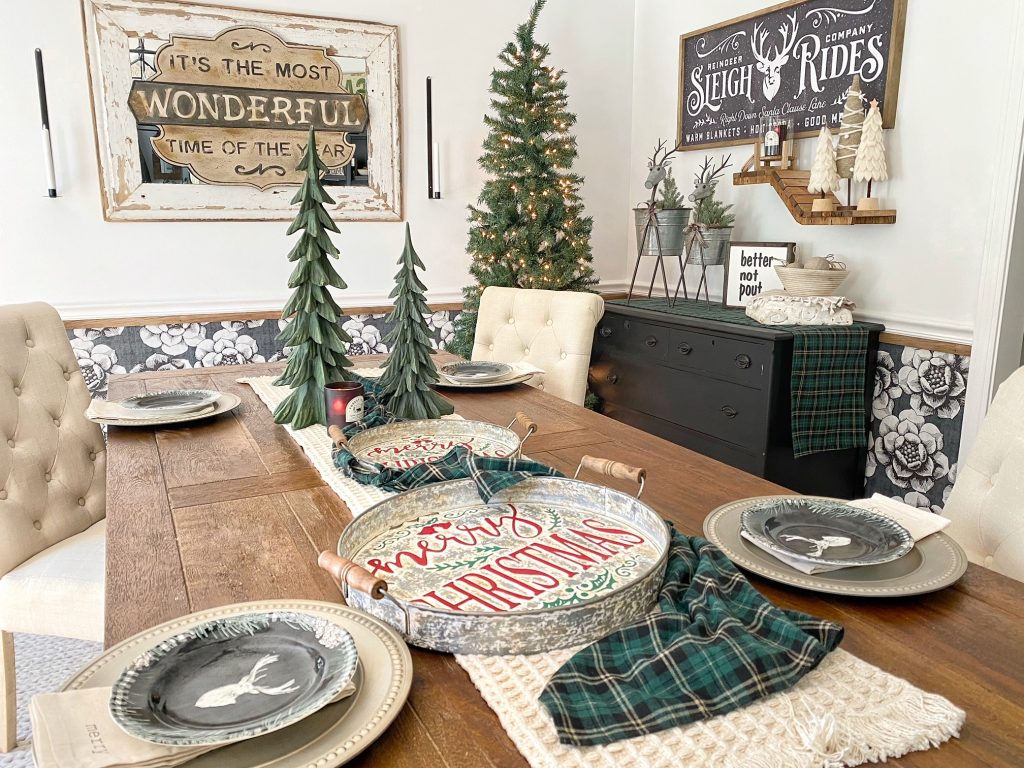 This Merry Christmas Village Fireplace Screen is a designer look on a budget and is also like two items in one because it can be used as a fireplace screen or hung as wall art! Cozy up next to your fireplace and watch in delight as the magical silhouettes of Santa and his reindeer fly over this beautiful cityscape! This fireplace screen is beautifully crafted of black iron with flyspecks of white over an incredibly detailed cityscape cutout – an amazing artist technique that has masterfully achieved falling snow over this wintry cityscape scene!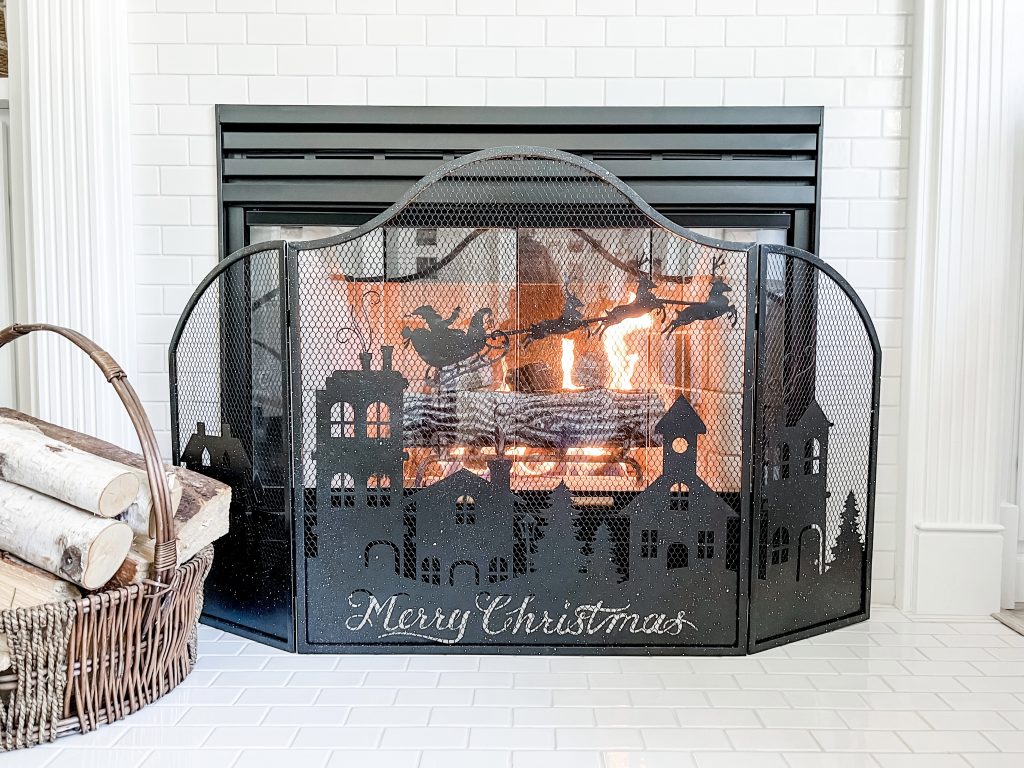 An easy way to add a custom designer look to any space is by incorporating more stylish storage solutions! These Holiday Yardstick Crates are full of fun festive phrases on all four sides and these Galvanized Metal Reindeer Planters are so unique! Place Christmas trees inside, throw blankets, logs for the fireplace, Christmas presents, or bottled drinks during family gatherings!
5. 6 SIMPLE & BRILLIANT CHRISTMAS DECORATING IDEAS: Something for Children
For most children, Christmas is THE BEST DAY of the year! Christmas is extra special because it means more time spent with family sharing meals, meaningful gifts, and memories together. What better way to make the holiday more special for your children than with meaningful decor items that put them into the holiday spirit that they can enjoy as well!
These Nostalgic Holiday Scene Canvas Window Frames are just perfect for children! Beautifully crafted of a wood window frame with colorful vintage-inspired prints, it looks like you get to peek through a window into their favorite childhood holiday storybook or movie scene! They come in two different styles, but you can get both for a complete look! Style them together in their playroom or individually in multiple bedrooms for your children. If you don't have enough wall space, this 52 Inch Tall Vintage-Inspired Lifesize Santa Cutout will still put a smile on their face!
This 28 Inch Galvanized Metal Christmas Tree with Star is an easy way to add some neutral winter decor into your child's playroom or bedroom throughout the entire winter season. Get multiple to create a winter forest in the background, while they play with their new toys during the holidays. Its size makes this the perfect backdrop item for photoshoots with smaller children.
This Magical Winter Forest Scene Lantern creates the COZIEST CHRISTMAS glow during the holiday season! The cutout details of this magical winter forest scene bring back memories of childhood stories filled with Christmas magic! As an only LED candle-approved lantern, this would make the cutest bedroom nightlight for your child during the winter season. Get multiple for a complete look on two nightstands or to create a magical winter forest on top of their bedroom dresser that they can enjoy all winter long!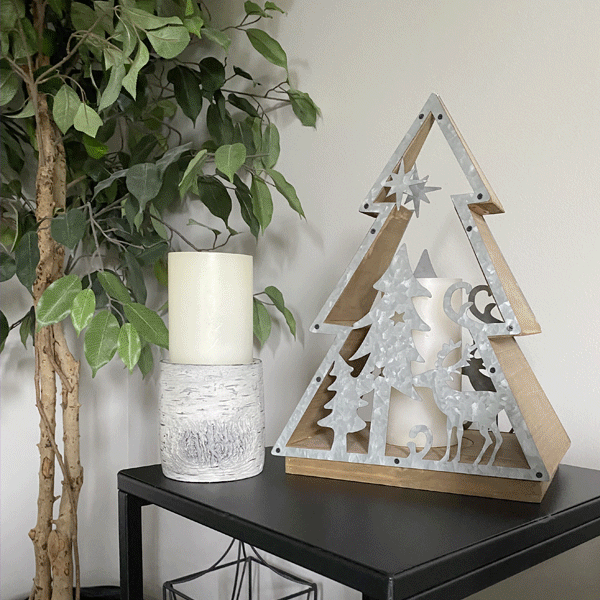 6. 6 SIMPLE & BRILLIANT CHRISTMAS DECORATING IDEAS: Unexpected Finishing Touches
After styling your favorite decor items into a space, a designer will always include unexpected details to complete the look. It's easy to decorate with large items that look good, but it's harder to fill in the gaps with details that fine-tune your look and allow your bigger pieces to shine more! The key is knowing how to incorporate both together. Think of this as adding some home decor accessories to complement and complete the overall look of your space!
These Oversized Rusted Finish Christmas Bells and Oversized Holiday Market Cowbells are a unique way to add winter decor outside of incorporating Santa and Christmas trees! The Oversized Rusted Finish Christmas Bells would make such a unique fabulous tree topper for your Christmas tree. The Oversized Holiday Market Cowbells come with fun festive phrases and can be used as tabletop decor in your centerpiece or can also be turned around to hide the holiday phrases for a more neutral farmhouse look during the rest of the year. Get multiple bells to line up along your entire mantel or place across your entire dining room tablescape! Both bell options are great for nestling within your Christmas tree decor, centerpieces, or tied to your garland on your mantel!
This Magic of Christmas Wood Beaded Garland adds the final finishing touch to your holiday decor. Wood bead garlands are a must-have to complete your look in any space! The mix of wood beads and whitewash beads are the perfect neutral look for any home decor style! Style it in a bowl, hang it on a hook, or drape it along a mantel, shelf, or tiered tray to add the perfect finishing touch to your home… just like how a necklace is a finishing touch to your favorite outfit!
🏡 Decor Steals offers timeless and affordable home decor with 3 new deals at 10 AM EST every 24 hours!
✉️ Subscribe to our email list to get exclusive access to the best deals and never miss out on a new daily deal!
---
---