5 Home Decor Signs that Bring the Farmhouse Look Home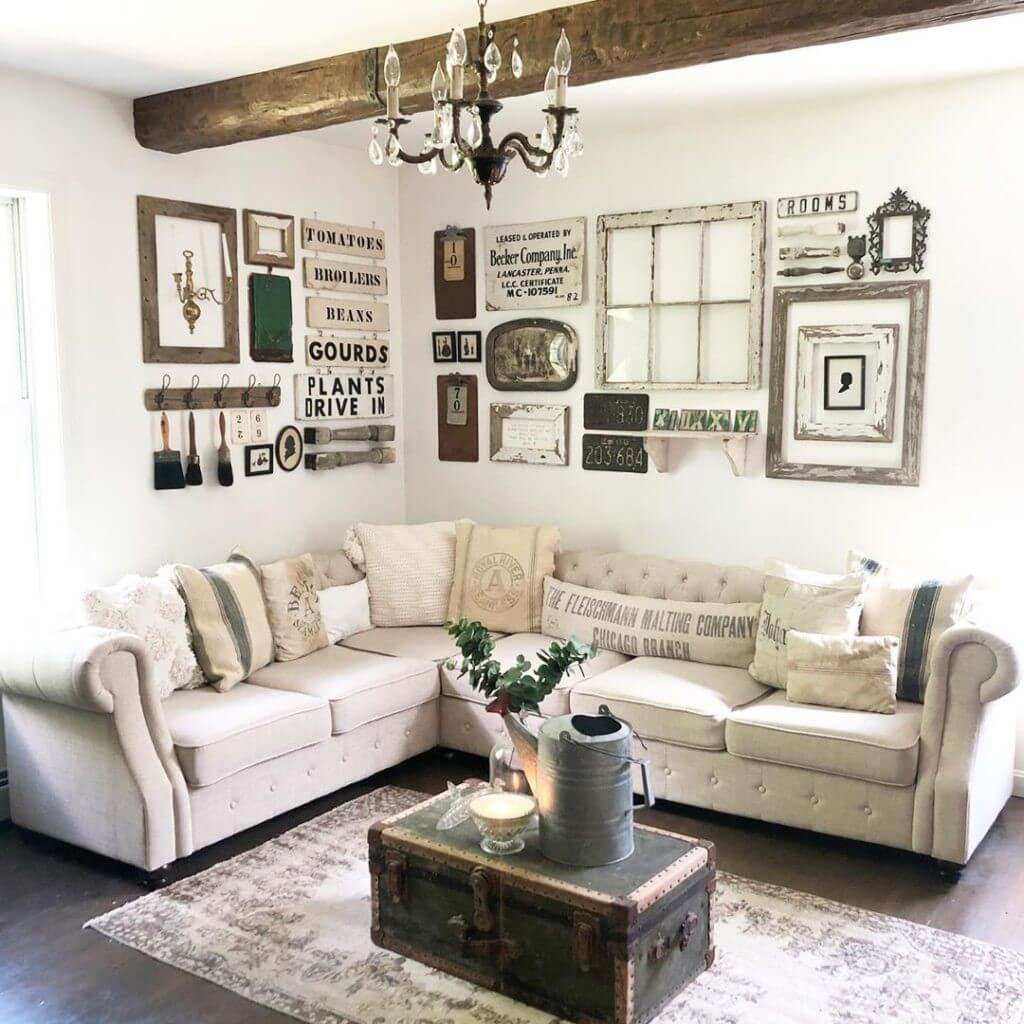 Statement making home decor signs are an excellent way to elevate and transform a space. If your design style skews a bit farmhouse, then we think you'll love some of the ideas we have pulled together for you! Before we jump into our collection, let's talk about what farmhouse style means and why to use signs to achieve it
By now most people have a fair idea what farmhouse style is all about. Farmhouse décor is often centered around wood finishes, neutral colors and rustic / vintage / found items. It often means chippy paint, galvanized metal, and utilitarian pieces. Check out what CountryLiving has to say on farmhouse décor for some additional context here. For us, farmhouse style is comprised of the above, but has an intangible element to it that is hard to describe. Farmhouse is comfort. It is home. It is where memories are made. It is family and it is love. The vintage pieces tell a story, and the chips, rust spots and the characteristic distressing all bring that "aged to perfection" feeling to a space. The functionality, effortless charm and comfort of farmhouse decor practically beg for togetherness. You'll definitely see this essence of family in several of our top home decor sign picks.
How and Why to showcase Signage
Sure, you can pull together a beautiful farmhouse inspired look in a thousand different ways, but few decor ideas are quite as easy and affordable as simply adding an amazing home decor sign to your existing space.
Why include home decor signs
As we mentioned, home decor signs are a very easy way to set the tone for your home. They can be a very affordable option for putting a finishing touch on a room. Since they can range from small accessories to huge statement pieces, you can choose whatever suits your style and space.

 

Signs can easily be swapped out (and because they are flat, they can be easily stored) so they are a perfect way to incorporate seasonal decor. The Autumn Leaves sign below gives this mantle a super quick and chic autumn makeover! We guess that a Christmas Sign will likely take its place a few months from now.  Check out our recent blog post for more seasonal mantle decor tips.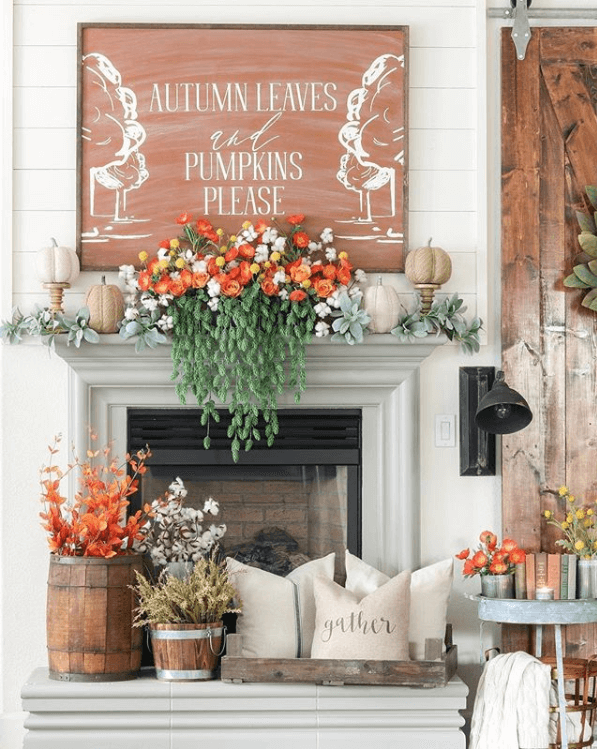 Signs can be used to highlight what a room or a space is for, or just insert some humor or flair into your space. This laundry sign adds a perfect finishing touch to any laundry room. Who says a space can't be both functional AND fun to look at?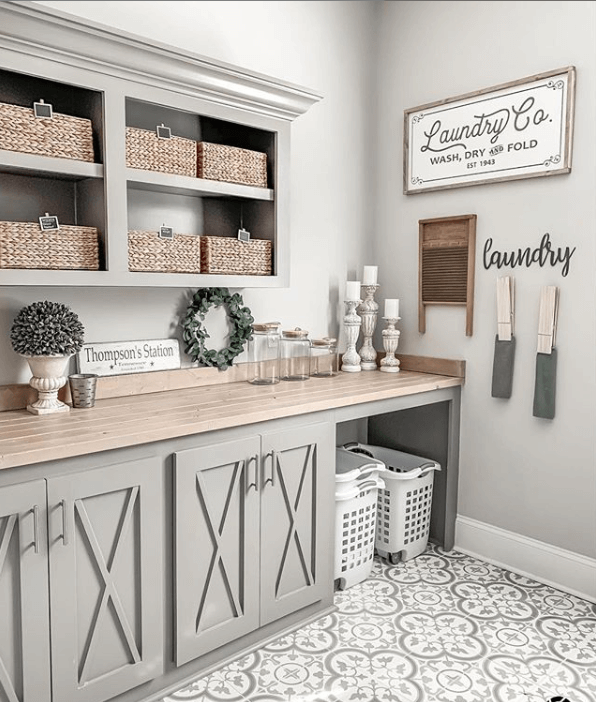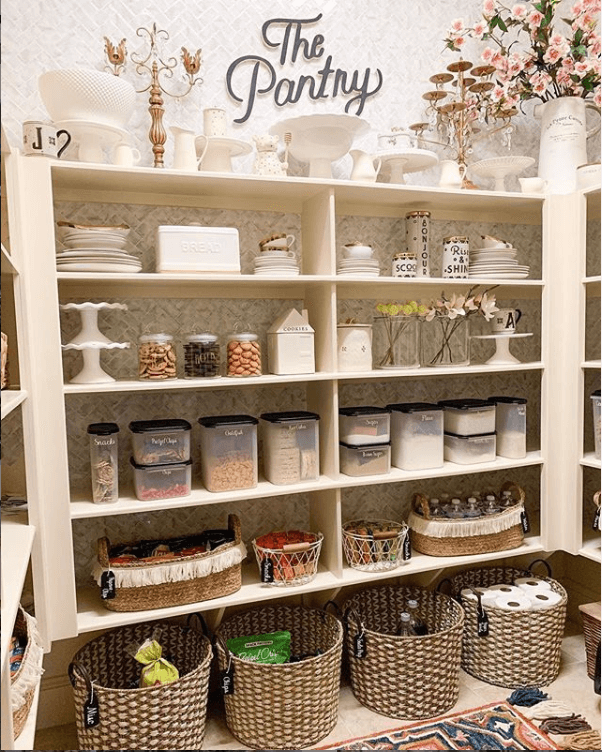 If you are hesitant to commit to a bold color or print, you can opt for neutrals on your big pieces, but get creative with your wall decor. It is much easier to swap out a sign than it is to refurnish your entire room, should you want to switch up your style!
How to incorporate home decor signage
Signs are great in that they vary so much in shape, size, material and beyond. The most common placement for a home decor sign is hung on a wall, but don't feel obligated to get that nail and hammer out just yet.
We have seen home decor signs, big or small, styled beautifully on a shelf or mantle. For some floating shelf inspiration, check out this earlier blog of ours!
You can certainly create an entire gallery wall of signs, but a good starting point is to add just one or two. Mix signs with a collection of photos, art or other home decor in one eye catching arrangement. This gallery wall has so many materials and textures, but ties together to make a space that could be an afterthought into a show stopper! To get the look below, consider this corbel bookend and either of these awesome barn or church art pieces. BONUS: Need help on how to get started hanging a gallery wall? Check out a recent video by @the_whole_9_yards_design below too. If you're interested in the botanical prints she is using in her video, you can find those here.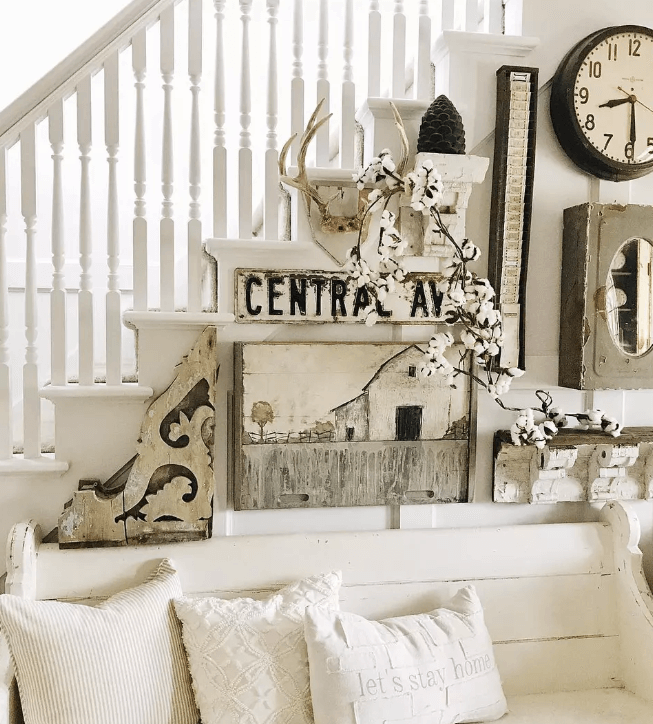 Layering DEcor & adding height
Because signs come in various shapes and sizes, you can use them as layering pieces with other decor. This will add some height, interest and dimension. Don't be afraid to cover part of the sign and allow it to just be a beautiful backdrop to some of your other decor. Signs don't have to be on the wall– they can look beautiful as part of an arrangement on the floor too. 
Another space you can incorporate your signage is above your kitchen cabinets. Yep, that space between your cabinets and the ceiling that you can't quite figure out what to do with. We compiled tips for decorating above kitchen cabinets recently, and art, photos and signs are one of the solutions we recommended. 
Our 5 farmhouse sign picks!
Without further ado, here are our FIVE picks for the must have signs for bringing that farmhouse look into your home:
Our iconic "Gather" sign is definitely a farmhouse favorite. This thing is big, but because it is a cut out sign, it doesn't take over the space it is hung in. It is a perfect accent piece for a gallery wall, but the options are limitless with this one. It sends the message that your home is for family, love and get-togethers!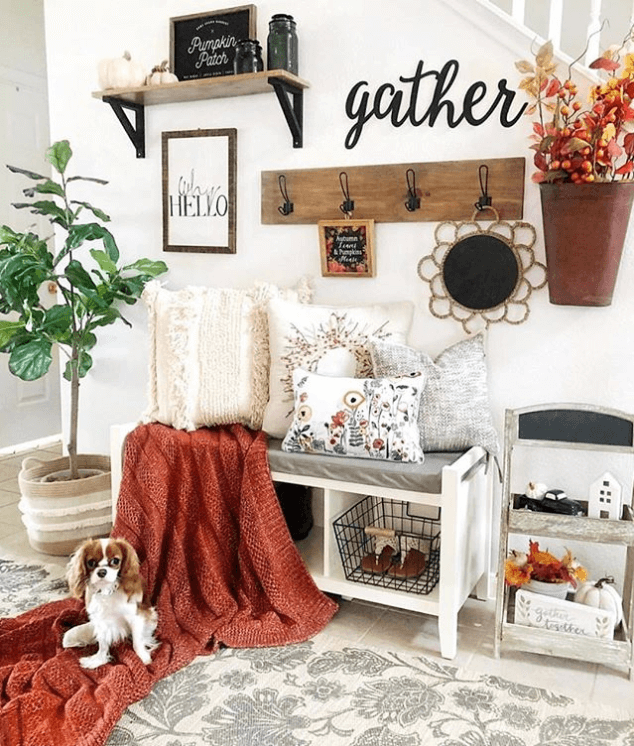 For a standalone statement maker, look no further than this Drug Store sign. This sign totally has that well loved vintage look to it, and while it is very unique and eye catching, it is neutral enough to go with almost any color palette and your existing decor. This piece brings us back to those "good ol days"!
Nothing says home more than, well, HOME. Farmhouse decor is all about the comforts of home, and this baby says that loud and clear. It also incorporates a rustic windmill to really set the tone. This is a classic, but will be a guaranteed conversation starter for years to come. 
Every Family Has a Story Sign
Don't have a huge space, but still want to find a way to bring in a bit of the styles above? We have just the thing. This "Every Family Has a Story" sign is long, but because it is narrow, it makes it easy to pop in to some under utilized nooks and crannies– like in the few inches you have above a door frame, or going across the top of a piano! Below, our friend Angie @ourpartyof6 shows how she styled this fabulous sign in her home too.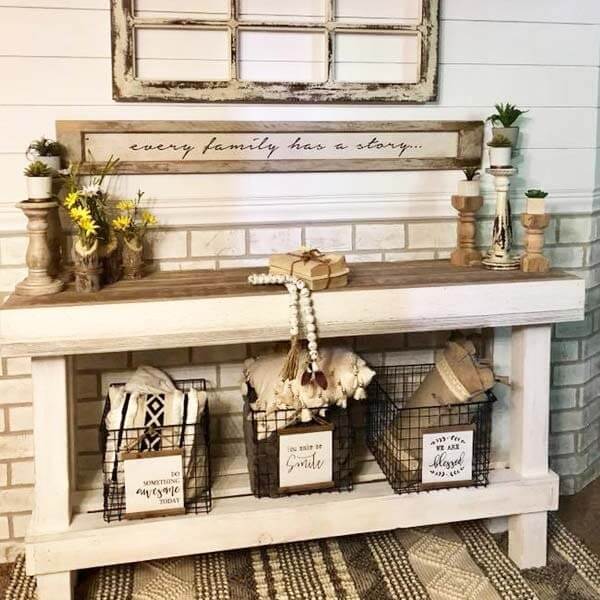 We love decorating for the holidays around here and have an inkling you might as well, so we would be remiss if we didn't include one seasonal pick in our list. Since October is around the corner, of course this sign is going to be bringing some fall flair. Everyone loves a good pumpkin farm, hayride and corn maze this time of year so we think it is very fitting to bring you our pumpkin patch sign! We might be a bit biased, but we think this sign looks SO cool on the ground, just leaning up against a little stool. Anyone can put pumpkins on their stoop, but mixing in other seasonal yet unexpected decor really elevates the look.  Another friend of ours, JoBeth of @jjfindsdesigns displays this same sign inside her home for an equally cute take on this fall staple.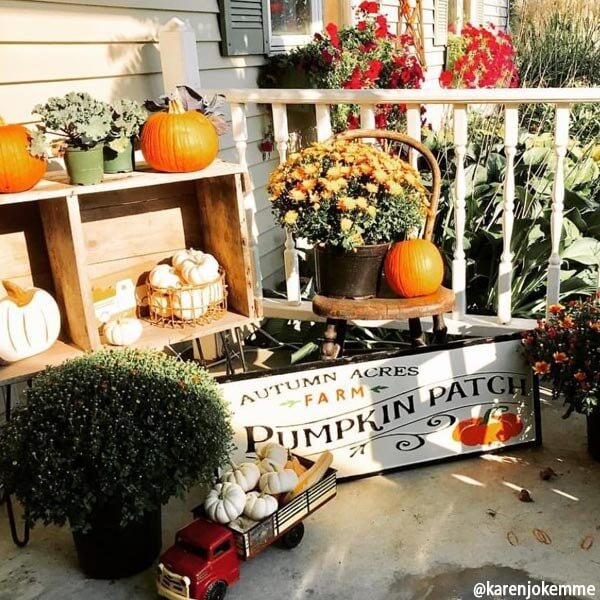 There you have it, folks! Do you have any of the signs we featured? We would love to see how YOU styled them– post a photo on Instagram and tag us @decorsteals #decorstealsaddict! If you have tips to share, go ahead and comment below! We'd love to hear from you. Until then, we will be sipping on some hot apple cider to celebrate that it is finally FALL! <3
---
---