Fireplace Shelf Ideas: Beautiful Mantels with or without a Fireplace!
There is just something undeniably cozy about a fireplace. It doesn't matter if it is winter or summer or if the fire is lit or not! A fireplace elevates a room and makes such a gorgeous focal point for your space. That being said, not all of us are lucky enough to have an actual fireplace, wood-burning, gas or otherwise. Don't worry! You can still get that fireplace charm in your home with a beautiful mantel! Regardless of the "bones" of your home, we have some fireplace shelf ideas to suit your needs!
FirePlace Shelves Ideas in different styles
If you don't already have a fireplace shelf or mantel and lack the time or skills to build your own, we have some really great options that come ready to hang! Also, we understand that while a big grand mantel might be preferred, it isn't always realistic for your space or your budget. For that, we have a range of looks, sizes and price points. There is something for everyone!
Our first mantel is one that we absolutely adore. It is a good size to get the full fireplace shelf look.  Not only does it extend horizontally, but also all the way to the floor! Even being as tall as it is, it's still modest in size and depth to suit any space. Mantels like this one have been seen in bedrooms, dining rooms and of course living rooms. The neutral wood tone goes with any decor, or can be painted or stained to suit your fancy! 
If you like this wood look but are after something a bit bigger, we absolutely LOVE this statement making mantel. As you can see, it very substantial! It can be used around an actual fireplace, or simply as a decorative piece on its own.
White Wooden fireplace Shelf ideas
Okay so you are in search of a mantel but maybe you prefer something white? We have options for you too! One of our absolute favorites is this BIG white mantel that is distressed to perfection. A look like this is perfect for a farmhouse, shabby chic, or traditional style!
This look features a horizontal shelf with corbels that extend down on both sides. Though this shelf is not designed to reach the floor, it packs every bit as much punch. You'll notice this shelf is styled with stacked wood which we think is absolutely gorgeous– we don't even miss a fireplace one bit! 
PS. If you love the gold mirror above this mantel click HERE to join the waitlist so you don't miss out when it comes back in stock!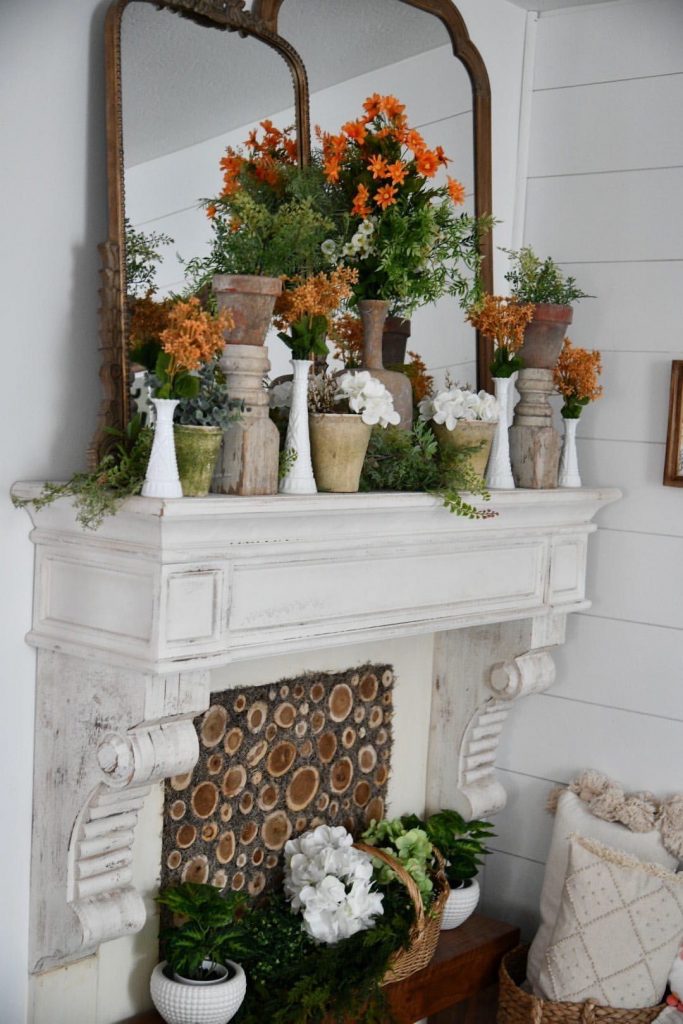 Looking for a smaller take on a white wooden mantel? Some other fireplace shelf pieces that would work well are going to be restocked very soon! These shelves could be used to create a small fireplace look anywhere in your home. That being said, they can also simply be used as shelves in places where you would not expect a fireplace! A great example of this is over your headboard as seen below!
While most of the mantels we see these days are natural, stained wood, or a crisp white, a darkly painted mantel can be striking too. Get creative with it and paint just the fireplace shelf, or paint the surrounding areas the same color for an even bigger statement. Don't be afraid to play with this area of your home! It is likely to be a focal point in your room, and worth spending some time to make it special!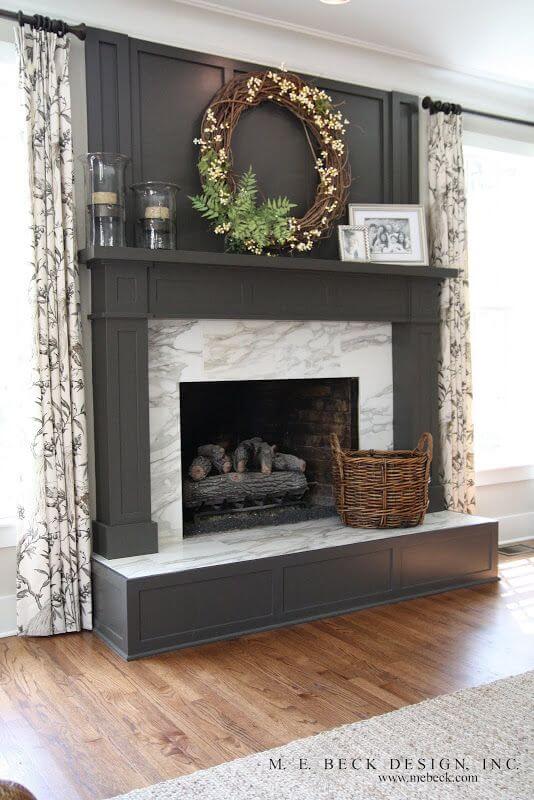 If you like the look, but don't have the space (or don't want to get your hands dirty) this cute black mantel shelf could be just what you are looking for! See below:
Unique Fireplace Shelf Ideas
Okay, so we've shared some traditional fireplace shelves and mantel ideas but would be remiss if we didn't give you ideas to get you thinking outside the box! For a more modern or contemporary look, consider deviating slightly from the conventional single, centered fireplace shelf concept.
Multiple Shelves over a Fireplace
This space features a sleek stone fireplace, paired with a narrow, wood mantel shelf. Then, in order to take advantage of the high ceilings, there are 4 additional shelves above it, almost extending to the ceiling. This look is a great way to keep the eye moving upward. It also provides a prominent display space for all your treasured decor. Read more about this idea, and others, in this mantel round up from HGTV.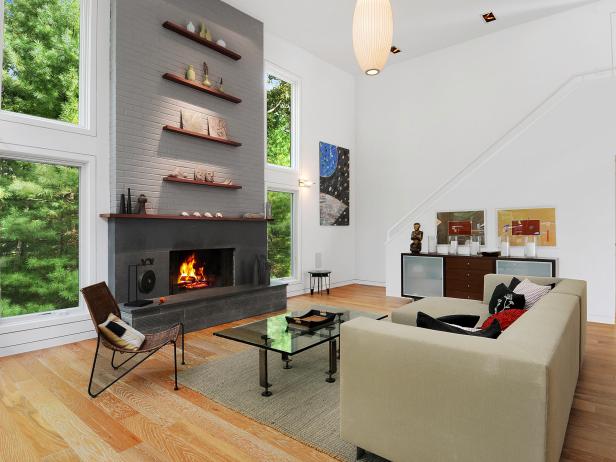 Asymmetrical Fireplace Shelf
Another idea from  HGTV, is to make your mantel extend across your entire room. In this example, the fireplace is off-center in the room and the mantel appears to go wall to wall. Again, this lends itself to a more modern look, but the thick rustic beam used for the shelf keeps things cozy.
Customizing your fireplace style
Let's dive even deeper! Picking the type and placement of your fireplace shelf isn't the only thing to think about. Give some thought to the color and material of your shelf in relation to the space around it. If you don't have a fireplace, consider what, if anything, you want to do beneath your mantel to finish it off. The colors, materials and textures you pair together are what really make the space!
FIREPLACE Shelf ideas WITH TILE ACCENTS
Tile has become a popular way of personalizing and enhancing the look of your fireplace. If your look is a little dated, tile can give your fireplace an immediate and dramatic makeover! In this first example, they use decorative tile as a backdrop to pieces of wood "inside" the fireplace. You can use real tile, or for a quick and easy fix, use peel and stick tile! 
Where can you find the amazing blanket and footstool in the photo? We thought you would never ask! Here & here.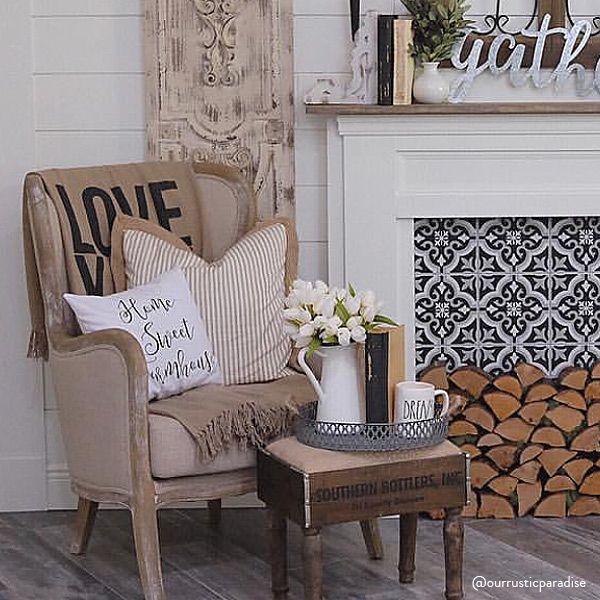 Look below! Here is another beautiful fireplace featuring both tile and logs. In this setting, round logs (or just the ends of logs– we may never know!) fill the center of the fireplace. The tiles are used to embellish around the perimeter. A great mix of clean and crisp along with earthy wood! Loving the barn above the mantel? Check out a similar barn here!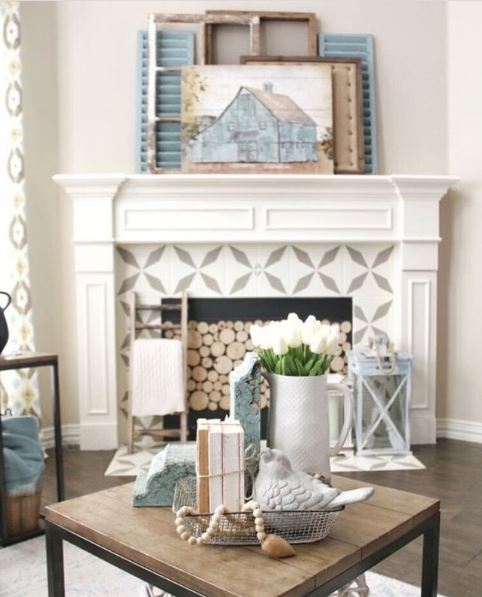 Brick is such a classic look for a fireplace and it will never go out of style. If you currently have brick around your fireplace but are craving an update, you can always consider painting the brick white, black, or doing a German smear.
Psst! If you have your eyes on the Fresh Cut Flowers sign above, snag one or join the waitlist for it here!
Decorating on and around your Fireplace shelf
By now you hopefully have some ideas on what you want your fireplace and mantel to look like. Your next big question is "how do I decorate it?" We wrote an earlier blog post about Styling Your Mantel for Every Season that is a must read! Between all the fun holidays to decorate for, you may need some ideas for staples to adorn your mantel. Don't worry! We have ideas for that too!
Mirrors above a fireplace
Mirrors are a great option to put above a mantel shelf.  There is a lot to love about mirrors because they reflect light and brighten up a room! The stacked/layered mirror look is super on trend right now. Grab one or more than one if you can! THIS mirror is basically a cult classic around here and is perfect for your fireplace shelf!
Baskets are so versatile! We love baskets for their texture and their function. Smaller baskets like tobacco baskets are great layering pieces on top of your shelf. Larger baskets may need to go on the floor in front of your fireplace, and can house anything from blankets, to magazines or firewood! Check out these metal baskets or these seagrass baskets for great twists on the classics!
Ready to add some height and light to your space? Candle sticks or even small lanterns with candles inside are a must for a fireplace shelf, especially if you don't actually have a fireplace beneath your mantel! Here are a few of our favorites, across a number of different styles! Choose from sleek and simple, chunky and chippy, classic and neutral candle sticks.  For an enclosed look, we recommend this best selling lantern or this apothecary jar (that can also be used as a vase)!
Okay, so we mentioned candles on top of your shelf, but let's not miss an opportunity to decorate in front of the fireplace too. How about some gorgeous floor lanterns? The bigger the better, and ideally in groupings! You can use candles in your floor lanterns, or opt for greenery or other decor inside depending on what your space needs more of! Check out a round up of our lantern tips in our lantern blog post!
We get it– you have a ton of ideas and can't wait to start your mantel makeover, right!? We wanted to share a couple closing thoughts with you before you go.
First, if you clicked around some of our recommended products above, you might have noticed several of them are out of stock. Don't panic, this is to be expected!
If you don't know us already, Decor Steals is a daily deal site and THE best place to find amazing deals on farmhouse, industrial, rustic and vintage decor. We have 3 new deals every morning around 10am EST (that often sell our super fast!) as well as some other pages of trending and must have decor. Our customers know that if something is sold out, they can add their emails to the waitlist to get notified first when that steal is back in stock! Not everything comes back, but our most popular items come back around several times a year! Trust us, the price point definitely makes it worth the wait! For more Decor Steals 101, visit our How it Works page!
Thanks so much for tuning in for our 2 cents today! Drop us a comment to tell us what you think, or visit us on Instagram or Pinterest for more decor inspiration! 
---